MLB Handicapping: Worst Bullpens in Baseball
by Robert Ferringo - 05/20/2009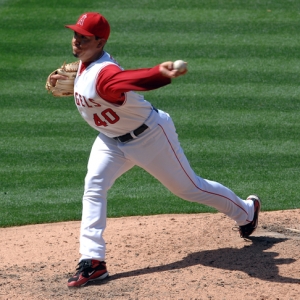 It's the bottom of the ninth inning, one out. You've got Cleveland at -145 thinking that reigning Cy Young Award winner Cliff Lee is going to have his Good Stuff tonight in Kansas City. You were right. You're up 5-1 and you've already mentally spent the $500 that you're going to pick up from this score.
Then it happens. And the steps are as defined and nearly as chilling as the steps of dying.
At first, it's an annoyance; you should already be turning the channel to the 10 p.m. games and your late bets. Next, it becomes a bit of an inside joke. "Could you believe it if they blew this one?" Then a wave of panic. You suddenly become prescient as you break down all of the possibilities and permutations that could lead to the game A) being tied up or B) you somehow losing.
Then it happens. Your nightmare becomes a reality. The bullpen blows it and your perfectly placed wager goes up in flames because some group of ass-clowns with a 5.48 ERA and an eight-year track record of coming up short in pressure situations just flushed your money down the toilet.
And it feels the same every time.
First, your stomach drops. Then that tingling on your skin as the blood rushes out of your face. Mouth drops. Your face strikes a dumbfounded pose. Then all of that blood that was sucked out of your head finds its way to your fists, quickly. Sometimes something gets punched. Other times it's thrown. Or kicked. But no matter what it's some inanimate object that will pay the price for your misfortune. You don't even notice the profanity that's pouring out of your mouth. And then, finally, acceptance. You realize that the unholy trinity of Life, Fate, and Chance just bent you over and that your night is ruined.
That is the power of the bullpen. And that's why sizing up how teams are in the back end of their pitching staff is just as crucial as measuring up the starters for each side when you're considering a wager. Whether it's sides or totals, understanding how the bullpen is constructed, how it's used by the manager, how fresh or wounded it is, and just flat out how talented and capable the 'pen is has to be on the list of things that a successful baseball bettor handicaps.
Below is a list of the worst bullpens in the Major Leagues this year, as of May 20. For a list of the best and most reliable bullpens in the Majors check out Doc's Sports Blog. What is most shocking to me about the list below is how many of the teams on it are actually competing. However, the MLB season is a grind. And unless they get their bullpens figured out they aren't going anywhere. Over the last five years only four (of 50) teams that finished in the bottom 10 in bullpen ERA made the postseason.
With that in mind here are your Rolaids Relief Rejects:
30. Washington (6.68) - I think that the ERA tells the tale. This team used to have a pretty respectable bullpen, and in 2007 they were No. 8 in the league. But they sold off all of the pieces in order to bring in their stacked lineup. The combination of the two is why the Nationals are such a solid 'over' bet this year. This team has already blown 13 saves. If they had converted just eight of those 13 they would be in third place in the N.L. East and likely one of the most profitable teams in the game.
29. Los Angeles Angels (5.99) - It's amazing that the Halos are on this list considering they finished last year at No. 6. And it doesn't all have to do with K-Rod going to the Mets because new closer Brian Fuentes (4.61 ERA) has been solid. What's worse is that the Angels are just one inning away from being No. 26 in innings pitched from their bullpen. That tells me that this group hasn't had nearly as much chance to destroy this team as it will.
28. Cleveland (5.91) - Everyone thought that Kerry Wood coming over would stabilize an area that has been a noose around this team's neck for years. Nope. The Tribe has already blown eight saves and are converting less than 50 percent of their save opportunities. The pen has also gotten tagged for 23 home runs as a group and opponents are slugging .851 against them. If you see Kobayashi enter the game you might as well set your money on fire.
27. Baltimore (5.48) - This kind of completes the circle for the O's. They owned the fifth-worst bullpen ERA in the league last season, but that was due in part to heavy injury attrition to this part of the staff. This year there are no excuses. But their starters are equally pathetic and that's resulted in the Orioles relievers throwing the second-most innings in the MLB. Not good.
26. Chicago Cubs (5.38) - I would have bet anyone $1 million that Jeff Samardzija wasn't going to work out this year. But that's the least of Sweet Lou's troubles. New closer Kevin Gregg has been all over the place and is sporting a 5.71 ERA. But the bottom line is that other than Carlos Marmol in the eighth this is a completely renovated bullpen from last season. They haven't fit the pieces together just yet. And when you are on a cursed team that last thing you need is instability at the back end of the pen. And 69 walks from this group is fourth-worst in the league. That's a huge problem.
25. N.Y. Yankees (5.37) - This right here is the biggest argument for Joba Chamberlain to be moved to the bullpen, even though it's clear that he won't be. Mariano Rivera is still very good, but he's not untouchable anymore. And for all of that money spent on this team the Yankees completely ignored a critical component. It's like driving a BMW with a seat that's two sizes too small.
24. Minnesota (5.26) - This is another surprise team on the list. The Twins are normally always fundamentally sound, and that means having quality middle relief. But it hasn't even come close to working out for this club this year. Their bullpen arms have ranged from very, very good (Joe Nathan, Jose Mijares, R.A. Dicket) to pathetic (Jesse Crain, Craig Breslow). Their seven blown saves are No. 7 in the league.
23. Colorado (5.26) - This has to be disappointing for the Rockies considering that they thought this would be a strength coming into the season. But despite their swollen ERA, the Rockies bullpen hasn't been that unreliable. They have only blown four saves, which is fifth-best in the league. And now that Huston Street is dealing on the back end they have a steady hand closing. Also, this group is No. 1 in the MLB with a ridiculous 2.81 strikeout-to-walk ratio, which is a big positive.
22. Texas (5.37) - The Rangers are No. 28 in strikeout-to-walk ratio out of the bullpen. When you let that many people put the ball in play bad things are going to happen. And this is just earned runs that we're tracking. When you consider how poorly the Rangers are in the field that's bad news for relievers that can't come in and get outs on their own.
21. Arizona (5.07) - Just like everything else with this D-Backs team, things are coming apart at the seams. In the past two seasons they've dumped two relatively reliable closers in Brandon Lyon and Jose Valverde. Chad Qualls has been surprisingly effective. But other than Tony Pena and Scott Schoenweis the middle relief really has not been very good. This group is improving, but is going to be a drain on this young team's psyche all season.
For more information on Ferringo's baseball picks, check out his Insider's Page here.