Atlanta Falcons at Tampa Bay Buccaneers NFL Sunday Predictions and Betting Odds
by Robert Ferringo - 12/3/2010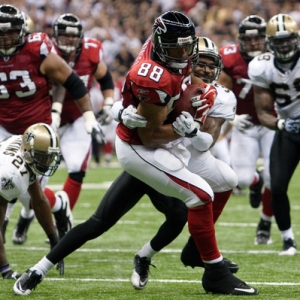 I'm guessing not a lot of prognosticators had Dec. 5 circled as a critical juncture in the trajectory of the 2010 NFC South.
But when Atlanta hits Raymond James Stadium at 4 p.m. on Sunday to face Tampa Bay, the division is going to take a significant swing one way or another. This game is not only a crucial one for both of the teams involved, but also it will have far-reaching ramifications for the entire conference.
Again, I'm guessing the Bucs didn't see that coming. But whether they are ready or not, they are playing meaningful games in December. They are two games back of the Falcons heading into Sunday. A win here will draw them within a single game of first place, and if New Orleans manages to beat Cincinnati earlier in the day then all of a sudden we would have a tie for the top and three teams within striking range for the division title.
The Falcons won the first meeting, 27-21, in Atlanta back on Nov. 7. Atlanta never trailed in that game and was up 27-14 late in the third quarter. Atlanta has won four straight in this series and they are pushing for the No. 1 seed in the NFC. They have won five straight games and nine of 10 overall, laying waste to any challenge that has been put in front of them so far this season.
Tampa Bay is the upstart team and this is really their first time playing in this type of environment. But they are 6-1 against the spread in the last seven meetings with the Falcons and they are catching Atlanta in a bit of a letdown spot. The Falcons beat Green Bay last week in a tight, emotional game and now they have to hit the road to face these young Bucs.

The key to this game – as it is with most NFL games – will be turnovers. Atlanta has turned the ball over just 10 times this year and is tied for No. 2 in the league with a plus-11 turnover differential. The strength of the Falcons is its cold efficiency. If Tampa Bay is going to beat them they will have to not only avoid their own mistakes and miscues but also find a way to force Atlanta into some.
As for injuries, Tampa Bay lost starting guard Davin Joseph and has to shuffle the meat up front again. They will be starting its sixth different offensive line combination in 12 games this Sunday.
Atlanta Falcons at Tampa Bay Buccaneers Betting Odds
The Falcons opened as a three-point favorite in this game, according to NFL point spreads, and it has held as firm as any line on the board. Atlanta is catching more than 70 percent of the action here, but most of that is clearly public money. The total is at 44.5, up a point from an open of 43.5.
Atlanta Falcons at Tampa Bay Buccaneers Betting Trends
Falcons are 1-6 ATS in their last 7 meetings.
Road team is 4-0 ATS in their last 4 meetings.
Buccaneers are 3-13 ATS in their last 16 home games.
Buccaneers are 1-10 ATS in their last 11 games as a home underdog.
Buccaneers are 4-0 ATS in their last 4 games as an underdog.
Buccaneers are 5-0 ATS in their last 5 games overall.
Falcons are 4-1 ATS in their last 5 games overall.
Falcons are 6-2 ATS vs. a team with a winning record.
Falcons are 6-2 ATS in their last 8 road games.
Falcons are 5-2 ATS in their last 7 games as a road favorite.
Atlanta Falcons at Tampa Bay Buccaneers NFL Sunday Predictions
I still don't want to give Tampa Bay any credit. I know they are a decent team. And, as Bill Parcells said, "You are what your record says you are." And that would make the Bucs a contender. But the reality is that they have lost their only four games against teams above .500 by 25, 25, six and seven points. And two of those games were at home. All of their wins have come against bottom feeders.
Atlanta, on the other hand, has taken on all comers while posting one of the best records in football. They have won games against top shelf teams like Green Bay, Baltimore and New Orleans. And if Atlanta can go into the Superdome and beat the Saints I think they can head to Florida and beat Tampa Bay.
Atlanta has been one of the best bets in the game this season. And while this will have a playoff-type atmosphere, I think all that is going to do is accentuate the fact that the Falcons have skilled, level-headed, experienced players and that Tampa is comprised of a young, volatile, not-quite-ready roster. I like the Falcons here
Robert Ferringo is a writer and a professional sports handicapper for Doc's Sports. You can sign up for his college football and NFL picks and get more information here.