Breeders' Cup Jockeys - Odds and Predictions for Top Rider
by Trevor Whenham - 11/4/2010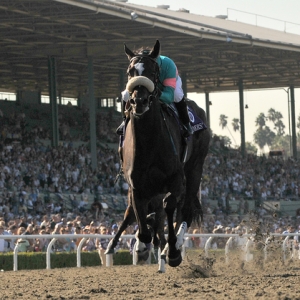 The Breeders' Cup is the biggest betting spectacle of the year in horse racing, and there are countless ways to invest your money on the big day. One of the newer ways that is getting more popular every year is the jockey bet. The goal with this bet is to choose which jockey is going to win the most races out of the 14 Championship races held over two days during the Breeders' Cup. This year there are 15 jockeys listed along with a mutuel field of all the rest. Here's how the field breaks down:
Julien Leparoux (5/1) - Leparoux is the co-favorite outside of the field. There are a couple of good reasons for this - he is the king of Kentucky racing with six meet titles at Churchill Downs since 2006, and he has 12 mounts during the Breeders' Cup. His problem, though, is that while he has quantity he lacks quality. He has five Breeders' Cup wins, but few of his horses look capable of adding to that total barring an upset. I'll pass on him at this price.
John Velazquez (5/1) - I'd jump on Velazquez compared to Leparoux. He has 11 horses, and several are legitimate threats, including R Heat Lightning in the Juvenile Fillies, Life at Ten in the Ladies Classic, Uncle Mo in the Juvenile, and Quality Road in the Classic. He's the first call rider for Todd Pletcher, and Pletcher is loaded this year. I'll be shocked if he doesn't win at least one race.
Garrett Gomez (8/1) - He is a master at winning at the Breeders' Cup. I'm just not convinced he has the horse power to pull this off - he certainly doesn't match up to Velazquez. He has eight mounts, but the best, Blame, is in a very tough spot in a difficult Classic. There is no one more talented than Gomez, but I don't think that this is his year.
Kent Desormeaux (12/1) - I don't like this price at all. In fact, it's terrible. He has only five mounts, and none are better than 8/1. He has a couple I like - Unrivaled Belle in the Ladies' Classic and Paddy O'Prado in the Classic, but both would have to have very good days and have the race fall apart around them to win. This is a bad bet.
Calvin Borel (15/1) - He'll get his share of attention because he has done so well in high-profile races on this track. Like others, though, I just don't think he has the horse power this year to match his name. He has just five mounts, and only two of them would be anything other than a massive upset if they won. He'll get more sentimental action than he deserves here.
Mike Smith (15/1) - This is an interesting one. He has the most popular horse on the whole card in Zenyatta. He has five other horses including the sentimental choice of Mine That Bird, who is looking for his first win since his miracle at Churchill last year in the Derby. I don't think that there is a ton of value in Smith at this price. However, the price is fair, and I couldn't argue with someone who wanted to pick him.
Rafael Bejarano (15/1) - He has nine horses, and a couple of them are interesting, but he'll really need things to fall his way to get the win here. I like Smith better at the price.
Frankie Dettori (20/1) - Now we are starting to get into longshot territory. Strangely, 20/1 is where the riders really get interesting. Dettori has nine rides booked. A few of them are very live in my eyes - Theyskens' Theory in the Juvenile Fillies, Hibaayeb in the Filly and Mare Turf, and Mantoba in the Juvenile Turf, for example. He is a big-money rider that has done well on this stage in the past. I'll be looking closely at him here.
Martin Garcia (30/1) - Here's another one that offers great value for the price. Garcia and Bob Baffert are a potent combo, and they have a couple of gems here - A Z Warrior in the Juvenile Fillies, and Lookin at Lucky in the Classic. Gabby's Golden Gal is another very interesting case - a very talented Baffert horse that hasn't raced since January. Garcia is a real factor here, and I will have a piece of him at this price for sure.
Javier Castellano (30/1) - Another longshot to keep an eye on. Castellano has 10 mounts, and several are quality ones. He is a turf specialist that will be tough on the grass here. He's also perhaps the streakiest rider in the country - he can get hot and be unbeatable. I don't like him nearly as much as Garcia, but this price is still more than fair.
'All Others' Mutuel Field (3/1) - Despite having 15 jockeys named individually in this bet there is a lot of takent left in the mutuel field. Olivier Peslier has a great look at a win with two-time winner Goldikova in the Mile, and has a live one with Plumania in the Filly & Mare Turf. David Flores has the favorite in the Marathon. Jose Lezcano is heavily favored in the Juvenile Fillies Turf. Tom Queally will be very hard to beat on the brilliant Midday in the Filly & Mare Turf. Johnny Murtagh has the lukewarm favorite in the Juvenile Turf. Ahmed Ajtebi, a former camel jockey, was a surprise star last year. This mutuel field is the combined wins by all other jockeys, so it is justifiably favored, and is probably the smartest play. That doesn't make it the most interesting, though.
Doc's Sports will have a full slate of picks for the Breeders Cup on Saturday. Breeders Cup picks are just $25 and that will get you our winning pick for each race on Saturday along with a full range of exotics for the BC Classic. Click Here for the picks.