Breeders' Cup Picks: Filly and Mare Turf Preview and Betting Odds
by Trevor Whenham - 11/4/2010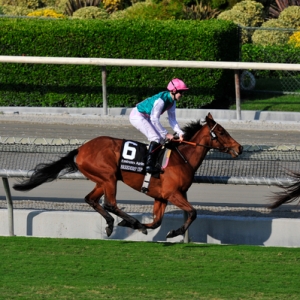 This is one of the newer races on the card - it has been run only 10 times. In that short time, though, we have seen more consistency than in other races, and that has made this one friendlier to bettors than many races. Nine of 10 winners have come from off the pace, with six of those 10 coming from well off. Four of the last six winners of the race have won this race after having previously run in it. Seven of the 10 winners have been four or older, and none of the three year old winners have been Americans.
That seems to set a pretty clear blueprint for how to handicap this race. There are a couple of reasons to be cautious, though. First, this race has been run around two turns and over 1-1/4 miles the last three years. This year it is at 1-3/8 miles and will be going around three turns. That makes it a totally different race. It's also bad news for domestic runners - extra distance strongly favors the Europeans. Here's how the race sets up with my Breeders' Cup picks for the Filly and Mare Turf (odds in Parentheses):
Midday (6/5) - She'll be the heaviest favorite on Friday, and could conceivably be the biggest favorite of the weekend. She is deserving of all the attention - she won the race last year, she has beaten the European competition already, and she is even better than she was last year.
Anything can happen in racing, but more than any other horse this weekend this is her race to lose.
I'm reasonably confident that she will win it, and I - and everyone else on the planet - will use her as a single on most exotic tickets.
If there is one concern it's that the turf is going to be firm and that isn't ideal for her. Still, she is good enough to handle that. I'd love to find a way to beat her given the price, but she is in a class of her own.
Harmonious (6/1) - I'm just not buying this horse as the second favorite. She's a three-year-old American runner, so she has two strikes against her right away. She has never run beyond 10 furlongs, and she'll be facing older stakes horses for the first time here. The Breeders' Cup odds suggest that some people clearly believe in this horse, but I don't.
Plumania (8/1) - The last race for this horse was really, really odd. Up until that point she had won a Grade 1 race and had finished second to Midday while giving her the best challenge she had this year. Her last race was in the Arc de Triomphe, though, and Plumania didn't even show up - she was a brutal 17th in one of the biggest races in Europe. Ouch.
I have no problem with throwing out one bad race, but that was a really, really bad race. I'm also very concerned by the fact that trainer Andre Fabre isn't even bothering to come to the States to watch this horse run. The more I look at her, the less I get excited by her.
Hibaayeb (8/1) - Someone needs to give Godolphin Stables a map because they sent this mare on a very strange route to get to Kentucky. After racing in the UK she went to California and won the Ribbon Stakes. The field in that race was far less than impressive, though, and it seemed likely that she would stay in California for another race. But then she worked brilliantly, and she traveled all the way back to Kentucky.
She has benefited from being able to race on Lasix in the U.S., and her best days could be ahead of her.
Miss Keller (8/1) - I want to like this horse, but I don't know if that's a good idea. She raced in Ireland and the U.S. last year, but wasn't impressive. Late last year Roger Attfield became her trainer and she was based out of Woodbine in Toronto. She traveled a lot this year, and she hit he board in every race.
Her only win, though, was in a non-graded stakes race. She has always been competitive, but not quite good enough. This is a step up in competition level, and I am not confident she will be good enough.
Eclair de Lune (15/1) - With such a strong favorite you might as well look at some longshots - if they don't win at least they can grab a piece. That's why I like this horse. She was very impressive in winning the Beverly D in August. She hasn't run since, and that layoff would typically be a concern.
She's trained by Ron McAnally, though, and he is as good as it gets at getting a horse ready without a race. She consistently gets a piece of things in her races, and if she repeats her last performance she definitely will again.
Breeders' Cup Picks: Filly and Mare Turf
1. Midday
2. Hibaayeb
3. Eclair de Lune
Doc's Sports will have a full slate of picks for the Breeders Cup on Saturday. Breeders Cup picks are just $25 and that will get you our winning pick for each race on Saturday along with a full range of exotics for the BC Classic. Click Here for the picks.