Breeders' Cup Picks: Juvenile Fillies Odds and Predictions
by Trevor Whenham - 11/4/2010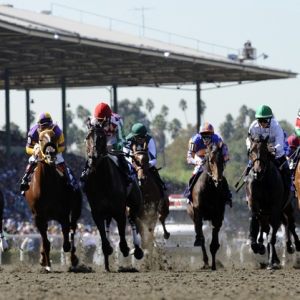 I love this race - it's crazy almost every year. These horses are so young and so undeveloped that anything can happen. The Juvenile Fillies is wide open at the best of times, but it's especially wide open this year. It's not that there isn't quality in the field. It's just that there aren't any horses that look like a Juvenile Fillies winner typically looks. that means that this one could turn out in any number of ways.
Winners of this race have typically shared several characteristics - all winners come off a very good race last time out, most have run between three and seven times before the race, most have run within five weeks, and almost all have won a stakes race. Ideally they would also have a career-high Beyer rating of 95 or higher like 14 of the last 17 winners have. Unlike most years, though, no horses meet all of the characteristics that a winner usually does. That means's that this thing could get crazy. Here's how I see the race turning out with some Breeders Cup' picks and predictions (Juvenile Fillies odds in parentheses):
A Z Warrior (7/2) - I am a huge Bob Baffert fan, and he is as good as anyone at getting a young filly ready to run. This horse spent most of her time in California, but Baffert was smart enough to send her to Belmont for her last prep so she has seen dirt and obviously liked it - she won nicely. She has an ideal running style for Churchill - she sits not far off the pace and waits for her opportunity. There are concerns that she hasn't run this distance and has never run two turns, but then neither have many of the other horses in the field. I love the filly. I've been burned several times before by favorites in this race, though, so I am feeling tentative.
R Heat Lightning (4/1) - This is Todd Pletcher's horse in the field. I'm not sure that having Pletcher in your corner on a big race day is a good thing. She was favored last time out but was beaten by A Z Warrior. I like that she is a total road warrior - she has faced tracks and surfaces of all varieties. The biggest knock against her in my eyes, though, is that she just hasn't shown a lot of progress during the year - at least not as much as I would like to see from her. I'm not interested at this price.
Tell a Kelly (9/2) - You know it's a tough race to figure when three horses are less than 5/1 in a 13-horse field. I hate that this horse has only run on synthetics in California, and that she has only stretched beyond a sprint once and she didn't win. Still, there are a couple of interesting things about her. First, she has been in Kentucky for quite a while, so she has had a lot of time to get used to the track and to dirt. More significantly, Calvin Borel is on her. If anyone knows how to get the most out of a horse on this track it's him. She's going to be closing, and we know Borel can do that - and which path he will take to do it.
Awesome Feather (6/1) - This horse has one of my favorite Breeders' Cup angles going for her - she comes in from a non-elite track (Calder) with a trainer and jockey that most people don't know much about. That almost certainly means that she'll go off at higher prices than she should, and horses in this situation have come through nicely in the past. There is a lot to like here - she hasn't lost yet, she has the highest Beyer in her last race, and her grandsire Awesome Again is a Classic winner. She's certainly intriguing.
Delightful Mary (8/1) - She's beaten the boys, and she has looked very good when she wins. She also posted an 86 Beyer last time out - a nice number for this field. The problem, though, is that she got convincingly beat while posting that 86, and it was in a race that had no business being close. I like some of what she offers - including the Limehouse presence in her pedigree - but I just don't trust her here.
Theyskens' Theory (10/1) - This Kentucky-bred Euro horse is an intriguing option. She has run on turf in Europe up to this point, so she will have to do a lot for the first time here. She's a daughter of Bernardini and a granddaughter of Summer Squall, though, so she is bred for excellence on dirt. She'll also get the boost of running on Lasix for the first time - horses can't be medicated in European racing. That could give her the boost she needs to contend against a tough but vulnerable group of runners.
Breeders' Cup Picks for the Juvenile Fillies
1. A Z Warrior
2. Tell a Kelly
3. Theyskens' Theory
Doc's Sports will have a full slate of picks for the Breeders Cup on Saturday. Breeders Cup picks are just $25 and that will get you our winning pick for each race on Saturday along with a full range of exotics for the BC Classic. Click Here for the picks.