Breeders Cup Predictions: Betting Advice for Longshots and High-Odds Horses
by Trevor Whenham - 11/4/2010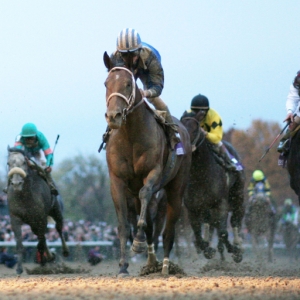 The Breeders' Cup is an event made for high-odds horses, and the big windfall payouts that result from their wins. There are 14 races with big fields full of top-quality runners, so it's absolutely inevitable that a few longer-priced horses will miss the public's attention but hit the wire first. Here are six longshots that stand out over the two days of racing on Nov. 5 and 6.
Atta Boy Roy, Sprint (12/1) - I really don't understand why this horse is at this price. It could be because his last race was an odd turf prep. I don't worry about that one, though - I think the trainer was just looking to get a race under his belt at the right timing, and how it went didn't matter.
He has already won at Churchill, and he did it while running on the lead on a day when the track bias was supporting closers.
His most impressive race, though, was a race he didn't win - he was a close second to Riley Tucker despite getting a horrible start that took him a long time to overcome. That shows just how much class he has. He's definitely a factor in this race, and at this price he warrants a close look.
Precision Break, Marathon (15/1) - On the surface there is a lot not to like about this horse. He's a European invader making both his dirt and graded stakes debut in this race.
There are a couple of reasons I like him, though. First, this race is a mess, so picking a horse at a nice price makes sense - especially because I don't like favorite Awesome gem.
More significantly, this horse is one of the few that have run this distance before, and he has done it repeatedly and successfully.
I like the turf to dirt transition a lot more than the reverse for first-timers, so there is a good chance that this horse will have a piece of the action in this race.
Eclair de Lune, Filly and Mare Turf (15/1) - This race features an almost prohibitive favorite in Midday, the defending champion in this race who starts at 6/5 and will likely go lower.
The turf looks like it is going to be firm, however, and that's not ideal for the favorite. I'm going to look to beat her at her price, and Eclair de Lune is my choice. She's at this price because she hasn't run since August. That race was impressive, though, and trainer Ron McAnally is very good at getting a horse in shape without racing.
She has only been worse than fourth once in her 10 races, so she looks good to get a piece of this one.
Paddy O'Prado, Classic (15/1) - I don't really understand why he was entered in the Classic when he has been running so well on turf, but I think he stands a chance of getting a piece of things here - a good price.
There are a couple of reasons I like this horse. He ran an extremely good race at Churchill in the Derby, so we know he likes the track, and he is much better now than he was then. He also has a potent set of connections for this race - trainer Dale Romans and jockey Kent Desormeaux both know how to win on this track.
There is going to be a truly crazy charge from the back of this race, and Paddy O'Prado will be a part of it. He's not the best horse in that charge, but with some luck he could get the best route to the front.
Acoma, Ladies Classic (20/1) - This race has so much talent in it that it could totally fall apart - the big horses beat each other up and leave the pieces to be picked up by someone else. Acoma could be that horse.
She was supposed to be retired by now, but she pulled off a shocker to win her last race and earn a shot here. She trains at Churchill so she will be very comfortable on the track. She has also won both of her races on this track. That upset win was in the spinster, and no other race has ever produced more winners of this race. At this price you can't ignore her.
Aikenite, Dirt Mile (50/1) - When you see a legitimate horse at a massive price like this you have to take a shot at him - he isn't likely to win, but he can certainly get a piece, and at this price a piece pays very nicely.
He ran a very nice race at Churchill in April, so the track works for him. Last time he ran at seven furlongs he flirted with a track record at Keeneland. That was on a synthetic surface, but we know he likes dirt so I'm not worried about that.
He's at his best around one turn, and that's all he has to navigate here. He also has a nice duo of connections in Todd Pletcher and John Velazquez.
I really liked this horse early on the Derby trail this year, and he hasn't faded too badly in my eyes since. He's a massive overlay at this price.
Doc's Sports will have a full slate of picks for the Breeders Cup on Saturday. Breeders Cup picks are just $25 and that will get you our winning pick for each race on Saturday along with a full range of exotics for the BC Classic. Click Here for the picks.