Breeders Cup Predictions: Ladies Classic Preview and Betting Picks
by Trevor Whenham - 11/2/2010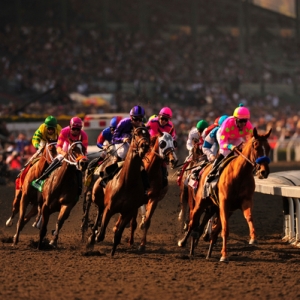 This race used to be called the Distaff. Now it's got a new name, and for the last couple of years it has had a new time as well - it's now the headline race of the Friday action. I don't like the gender divide of the two-day Breeders' Cup format - especially because this race doesn't get the attention it deserves as a result.
This race has produced some truly great champions - horses like Bayakoa, Dance Smartly, Azeri, Ginger Punch, and of course Zenyatta. This year's field lacks a superstar name - Rachel Alexandra is retired and Zenyatta is facing the boys in the Classic - but it's a deep and very intriguing field nonetheless. There are 11 horses entered in the race, with Blind Luck favored at 9/5 and five horses at 8/1 or lower.
There are a few trends that tend to define Ladies' Classic winners. They are typically coming off a very strong prep race. They have run at least six times already in the year of their Classic, but not more than nine times. They have typically won at least once at the 1-1/8 mile distance of this race, and have won at least one Grade 1 race. Typically they have run within the last month as well. With those criteria in mind, here's how the race sets up:
Blind Luck (8/5) - We know that the favorite likes Churchill Downs - she won the Kentucky Oaks there this spring. We also know that she is likely to have a piece of this one - she has never finished worse than third in 14 career starts, including nine wins. She likes the distance and the track, she has multiple Grade 1 wins, and she is lightning fast. Sounds like a favorite.
There are issues, though. She has never faced older horses, so this is a step up at a tough time. She's also run very tough races in her last three outings, so she could be poised for a letdown. I think she's the best horse in this field, but I don't see any value at all in her at this price. I'll be looking elsewhere.
Unrivaled Belle (8/1) - I like this horse in this spot. On the surface there are reasons not to like her - she has lost her last three races to other horses in this field. When you look beyond that, though, there are a lot of things to like.
She was impressive this spring when she beat Rachel Alexandra at Churchill. Since then she has had a long layoff, she stumbled at the start of one race, and suffered through ridiculously slow fractions in another.
Despite those problems she was still second in both. She should be in better form here, and just once in 11 career races has she been worse than second. At or near this price she would be very attractive.
Havre de Grace (4/1) - This is a very interesting filly. She has run only four times this year, but she has looked very good doing it. She was a close second to Blind Luck twice in a row, then came back to beat her last time out in the best race of her short career.
She has a running style that is very well suited to this race, and is clearly talented and quickly improving.
My biggest issue with her is that she doesn't have a lot of depth of experience to draw on here, and that she has seen Blind Luck so much that she doesn't know what else to expect from this field. Still, she's definitely a factor.
Life at Ten (7/2) - This is a horse that knows how to win - over the last year she has won six races in a row, finished third once, then won another one. That one third-place finish can be discounted reasonably successfully as well - she was running at 1-1/4 miles, which is a distance she clearly didn't enjoy. She's shortening up again here to a distance she has never lost at. She's certainly a factor.
Malibu Prayer (8/1) - I would rather see this horse at double digits odds, but you still have to factor her in. She's going to look to set the pace, and if she can get out of the gate clean she should be able to do so. She isn't likely to be pushed hard on that pace, so she should be able to hold on for at least a piece of it. I'd like her even more if the race were 1/16 of a mile shorter.
Acoma (20/1) - This race seems to produce longshot winners when it is at Churchill Downs, so I have to throw in a longshot. Acoma is coming off a shocking upset last time out. That upset was in the Spinster at Keeneland - the prep race that has produced more winners of this race than any other. She has won twice at Churchill in two tries over her career. She's definitely worth a look.
Breeders' Cup Ladies Classic Picks and Predictions
1. Life at Ten
2. Unrivaled Belle
3. Havre de Grace
4. Acoma
Doc's Sports Breeders Cup Picks will be relaeased on Friday, Nov. 5. For $25 you will get Doc's top pick for all eight races during the Saturday main schedule and also we will offer a full array of exotics for the Breeders' Cup Classic.