NCAA Hoops Betting: Under the Radar
by Christopher G. Shepard - 1/29/2010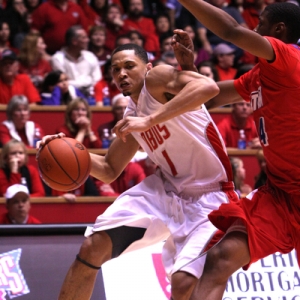 Villanova is the top money-earner in NCAA men's hoops, commanding a 19-1 straight-up and 15-4 ATS record and a healthy +1060. However, Sacramento State, a team I profiled in the inaugural Under-the-Radar article back in December, is second in the nation at 7-14 SU but 14-4 ATS and +960; good enough to earn almost +400 in the past month.

Keep in mind that there are also teams that are so bad that they fly under-the-radar. You do well to keep in mind that Tennessee Martin has the dubious distinction of being the NCAA's worst team against the spread, hemorrhaging cash to the tune of 1-14 ATS and -1400 LSU is the second worst (4-14 ATS and -920), while Denver is 4-11 ATS and -810 on the season. Too bad for Denver they'll travel to our first under-the-radar team this week.
Arkansas State (11-8 SU, 10-5 ATS, +450) The Red Wolves just concluded a brutal four-game road trip and had their seven-game win streak ATS broken at FAU last week. The last time the Indians did not cover a lined game was on Dec.12 against Missouri State. The Red Wolves are 7-2 in the Sun Belt and they have a half-game lead in the West despite the loss to FAU.

Head coach John Brady's team has been doing it behind the surge of sophomore guard Rashad Allison and center Martavius Adams, who had 14 points against FAU. Arkansas State is one of the best teams in the conference when it comes to defending the three, but FAU buried the rock, going 9-for-20. This week the Red Wolves will host Louisiana-Lafayette and Denver. The Red Wolves will need to keep pace in the Sun Belt so they'll need to win (and cover) both games. Arkansas State is 6-1 ATS in conference play and I expect that to continue this week at home.

New Mexico (19-3 SU, 14-7 +630) The Lobos trail BYU by a game in the loss column straight up and in conference play. New Mexico helped cut into that lead when they beat BYU, 76-72, and covered as a 1-point 'chalk' at home. The Lobos have won their last three games SU and ATS. The Lobos have covered four of their last five outings and won their last five contests SU.
One fact that resonates about this Lobos team is they have faced four teams that were ranked in the Top 25 polls and went 4-0 SU and ATS against teams in the top two conferences. The Lobos are a physical team that wears teams down with their aggressive rebounding and sharp three-point shooting.

Coach Steve Alford fields a young team that has been outplaying more experienced players on teams like SDSU and UNLV. Despite being ranked No. 23 in the country the Lobos are a team that has not yet captured the national imagination, but down in the Pit they are already punching the Lobos' ticket. In fact, when the Lobos travel to TCU on Saturday they'll have a chance to win their 20th game before February! This is something UNM has never done, but the question is will the Lobos rise to the occasion in a tough MWC road game?

Northern Iowa (18-2 SU, 14-5 ATS, +850) I've wanted to include the Panthers as a team to follow since the first week of this column. Talk about investing in a team with confidence! Northern Iowa is like investing in APPL; their stock keeps rising. The Panthers sit in first place in the Missouri Valley Conference with a 9-1 record. The Panthers are currently in a two game SU and STA covering streak. In December Northern Iowa had a season-high of eight consecutive games they covered the spread.

Coach Ben Jacobson's Panthers are no longer under the radar, however, since they moved into the national rankings for the first time since 2006. The Panthers are No. 20 in the Associated Press polls and No. 22 in the coaches' poll. It is the highest ranking for the Panthers.
If there is a wrinkle in an otherwise solid Panther team it is playing Wichita State. Jacobson's team is 12-2 on the road in the MVC and both of their losses came to Wichita State. It's not that Northern Iowa is weak on the road, but their bench needs to step up much more than they have. If you consider the Wichita State game no reserve played more than 14 minutes and not one reserve scored more than 10 points. On Feb. 3 the Panthers get a chance for a cold dish of revenge as the Shockers visit Cedar Falls and in my humble opinion I like the Panthers to cover.
Last Week
Last week I looked at Wyoming, Marshall and Oregon State. The Cowboys stretched their covering streak to five games as they beat Utah, 75-69, covering as 3.5-point home 'dogs. As I mentioned last week Wyoming has been covering monsters at home. The Cowboys are now 9-11 SU and a whopping 10-4 ATS and +560 units. Oregon State got destroyed at Stanford but rebounded covering at California to bring their road record to 1-1 SU and ATS. It wasn't unexpected that Marshall would lose to UAB and Memphis as they concluded three tough games in seven days. The Thundering Herd went 0-2 SU and 0-2 ATS in back-to-back homes games.
---
Most Recent College Bowl Game Picks