2009 Sun Bowl Odds and Predictions
by Robert Ferringo - 12/28/2009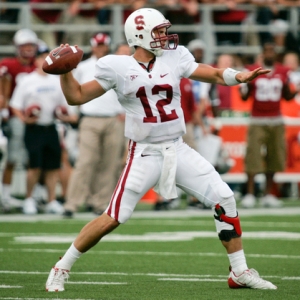 Last year at this time Oklahoma was prepping for a National Championship Game and ready to go pimping in Miami. Now they are tuning up for the Sun Bowl in sweet El Paso.
What a difference a year makes, eh?
Oklahoma will match up with No. 21 Stanford at 2 p.m. on Thursday, Dec. 31 in the Sun Bowl. The Sooners are presently 10-point favorites in this game despite the fact that they are the unranked team. The total is 55.5.
This has clearly been a disappointing season for the Sooners, who started the year in the Top 5. But five losses later they find themselves slumming it in El Paso.
Stanford, on the other hand, has been one of college football's pleasant surprises. They finished No. 2 in the Pac-10 and managed an impressive 8-4 record just three years after posting a pathetic 1-11 mark. Their record this year includes big wins over USC and Oregon.
Stanford's top gun is Heisman runner-up Toby Gerhart. The senior running back led the nation in rushing yards (1,736) and rushing touchdowns (26). However, the big news for the Cardinal is the status of starting quarterback Andrew Luck. The freshman has a broken finger and is considered doubtful to start the game. However, he has been practicing and there is an increasing chance that he might play.

This game is on a neutral site and it pits a pair of terrible road teams against one another. Besides their win at USC, Stanford went just 1-3 ATS on the road this season. They lost at Arizona, at Oregon State and at Wake Forest, and just three of their last 10 games were away from home. Oklahoma was even worse. They went 1-4 ATS away from home and lost games at Texas Tech, at Nebraska, at Miami and in a neutral site game against BYU.
Here is a deeper view into this game:
Motivation
We're starting to get into the more serious bowl games with the upper-level teams, so motivation is becoming less and less of a problem. But 10-cent psychology here suggests that Stanford will be more motivated here because Oklahoma has no interest in this bowl game.
I don't agree. They are playing a Top 25 team (OU is outside the Top 25) and this is a chance for another season-salvaging victory. We've already seen teams like USC, Pittsburgh and Clemson shrug off late-season disappointments to win their bowl games and score covers (that trio went 2-1 against the spread). Oklahoma has actually lost five of its last six bowl games outright and you know that Bob Stoops is going to have his boys ready to play.

This is Stanford's first bowl game since 2001 and they are looking for their first bowl win since a victory in the Sun Bowl back in 1996. That makes this game exciting for the program, but they don't have nearly the motivation of a team like SMU, which hadn't been to a bowl game in 25 years.
Matchups
The key to this game is clearly going to be Stanford's rushing game (No. 11 with 224 yards per game) against Oklahoma's rushing defense (No. 7 at 88 yards per game). Overall, the Cardinal are No. 13 in total offense while the Sooners are No. 7 in total defense. If Luck can't go then OU should be able to stack up and try to shut down Gerhart.
Also, the Sooners are fifth in the country in sacks, averaging three per game. Stanford's offensive line is second in the nation, allowing only a half-sack per game.

On the other side, Stanford's passing defense has been awful (No. 105 at 252 yards allowed per game) while Oklahoma's bread-and-butter this year has been its passing game (No. 17 at 278 ypg). Oklahoma has been mediocre with its rushing game (No. 69 at 141 ypg) and faces an equally mediocre Stanford rush defense (No. 61 at 141). That tells me that OU should be able to have its way with the Stanford defense all around. And with so much attention going to whether or not Oklahoma can stop Gerhart, maybe the question should be whether or not Stanford can stop OU.
Line Value and 2009 Sun Bowl Odds
The line on this game opened around -7 or -8 and has since shot up to -10. However, about 75 percent of all of the action on this game is coming in on Stanford, making Oklahoma a disrespected favorite.

The Sooners are 1-5 ATS in their last six bowl games, all of which they were favored in. Oklahoma is also just 2-5 ATS as a favorite playing on a neutral site. However, they are 3-0-1 ATS in their last four games against the Pac-10.
Stanford is a mere 2-5 ATS in its last seven nonconference games and failed to cover their last two games to close the regular season. However, prior to that they were on a sweet 7-3 ATS rush prior to that and were one of the best bets in the nation.
2009 Emerald Bowl Predictions
I am starting to get the feeling that this game is going to go similarly to the Boston College-USC game played last week. In that game we had another team (USC) that was used to playing in BCS games and playing for national championships that was forced to "slum it" against a group that really overachieved (Boston College) this season. Well, everyone completely overrated the "motivation" aspect of the game and the Trojans managed to cover the spread in their double-digit win.
I am starting to get the feeling that this could be a similar situation. The majority of the bets are coming in on Stanford, yet the line continues to climb. There is a clear reverse line movement and we have a situation where there isn't a clear-cut "underdog" in the minds of the players and coaches.

If Oklahoma can stop Stanford early and put some points on the board they may be able to take Gerhart out of the game and put the pressure on Tavita Pritchard. We've seen how that ends.
---
Most Recent College Bowl Game Picks