College Basketball Championship Futures Betting: Possible Values
by Aaron Smith - 3/22/2010


Other Popular March Madness Pages:
2019 Main Page - Brackets - Odds - Picks - Schedule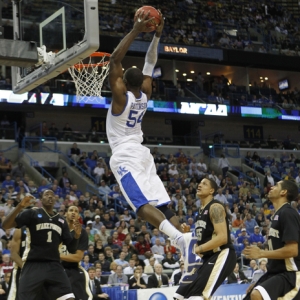 Is there really any doubt why it is called March Madness? If anyone wondered before, I think they have their answer now after a wild first weekend of stunning upsets that turned March Madness brackets into blobs of red ink and turned unknown teams and players into household names. It's all part of what I believe is the best tournament in all of sports. Every team has a chance to make their mark on history, and this year already plenty of them have taken advantage of that opportunity.
Now every college basketball handicapper is wondering exactly how he or she may be able to make some money on the rest of this tournament. I think the answer may be in finding some nice values in the college basketball championship futures. There is no doubt that the Kansas Jayhawks were the favorite to win this tournament, so now that they are out of it, there are some opportunities for teams that are still being underrated by the oddsmakers. Let's take a closer look at some of the best values out there today.
Teams with Value to Win it All
West Virginia (+850) - At these odds, I think the West Virginia Mountaineers are definitely a solid value. If the Mountaineers can get by a pesky Washington team, I do believe they have the ability to knock off the Kentucky Wildcats. Bob Huggins' team is one that is very strong down low, and Da'Sean Butler has proven to be a great team leader who steps up when the team needs him the most. This West Virginia team should not be taken lightly.
Baylor (+1800) - I realize that Baylor doesn't have experience in the tournament, and that they are a long shot; but at these odds I think they are worth a punt. They have one of the two best backcourts in the entire country, and Ekpe Udoh is a nice force down low for them. The Bears have the ability to beat Duke if they put together a strong game. A team with this much balance should be given a little more respect than they are getting right now.
Ohio State (+825) - There couldn't have been a happier team out there than the Ohio State Buckeyes when both Kansas and Georgetown lost in the first couple rounds. The Buckeyes have the single best player in the tournament in Evan Turner, and their guards are absolutely terrific. Tennessee will be a difficult match up for Ohio State, but the Buckeyes will be favored in that one. With a player like Turner who can create for everyone on the team, I think Ohio State could certainly make a run and win four straight games in the next couple of weeks to cut down the nets.
Northern Iowa (+6600)- The Panthers of Northern Iowa have already taken down Goliath in this tournament, and now they have a very winnable matchup against a Michigan State team that will likely be without Kalin Lucas. The Panthers tempo could also frustrate a team like Ohio State or Tennessee in the Elite Eight. At odds like these, I think taking a small chance on Northern Iowa could be profitable, even if it means hedging out of your bet if they reach the Final Four.
Kentucky is being given the best chance of winning it all right now (+250). The Wildcats are terrific, but their youth and inexperience gives other veteran teams a chance to knock them off. These talented underdogs that are not given much respect by the oddsmakers could certainly sneak their way into the final game, where anything can happen. We've already seen what can happen in March as far as upsets go, and as a bettor I think you'd be wise to be ready for more upsets in the coming weeks. Don't be afraid to stick your neck out there and look for some values in the underdogs!