NCAA Tournament Seed History
by Chris Vasile - 3/13/2018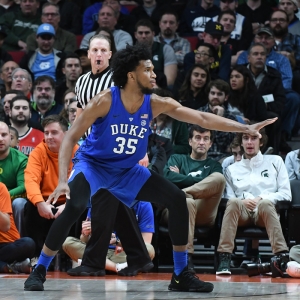 What is the key to filling out a successful bracket while also cashing bets? Well, there is no simple formula. Heck, some people base their picks off of mascot coolness. Others may put team names on a dartboard and see where their throws land. Whatever the case, a basic knowledge of NCAA Tournament seed history certainly can't hurt. Each seed -- No. 1 through No. 16 -- owns an extensive profile compiled over several decades of March Madness festivities that gamblers can use to their advantage.
Free $60 in Member March Madness Picks No Obligation Click Here
Let's look at how all 16 seeds have performed throughout the illustrious history of the Big Dance.
No. 1- Top seeds have never lost in the first round of the NCAA Tournament since the field expanded to 64 teams (now 68) in 1985. At least one No. 1 seed has advanced to the Final Four in nine of the last 10 seasons. In 2017, two No. 1 Seeds faced off against each other in the National Championship Game, which marked the first time that has happened since 2015 when Duke took on Wisconsin. From a betting perspective, top seeds are a 6-2 ATS against No. 16 teams in the last two tournaments.
No. 2- No. 2 seeds own an all-time record of 124-8 in their opening-round matchup against the No. 15 seeds. Blindly penciling them into the second round would be a safe bet on most occasions. However, taking them against the spread is a risky proposition.
No. 3- A three-seed has advanced to the Final Four in just four of the last 11 installments of the NCAA Tournament, the most recent being Oregon in 2017 when they fell to eventual champs North Carolina. No. 3 seeds have gone 14-14 ATS over the last seven years. However, I like this year's quartet of teams, so I expect that ATS ratio to get back into the better seed's favor.
No. 4- No. 4 seeds own an all-time record of 106-26 against their opponents in the first round. Last year, all four No. 4 seeds were able to advance to the second round, and they went 3-1 ATS. Coming into this tournament, No. 4 Seeds have made just three Championship Game appearances and managed to win the title only once (Arizona in 1997).
No. 5- No. 5 seeds are infamous for suffering first-round upsets. They are a mediocre 85-47 SU against 12th seeds after compiling a 3-1-mark last spring. The 2016 Big Dance was a typically mediocre one for this line, with no such team advancing past the Elite Eight and two going down right away (Purdue to Arkansas-Little Rock and Baylor at the hands of Yale). Zero No. 5 seeds have ever won the National Championship, and just two have reached the Final Four over the course of the last 11 years (both Butler and Michigan State in 2010).
No. 6- Sixth seeds are 83-49 all-time against the No. 11 line. At least one has lost in the first round of the tournament dating back to 2004. The last No. 6 seed to reach the Final Four was Michigan, led by the Fab Five, back in 1992. From a betting perspective, No. 6 seeds are just 12-8 ATS over the last five years. Last year, No. 6 seeds went 1-3 SU and ATS.
No. 7- It has already been four years since the Connecticut Huskies won the National Championship as a seven-seed. There are only two other No. 7 seeds that have progressed past the Elite Eight, and those are Michigan State (2015) and South Carolina (2017). Last year, the No. 7 seeds went 3-1 SU and ATS against their opponents. This year, two No. 7 seeds are underdogs, so there could be some upsets brewing.
No. 8- In 1985, Villanova at No. 8 became the lowest-seeded team to ever win the National Championship. Only three such seeds have made Final Four appearances since. No. 8 seeds have reached the Final Four four times since 1985, with the last being Kentucky in 2014. Not surprisingly, the 8-9 matchup has been mostly even, with the better seed holding an 67-65 all-time advantage.
No. 9- It has been four years since the last No. 9 seed made deep run in the tournament. No. 9 Wichita State made the Final Four in 2013 before falling to the eventual champion Louisville. Last year, No. 9 seeds went 1-3 SU and 1-3 ATS. In the last seven years, No. 9 seeds have been favored in 14 of 28 games, which resulted in a record of 4-10 ATS.
No. 10- Just two years ago the Syracuse Orange were gifted a second chance and a life into the tournament. They took full advantage and went on a run that saw them reach the Final Four before being knocked off by North Carolina. This year, two No. 10 seeds are favored over their first-round opponents, so don't rule out another storybook run.
No. 11- This is the lowest seed you will find in the record books when looking at the Final Four. Three times a No. 11 seed has made it to the Final Four, with the most recent being the VCU Rams in 2011. From a personal standpoint, my favorite tournament moment was watching No. 11 George Mason captivate America and reach the Final Four in 2006.
No. 12- This is usually where the upsets start to happen on a more frequent basis. At least one No.12 seed has won a first-round game in 16 of the past 18 tournaments. They are a stellar 25-14-1 ATS over the last 10 years and 12-7-1 ATS over the last five. If you are putting together a bracket , this would be the second place to look (the first would be the No. 1 seeds). Unfortunately, the furthest a No. 12 seed has progressed in the tournament was the Elite Eight appearance by Missouri in 2002.
No. 13- It has been a rather tough go for No. 13 seeds as well. None of have reached the Elite Eight in six tries. The latest team to lose in the Sweet 16 was La Salle back in 2013. This year, No. 13 seeds are in tough for their opening round matchup against a quarter of excellent teams in Auburn, Gonzaga Tennessee, Wichita State.
No. 14- When you compare the No.14 seed to the futility of the 15 and 16 seeds, it's not all that bad. No. 14 has an all-time record of 21-111, which is essentially triple the number of wins of the 15 and 16 seeds combined. The most recent No. 14 to make a splash in the tournament was Stephen F. Austin in 2016 when they took out West Virginia. No 14 seed has managed to make it past the second round since Chattanooga did it in 1997, when they made the Sweet 16.
No. 15- No. 15-seeds have provided money line betters with handsome rewards on eight separate occasions. The latest No. 15 seed to do so was the Middle Tennessee State Blue Raiders. The Blue Raiders defeated the second-seeded Michigan State Spartans in an upset for the ages. The Blue Raiders were +16.5-point underdogs, which is the fifth-largest upset in tournament history. Unfortunately, no 15 seed has made it past the second game and into the Sweet 16.
No. 16- In 132 attempts, the No. 16 seed has failed to win a single game. That's just about all you need to know.
Want free March Madness betting picks? Doc's Sports has you covered - get $60 worth of March Madness picks free from any of Doc's Sports expert handicappers. Get $60 worth of premium members' picks free . Get daily free college basketball picks on Doc's Sports NCAA hoops predictions page .