2021 March Madness Bracket Predictions: East Region
by Robert Ferringo - 3/16/2021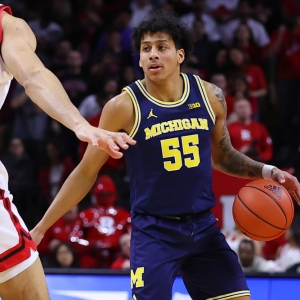 Despite the NCAA Tournament selection committee's best efforts, every year there is one Region of Death and another region that looks a bit softer than the rest.
This year's weakest region: the East.
And it's really not even close.
On the surface, this bracket looks pretty solid. The SEC (Alabama) and Big 12 (Texas) champions reside in this region, along with the ACC (FSU), Pac-12 (Colorado) and the WCC (BYU) runners up. Throw in Michigan, the Big Ten's regular season champion, and the numbers support this as a well-rounded, difficult region.
However, I don't see a single national title threat in the East this year, and I think that this region is a powder keg of teams capable of detonating and blowing up this bracket.
Get daily college basketball picks on Doc's Sports NCAA hoops predictions page.
Here are Doc's Sports March Madness bracket predictions for the East Region:
No. 1 Seed: Michigan Wolverines (+120 to win East Region)
March has not been kind to Michigan thus far. They've lost three of their last five games. Head coach Juwan Howard got thrown out of the team's Big Ten Tournament opener. Then the Wolverines lost stud senior swingman Isaiah Livers to an injury in a tourney semifinal loss. Prior to this March meltdown, Michigan was 18-1, the clear-cut best team in the nation's best conference, and stride-for-stride with Gonzaga and Baylor on the short list of favorites for the national title. Now I'm not sure where they are. Mountainous center Hunter Dickinson and fifth-year senior point guard Mike Smith are an unlikely inside-out combo and the go-to players for Howard's squad. Eli Brooks, Chaundee Brown and Franz Wagner are all capable role players. But the loss of Livers, particularly on the defensive end, is going to hurt this team the deeper they go in the tournament.
Michigan NCAA Tournament Predictions: Losing Livers was a significant blow to Michigan's national title hopes. The good news for the Wolverines is that they have the easiest road to the Final Four of any of the No. 1 seeds. I don't think Michigan will win it all, but I can see them making it to an Elite Eight showdown with whoever survives the bottom of the bracket.
No. 2 Seed: Alabama Crimson Tide (+450)
The newly-minted SEC champions have gotten better and better, going 20-3 after a shaky 4-3 start. Alabama's offense runs fast and furious, and the Tide's versatility is one of their primary strengths. Starting freshman guard Josh Primo will miss the opening weekend, though he was only the team's No. 4 scorer and his loss won't be a devastating blow to their chances. Seniors Herbert Jones and John Petty can do it all on both ends of the court, as Jones showed with an SEC title-winning basket against LSU. Sophomores Jaden Shackleford and Jahvon Quinerly are stellar running mates on the attack and underrated on the defensive end. Make the three and defend the three; that's the name of the game. And Alabama does both as well as anyone in the field. I am a little worried about what Alabama has left in the tank after their last-second win over LSU in the SEC title game on Sunday. That came one day after a wild 15-point second half comeback in a semifinal win over Tennessee.
Alabama NCAA Tournament Predictions: Something tells me this squad's stay is going to be a bit shorter than it would like. No team seeded No. 1 or No. 2 that started the season unranked has ever made the Final Four. And nearly 70 percent of the teams fitting those parameters didn't survive the opening weekend.
No. 3 Seed: Texas Longhorns (+600)
The Longhorns have been all over the map this season. With their top 10 players back from last season, along with highly-touted freshman Greg Brown, the Longhorns got off to a hot 10-1 start. Then things got weird. After some in-fighting, some coronavirus-related drama and a three-game losing streak, the Longhorns looked headed for a complete and total implosion. Shaka Smart was able to stabilize things in Austin, though, leading Texas to three straight regular season road wins and a Big 12 Tournament championship (thanks in part to a forfeited semifinal by Kansas). Talent isn't an issue for Texas. Courtney Ramey and Andrew Jones are both capable of taking over a game. Texas has size, experience and depth and has been seasoned in one of the best leagues in the nation. But Smart is not a good coach. And there still may be issues bubbling under the surface with this group.
Texas NCAA Tournament Predictions: I think that it is going to be all or nothing for the Longhorns. If they build off last weekend's Big 12 championship and survive the opening weekend, then Texas is going to be a tough out. However, Smart's track record of flameouts makes this a tough team to trust.
No. 4 Seed: Florida State Seminoles (+550)
One of the biggest, strongest, most athletic teams in the field, Florida State will be a dark horse pick to win the East Region. The Seminoles lost the ACC regular season title on the last day of the season with a shocking upset loss to Notre Dame. Then they lost the ACC Tournament title in their last game with a surprising upset loss to Georgia Tech. The Seminoles looked like trash last weekend in Greensboro, turning the ball over 43 times in two games. They can defend. They can rebound. They are in the Top 30 in scoring and in 3-point shooting. But if Florida State doesn't take care of the ball, the Seminoles have no shot of making it through this weekend.
Florida State NCAA Tournament Predictions: Florida State was shockingly bad in its two games last weekend and looks like a team trending in the wrong direction. I don't want to give up on them too quickly, though, and I think they are capable of pulling themselves together and pushing Michigan for supremacy in this region.
No. 5 Seed: Colorado Buffaloes (+1600)
Tad Boyle is taking Colorado to the NCAA Tournament for the fifth time in 10 years and packing one of his most complete teams. Colorado has outscored its opponents by nearly 11 points per game and has been extremely efficient on both ends of the court. McKinley Wright is a future pro and one of the most underrated guards in the tournament field. Wright and Co. excel at getting to the basket and forcing their way to the free throw line, where the Buffs are No. 1 in the nation (83.4 percent). They are also tougher defensively than most Boyle teams. They are going to have to prove it, though, against a Georgetown team that bullied its way to a Big East championship last weekend and is one of the hotter teams in the field.
Colorado NCAA Tournament Predictions: The problem for Colorado is that they don't win consistently away from home. They also haven't tested themselves against a tough schedule this year. This is a sound team. But I'll be shocked if they are able to outmaneuver Georgetown and Florida State for a slot in the Sweet 16.
No. 6 Seed: BYU Cougars (+2600)
BYU head coach Mark Pope continues to get things done in Provo and has done one of the best jobs in the country this year. BYU lost as much talent and experience as any team in America from last season. Pope was able to restock the cupboards with a bunch of transfers from his old team at Utah Valley, including point guard Brandon Averette. Freshmen forward Caleb Lohner and transfer center Matt Haarms shored up the paint, and the Cougars are one of the top rebounding teams in the country. As always, BYU is extremely efficient on the offensive end, scoring both inside and out, and they showed that they are capable of playing with anyone in the country when they almost took down No. 1 Gonzaga in the WCC finals.
BYU Tournament Predictions: The Cougars could end up being underdogs in their first round game against either UCLA or Michigan State. Honestly, I think winning that game would be a watershed moment for a program that is just 4-12 in the NCAA Tournament over the last 25 years.
Best first-round matchup: No. 5 Colorado (-5) vs. No. 12 Georgetown
This is a vaunted 5-12 matchup, and I think that Georgetown is going to be a popular upset pick in Round 1. The Hoyas won four games in four days in Madison Square Garden to punch their ticket to The Big Dance. Hall of Famer Patrick Ewing is leading his former team, which lost legendary coach John Thompson last fall, and right now the Hoyas are a big sentimental favorite. They don't play sentimental basketball, though, and Georgetown will try to bulldoze its way through Colorado. This game won't be pretty. And it won't move the meter nationally. That doesn't mean that it won't be an intriguing game between two undervalued teams.
Best potential second-round matchup: No. 2 Alabama vs. No. 7 Connecticut
This potential second round matchup would be a showdown of two tough, fearless teams with a shot at the Sweet 16 on the line. Alabama's guards have gotten plenty of plaudits this season. But Connecticut's guards, James Bouknight and R.J. Cole, are more than capable and would enter this game with a chip on their shoulders. Connecticut has just one NCAA Tournament appearance and one win since their 2014 National Championship. I think Danny Hurley would love a chance for a statement victory to help declare that Connecticut basketball is back as a national force.
Upset Alert (first round): No. 3 Texas (-9) vs. No. 14 Abilene Christian
I know that this one is a bit of a stretch. However, Texas has been just shaky enough under Smart for me to think that they could blow this game. Last year Texas nearly lost at home to McNeese State, and two seasons ago Radford upset beat them early in the year. Abilene Christian lost by only seven to Texas Tech and played even with Arkansas for 36 minutes earlier this season. The Wildcats can dig in defensively, and this game – an opportunity to knock off THE Texas school – is their championship game, the NBA Finals and the Super Bowl all rolled into one for the Southland Conference reps. This would be a wild upset. But at least one No. 13 seed has won a first round game 25 times in the last 35 years, so it's not out of the realm of possibilities.
Upset Alert (second round): No. 2 Alabama vs. No. 7 Connecticut
See: above. Alabama is definitely the better, more accomplished team. But there is no doubt in my mind that Connecticut can push them to the limit, especially if the Crimson Tide starts to tire after last weekend's grueling championship run.
Dark Horse team: No. 7 Connecticut
I think that the Huskies have a chance to bust this bracket wide open. Of course, they could also lose to a tough, physical Maryland team in Round 1. Welcome to the NCAA Tournament! The Huskies are going to have the best player on the court, James Bouknight, at least until they run into someone in the Elite Eight. There are also a lot of upperclassmen role players on this Huskies team – guys like Josh Carleton and Tyler Polley – that should embrace their first opportunity at March glory. If Bouknight gets hot, and if some other Huskies can hit some 3-point shots, then these guys are going to be a real tough out.
Team That Makes Me Nervous: No. 3 Texas
I'm sorry, but I just don't trust the Longhorns. This team has been a perpetual underachiever under Shaka Smart and has been a consistent bust in March. Texas hasn't won an NCAA Tournament game in seven years, and they haven't survived the opening weekend since 2008. Texas certainly has the tools and the talent to make a deep run in a flimsy bracket. They also have a pedigree of a program that consistently does its worst work on the biggest stage. Caveat emptor.
2021 South Region Predictions: I think that this is clearly the weakest bracket in the field, including fielding the most vulnerable No. 1 seed as well as the weakest No. 4-No. 6 seeds. As a result, I think we're going to see some general tomfoolery early in the weekend followed by at least a couple surprise visitors to the Sweet 16 next week. I don't, however, see a surprise Final Four participant from this bracket (unless Bouknight goes nuclear and carries the Huskies for four games). The odds are still pretty overwhelming that one of the top four seeds will come through. And I'd put my money on the winner of a Michigan-Florida State regional semifinal as the team to survive the East.
Robert Ferringo is a member of the Basketball Writer's Association of America and a professional sports handicapper for Doc's Sports. He is considered one of the best college basketball handicappers in the country and has posted 12 of 14 winning seasons. He is looking for a monster March run and you can sign up for his college basketball picks and get more information here.
Doc's Sports college basketball handicapping team has set some lofty standards worldwide for college basketball handicapping. Get $60 worth of premium members' picks free. No credit card needed, and you will never deal with a salesman.