2010 Kentucky Derby Early Contenders
by Trevor Whenham - 4/7/2010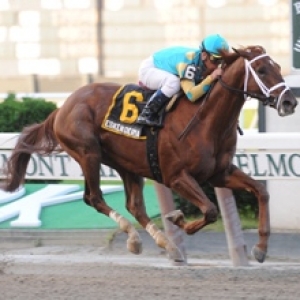 It sneaks up on you unless you, like me, are totally obsessed by it - the Kentucky Derby is less than a month away. Many of the top contenders have already run their final prep races, and only a couple more relevant races remain. We'll spend lots of time looking at the race from every angle when it gets closer, but for now it wouldn't hurt to get familiar with the key early Kentucky Derby contenders and how the field is shaping up. There is likely to be 20 horses in the gate on May 1 in Louisville, but at this point it seems most likely that one of these five will be wearing the roses after the two glorious minutes - or at least that's how it looks now, though a whole lot can change with these horses between now and post time.

Eskendereya - Some years a star emerges head and shoulders above the rest of the field at this point in the Triple Crown trail. This year that horse is the Todd Pletcher-trained Eskendereya. He was highly regarded last year, but was a disastrous ninth in the Breeders' Cup Juvenile. He hasn't taken a single wrong step since. He won in impressive fashion in the Fountain of Youth, a typical Florida Derby prep. He left Florida, though, to head to the Wood Memorial at Aqueduct. His win there was stunning. He was ahead by almost 10 lengths at the wire, and he didn't even look like he was trying. He had at least one gear in reserve. so the distance is no concern for him, and if anyone can stay close to him in the stretch he seems to have the ability to shake them. Pletcher has never won the Derby, but this might just be the horse who finally gets it done for him. He's almost certain to be the solid favorite in Kentucky, and he'll get a lot of comparisons to the equally dominant Big Brown leading up to the greatest of all races.

Lookin at Lucky - Last year's two year old champion had a disastrous third place outing in the Santa Anita Derby just minutes after Eskendereya massacred the field in the Wood. For a few reasons, though, I am willing to give him a mulligan for that performance. First, Garrett Gomez rode one of the worst races of his world-class career on the horse. He got in trouble early, found trouble again in the stretch, got squeezed against the rail, and generally had no chance to show his best. Lesser horses would have used any one of the incidents as an excuse to quit, but Lookin at Lucky dug in and kept charging. That's a sign of heart. More significantly, the Santa Anita Derby is run on a synthetic track, and I have absolutely no respect for what happens on synthetics. In his previous race he was an impressive winner of the Rebel on dirt at Oaklawn. Bob Baffert always has his horses ready in Kentucky, and this one will be as dangerous as any he has had if he can finally get some luck and a good ride.

Sidney's Candy - The Santa Anita Derby certainly wasn't a disaster for Sidney's Candy. He benefited form the rough trip by Lookin at Lucky, but there's a good chance he would have been fine even without it. He took the lead early and never looked back, getting further and further ahead as the race went on. It takes a great horse to win the Kentucky Derby on the lead, and we have never seen this horse on dirt, but at the very least the presence of a front runner this classy will guarantee an honest pace in Louisville.

Odysseus - Unlike the first three, this guy still has one more race between him and Kentucky - the Blue Grass Stakes on April 10. It's hard to know just how good this horse is - he hasn't raced much, and his final prep will be on a synthetic track. The horse has captured my imagination for one big reason, though. In the Tampa Bay Derby he was clearly beaten down the stretch when he was passed by Schoolyard Dreams, but he rallied again and took over the lead for good. Horses almost never find another charge after they are passed, so when it happens against a good horse like it did there it gets my attention. he has a lot to prove in his last race, but if he can show his class then I'll be watching him closely.

Interactif - I pick this Todd Pletcher horse in this spot, but I could really pick about several of that trainer's charges. He has an impossibly strong stable this year - as many as eight of his runners are on a path to Kentucky. Besides the dominant Eskendereya this is the horse I like best. To believe in this horse requires a big leap of faith. He hasn't run on dirt since July, and hasn't won since October. He's shown impressive versatility, though, with strong showings on turf and synthetic against top competition, and he really seems to be growing into himself. He faces a tough test in the Blue Grass against Odysseus and Aikenite, a Pletcher stablemate, but if he continues on the path he has been on he could easily come out on top.