Final Four Handicapping: Butler's Home Court Advantage
by Trevor Whenham - 3/30/2010


Other Popular March Madness Pages:
2019 Main Page - Brackets - Odds - Picks - Schedule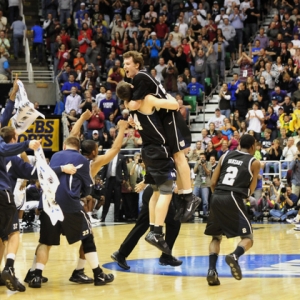 The fact that Butler is playing the Final Four on their home court is, with good reason, one of the most discussed aspects of this strange Final Four that looms just on the horizon. This is a reasonably unique situation - the last time a team played at home was UCLA in 1972. Though the Bruins won it all that year, that's hardly a precedent given how much the tournament has grown since then.
There seems to be a sentiment in the media that this situation gives Butler an advantage, and that's reflected in the betting patterns so far - Butler has drawn 55 percent of the bets so far. But is it really an advantage to be playing at home? Will Butler - a team that certainly belongs in this spot - be tougher to beat in Indianapolis than they would be in Dallas or Phoenix? How much do we really need to worry about geography in our Final Four handicapping? Here's a look at some issues to consider:

Distraction - Being in the Final Four is the biggest challenge a college basketball player will face in his career. The stakes are massive, the scrutiny is intense, and the demands on the time of the players and coaches is unlike any other time in the season. This is of particular concern for Butler because the coach is very young, and the program has never won a Sweet 16 game before, never mind played in a game this important.
The immensity of the situation would be a concern for this team at the best of times, but you can multiply that by a factor of 10 because they are playing in their home city. Teams can typically insulate themselves from at least some of the distractions of the Final Four by taking their teams away from home. Butler can't do that, so friends, family, and local media and fans are going to be whipped into a frenzy around Butler.
It's obviously far from a certainty that the distraction will be too much for the team, or that it will cause them to lose a game they would otherwise win. It is definitely going to be a factor, though, and that distraction could easily turn the perceived advantage of playing at home into a disadvantage for this inexperienced squad.

Home city, not home court - Indianapolis is where this team plays, but they obviously don't play in Lucas Oil Stadium, the home of the Indianapolis Colts. You've probably heard about a 1,000 times by now that they play in Hinkle Fieldhouse, the building in which Hoosiers was filmed.
Lucas Oil is going to have 70,000 screaming fans in it. Hinkle holds about 11,000. Though Butler will be playing in the city they live in, the benefits really end there. The court and the building will be as unfamiliar to them as it is to the rest of the teams, and Duke and Michigan State will have had more experience as a program playing in a massive building like this.
Big stadiums create different issues than smaller buildings with air flow, lighting, and noise. If Butler had played a few games in Lucas Oil Stadium before then this might be an advantage, but it hardly seems like it will be here.

Won't be exclusively their fans - The biggest reason that teams have an advantage on their home courts is because of the intensity of the crowd. It's not like the entire building is going to be packed with Butler fans. The other three teams will have received the same allotment that Butler did, and that's not much - Butler has just 660 student tickets, and far fewer tickets overall than they have season ticket holders. The public tickets that were sold before the tournament started were bought by college basketball fans throughout the country.
There will likely be more fans from Indianapolis than other places, but they aren't likely to be the majority. Another reason teams have a home court advantage is if their opponents face tough travel to make the game. That certainly won't be the case here. East Lansing is just a four-hour drive from Indianapolis, and Morgantown is about six hours. Durham is the furthest away, but it's only 650 miles. That means that it is going to be very easy travel for the teams, and easy for their fans to make it to the game and create some noise as well.

Michigan State last year - Michigan State doesn't play in Detroit, the site of last year's Final Four, but East Lansing is only about 90 miles away so it was as close as it gets - at least before this year. The impact of playing n their own backyard wasn't overwhelming - they beat UConn as underdogs, but then were blown out by North Carolina.
The Spartans were more familiar with Ford Field than Butler is with Lucas Oil because they had played there earlier in the year, but they were beaten badly by North Carolina in the first game, and they didn't fare much better the second time.
The Spartans weren't helped last year by the fact that they were playing against a very public team that drew at least as much crowd support as they did. Butler could similarly be challenged this year by facing Michigan State or Duke - especially because Butler is a small school without an established national fan base.