Final Four Coaches
by Trevor Whenham - 3/31/2010


Other Popular March Madness Pages:
2019 Main Page - Brackets - Odds - Picks - Schedule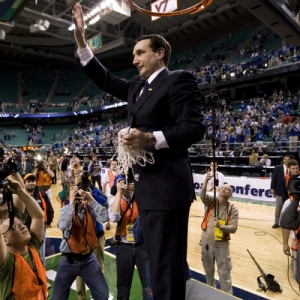 Despite the lack of NBA Draft lottery talent and the biggest-named teams, there are still a whole lot of reasons why this Final Four is at least as interesting as several we have seen before. At or near the top of that list is the set of coaches that are leading their teams into Indianapolis. There's a bit of everything here - from the legends to the future star. I mean, just look at these guys:

Tom Izzo - I'm not convinced that there is a better pressure coach in the country right now than Izzo. Over the course of the last 12 years he has taken his team at least to the Final Four an incredible six times, with one win. Just think about that for a second - in 12 years there have been 48 Final Four teams, and six of them - one in eight - have been coached by Izzo. That's dominance. Despite all of the success over the years, this year may be his very best job yet. His team underachieved all year, he clashed with Durrell Summers, and he had to win two tournament games without Kalin Lucas, the best player in the Big Ten. Izzo is better than anyone at getting his team fired up at just the right time.

Mike Krzyzewski - This is Coach K's 11th trip to the Final Four since 1986. Critics had suggested that his star was fading - after wining the tournament in 2001 he made the Final Four just once in the following eight years, and went out in the first and second rounds in 2007 and 2008. He's back in a big way this year, though. The Blue Devils won both the regular season and the conference tournament in the ACC, and they walked through their region - even if it was a laughably easy draw. If his accomplishments at Duke aren't enough he got himself a gold medal in 2008 as well. Duke is a private school so they don't have to disclose salaries, but after 30 years and all this success there's a good chance that Coach K is the highest paid coach in the country.

Bob Huggins - Huggins has found his share of success as a coach, but he's found more than his share of controversy as well. After taking Akron to the tournament once in five years, Huggins pulled off a remarkable reversal at Cincinnati. The team hadn't made the tournament since 1977, and they didn't in Huggins' first two years starting in 1989. However, in his third season he started a streak of 14 consecutive tournament appearances, and he made the Final Four in an improbable run that year. Over the next 14 years he made the Elite Eight twice more, won the conference 10 times and the league tournament eight times, and collected a number of Coach of the Year awards. It all came crashing to a halt, though, when in 2004 a DUI charge and academic issues forced his resignation. After a year out of coaching he returned at Kansas State, recruited like crazy, got snubbed for the tournament, and bolted for his alma mater of West Virginia. His recruiting success continued, and the program is already better than it ever was under John Beilein.

Brad Stevens - You know you are getting old when there is a Final Four coach who is younger than you. Stevens is a full year younger than I am at 33, but he already has three years as a head coach under his belt, has won the Horizon League Coach of the Year award twice in a row, and has exceeded the performance of the impressive string of coaches ahead of him. His is a very unlikely story - he only played Division III basketball, he worked at Eli Lilly after graduation, and Butler is the only place he has ever coached - six years as an assistant before taking over the big job. This is a fairytale story - or at least it would be if Stevens hadn't already given us plenty of reason to believe that this is no fluke.

Handicapping the teams in the Final Four necessarily and obviously involves looking at the coaches. As you look at this field, though, here are three key things you'll want to keep in mind:

No one is unbeatable - Izzo and Coach K are obviously among the biggest coaching legends of all time, but they are far from unstoppable once they reach the Final Four even despite all of their practice being there. Coach K has won it all three times, but he's still just 10-7 in Final Four games, and has lost the semifinal game three times. That looks great next to Izzo - he is just 3-4 overall with one championship, and has failed to win a game three times in five Final Four appearances. Huggins lost his only Final Four game to Michigan. No amount of experience makes winning a Final Four game easy.

Inexperience isn't necessarily a problem - Compared to the other three coaches, Stevens is a total coaching newbie - Krzyzewski was coaching before Stevens was born. Being a Final Four virgin doesn't necessarily mean you can't win, though. Several coaches have won it all in their first appearance, including Bill Self with Kansas in 2008. North Carolina State has won it twice, and both Jim Valvano and Norm Sloan were in their first appearance.

Making the Final Four isn't easy - To make it this far all four coaches had to recruit well enough to make this point in the tournament, keep his team performing well enough all year to earn a decent seed, and then win four games in the most intense tournament there is. In other words, regardless of how many times they have been to the Final Four before the fact is that these guys can really coach. Stevens is the youngster, but he's also the only one who beat a No. 1 and a No. 2 to get this far - and he did that in just three days.