Final Four Free Picks: Michigan State-Butler Predictions
by Trevor Whenham - 3/31/2010


Other Popular March Madness Pages:
2019 Main Page - Brackets - Odds - Picks - Schedule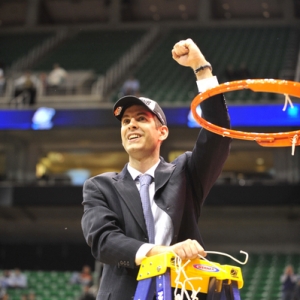 The Final Four contest between Michigan State and Butler is, to say the least, unlikely. It's the first ever appearance for Butler, and the first time that two No. 5 seeds have even made the Final Four in the same year, never mind played each other. Here's how the contest, which happens Saturday at 6 p.m. EST from Indianapolis, sets up:

Butler

How they got here - Hopes were high to start the season - the Bulldogs were ranked 11th in the preseason poll. There was some disappointment early, including losses to ranked teams Minnesota, Clemson, and Georgetown, and an inexplicable loss to UAB. They bounced back from that last Dec. 22 loss, though - so well that they haven't lost since. They've won 24 in a row, including all 18 regular season Horizon League games and both conference tournament games. Most impressively, though, the team beat No. 1 Syracuse in the Sweet 16, then took down No. 2 Kansas State two days later. They are just 4-3 against ranked teams, but three of those wins came in their last four games.

Coach - Brad Stevens is just 33, has only been a head coach for three seasons, and has never worked anywhere other than Butler. It would be a serious mistake to underestimate him, though. He has been the Horizon Coach of the Year the last two seasons, and once he got the feel for this current team he clearly hasn't struggled to motivate them. He has out-planed two ore experienced coaches in his last two games, and is going to be ready here.

Why they can win - You don't win 24 in a row by accident. This team is adequate offensively, but where they really shine is on defense. They have outscored their opponents by just less than 10 points per game, they consistently win the turnover battle, and they rarely make costly defensive errors. They aren't flashy but they are relentless, and they have a way of frustrating teams that are more offensively talented than they are. On top of all that they have the support of a rabid hometown crowd and a good portion of the rest of the country behind them.

Biggest potential issue - Playing in Indianapolis is a blessing, but it could also be a curse. This is the first Final Four appearance for team, players, and coach. The immensity of that situation is overwhelming at the best of times, never mind when it is especially hard to isolate your team from it. Butler operates off the radar most of the time, and now they are in the eye of the hurricane. If they don't handle that well then this game will be ugly.

Most important player - Ronald Nored. Gordon Hayward is the best future pro left in the tournament, and he and Shelvin Mack will have to carry the bulk of the offensive load if the team is to succeed. Their ability to do so rests on point guard Nored. He needs to distribute the ball as well as he is capable. More significantly, he needs to be on his game defensively to cause Michigan State's Korie Lucious to have a rough day.

Michigan State

How they got here - It was a rocky year for the Spartans. They were ranked second in the country in the preseason polls, but early losses to Florida, North Carolina, and Texas lowered expectations. They won their first nine in Big Ten play, but were just 5-4 the rest of the way, and lost their first game in the Big Ten Tournament. It seemed like they were in trouble heading into the Big Dance, but this is Tom Izzo's domain. Losing Kalin Lucas, the two-time Big Ten Player of the Year and by far the best player the Spartans have, in the second round could have been a fatal blow, yet they have been able to beat three straight ranked teams to get here. Their bracket has been very kind to them - No. 4 Maryland is the only higher seeded team they have had to play.

Coach - What can you say about Tom Izzo? This is his sixth Final Four appearance in the last 12 years, and this may be his best job of coaching yet. Other guys have won more titles, but few have ever been as good at getting as much as possible out of his players, or at being prepared for an opponent - as long as it isn't North Carolina.

Why they can win - In a word, depth. Even without Lucas this team is significantly deeper and, on a whole, more talented than Butler. Because of that they are a better overall shooting team, they score more points, and they have a solid edge in rebounding and off the bench. The Spartans have been here before - most of their players were here just last year - and they are going to be very prepared for what they have to face.

Biggest potential issue - Leadership. Lucas was the guy who made this team work on and off the court. Without him it's not totally clear who will lift this team up when things get tough. Durrell Summers has been brilliant throughout the tournament, but was disastrous before that, and has a fragile attitude. Raymar Morgan and Draymond Green don't always lead from the front, either. They have faced adversity very well in their last two games, but that wasn't necessarily expected, and it will certainly need to happen again here.

Most important player - Korie Lucious. With Lucas out of action it has fallen to Lucious to carry the load. He's done reasonably well in that role, but the intensity of this situation is going to be more than he has faced before. Butler is going to be doing everything they possibly can to disrupt Lucious. If he isn't up to the challenge then the Spartans can't win.

Line Movement - The line that was originally set was fairly solid because we have seen little movement. The game opened with Michigan State favored by 1.5, and it can be found there or at one depending upon your source. The total opened at 129, and can be found at 128 or 127.5.

Prediction - I have a love affair with Butler, and I don't want to be done watching them yet. Michigan State has the experience, but Butler has already beaten two teams in better shape than they are, and they have a well-rounded, extremely cohesive squad. I'm worried about the inexperience and the pressure, but the team has faced a lot of pressure lately and handled it admirably. I'm looking for an outright Butler win.