Final Four Free Picks: Duke-West Virginia Predictions
by Trevor Whenham - 4/1/2010


Other Popular March Madness Pages:
2019 Main Page - Brackets - Odds - Picks - Schedule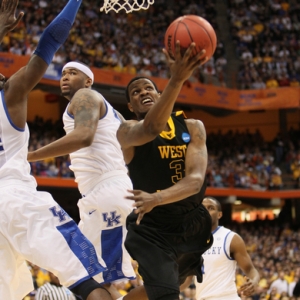 A lot of people are portraying the Duke - West Virginia Final Four game as a de facto national championship. I'm not sure that I but into that theory, but it's definitely the game with the teams that were more expected to be here and don't seem quite as out of place in a Final Four. Here's how the contest, which happens Saturday at 8:45 pm ET from Indianapolis, sets up and here are my Final Four free picks (Duke-West Virginia predictions):

Duke

How they got here - It was a reasonably smooth and easy ride for the Blue Devils this year. They started the season ranked ninth in the polls, lost just five times all season - four to tournament squads and once to 20-win North Carolina State - and wound up fourth in the last regular season poll. The only flaw was that a loss to Maryland cost them the ACC regular season crown. They rolled through a comparatively weak ACC Tournament field to earn the conference title, though. Despite being a marginal No. 1 seed in many eyes, the team was given one of the easiest regions we have seen in a long while. The crushed Arkansas-Pine Bluff as expected, dispensed with Cal, outmatched a Purdue squad sorely missing Robbie Hummel, and outplayed Baylor.

Coach - Mike Krzyzewski is obviously a legend. This is his 11th Final Four appearance in 30 years at Duke. He has won it all three times, and has a 10-7 record in Final Four games overall. That's no John Wooden-esque record, but it's pretty darned good. This is his first Final Four berth since 2004, and he'll be seeking his first Final Four win since he won it all in 2001. People had started to question Coach K and his performance at Duke recently, so this climb back to the promised land is well timed.

Why they can win - In Jon Scheyer, Kyle Singler, and Nolan Smith the Blue Devils have the most fearsome threesome left in the tournament. All three can score, they devour minutes, and they do a very good job of picking up the slack if one of their teammates has an off day. That's going to be a real challenge for West Virginia to overcome. On top of that, they are an extremely good offensive rebounding team, and that will rob the Mountaineers of opportunities. If they get more scoring opportunities and limit the opportunities of West Virginia then they will be very hard to overcome.

Biggest potential issue - The Blue Devils are vulnerable to the big outburst. In each of their five losses it was at least one monstrous individual performance that led the way. Their loss to Georgetown was the most striking - three different players scored at least 20 for the Hoyas. West Virginia has players with the potential to explode, and Duke might not be able to contain them if they try.

Most important player - Lance Thomas. West Virginia has very tough big men to defend - they are dangerous inside but almost as comfortable dropping back to shoot. Duke's Brian Zoubek is more of a traditional big man, and could be challenged to defend against what the Mountaineers can offer. That means that the Blue Devils need a huge game from Thomas. If he can have a big day rebounding and also play stout defense then Duke is going to be in good shape.

West Virginia

How they got here - The Mountaineers started the season ranked eighth in the polls (interestingly, Butler was the lowest-ranked of the remaining four in the preseason polls, and they were just 11th). They started out strong, winning their first 11. They wound up losing six, but all were reasonably solid wins - four came on the road, four were against ranked teams, and all but the loss to UConn were against tournament squads. They haven't lost since Feb. 22, and they looked great in the Big East Tournament. They should have outclassed their first three opponents, and they did. Beating Kentucky was one of the more impressive things that a team has done all tournament. Kentucky didn't help themselves with some impossibly bad shooting, but it Was West Virginia that forced the Wildcats out of their comfort zone and into shooting situations that clearly didn't suit them.

Coach - Bob Huggins has only been here once - in 1992 with Cincinnati - so he's a newbie next to Izzo and Coach K. He's no rookie when it comes to playing in the tournament, though. After taking Akron to the tournament once, he led the Bearcats there 14 straight times, and this is his third appearance with West Virginia in three seasons at the helm. Huggins has been better at making the tournament than winning once he gets there, but he has done a great job with this squad, and he certainly doesn't handicap his team in this game.

Why they can win - It's very hard to shut down the Mountaineers because they have so much depth. Butler, Jones, and Ebanks are the offensive core of this team, but they have so many players who are a good size and versatile - they can dig inside or step back and shoot the lights out. You can't just focus on one player to shut this team down because the other four will step up and make you pay for the double team. They shoot well, they rebound well, and they can get under the skin of the best of them (as they have already shown).

Biggest potential issue - The absence of Darryl Bryant. He might not be a world-class point guard, but Bryant is the heart of this team and the driver of the offense. He missed the last two games, and seems unlikely to play this one. The team has other options, but none that are as familiar or as proven as Bryant. There isn't a ton of margin for error in this game, so they can't afford to lose their composure, and that would be far less likely to happen with Bryant taking the ball up the court.

Most important player - Devin Ebanks. He has the rare distinction of being both perhaps the biggest offensive threat on the team and their best defender. Because the Blue Devils have three equally deadly offensive threats, Ebanks is going to have to be at his best in order to put the biggest hole possible in Duke's offensive plans.

Line movement - The oddsmakers got this one right. The game opened with Duke favored by 2.5 points, and it has largely stayed there. The total is less static - it opened at 136, and is now mostly at 131.

Prediction - These teams are well matched. They aren't mirror images of each other, but their strengths are well countered by their opponents. Duke is probably deeper and a bit more talented, but I like the composure of West Virginia better, and if the game comes down to the wire then Da'Sean Butler and the Mountaineers have the proven edge. West Virginia has also been much more tested in the tournament, and probably more tested in Big East play than Duke was in the ACC. I like the Mountaineers to cover and to win outright.