Guard Play Overrated in Final Four
by Nicholas Tolomeo - 4/1/2010


Other Popular March Madness Pages:
2019 Main Page - Brackets - Odds - Picks - Schedule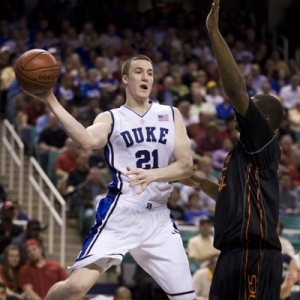 Of all the beliefs this year's Final Four will prove wrong, such as a team from the Horizon League not being able to make a Final Four, or teams with injured star players having no chance to win it all or that Coach K and Duke have lost their game, the one notion that can finally be forgotten is the one that states, "the team with the best guard play will win the tournament."
Look around at the four teams who will assemble at Lucas Oil Stadium Saturday night to battle it out for the 2010 National Championship and you will see a team from the Horizon League, Michigan State without leading scorer Kalin Lucas, West Virginia likely without point guard Daryl "Truck" Bryant and Duke and Coach K. One thing you will not see is dominant guard play.
Of course, some years guard play will be the difference in why one team is cutting down the nets and the other is on the wrong side of 'One Shining Moment,' but the idea that picking the team with the best guards is the smart thing to do every year is wrong. If that was the case then Kentucky would be playing Kansas State for the National Championship. Instead, neither reached Indianapolis. Last year North Carolina point guard Ty Lawson played a huge role in the Tar Heels run to Detroit. But looking at the past decade you have the back-to-back National Champion Florida teams relying on Joakim Noah and Al Horford in the post and before that Carmelo Anthony at Syracuse, Emeka Okafor at Connecticut and Sean May at North Carolina.

This year the National Championship will likely come down to which team plays the best defense. That is probably the biggest reason why those teams are where they are. Butler's defense is ranked 10th in the nation while West Virginia has arguably the top defensive team right now with its 1-3-1 zone that proved to be effective for most of the game against Kentucky. Duke has a Top 30 defense and ever since Spartan guard Kalin Lucas went down in the second round of the tournament, Tom Izzo's bunch has been playing as good of a defense as anyone and doing what every Tom Izzo team does, rebound.

These four teams made it to the Indianapolis for a number of different reasons and guard play would not make the short list if you asked the team's respective coaches why they are the last four teams still playing basketball.
Looking at the individual teams, here is how each overcame average-at-best guard play to get to where they are. Duke is one of the tallest teams in the tournament and easily the tallest in the Final Four. On their bench they can go to Mason and Miles Plumlee, a 6-10 sibling forward duo and they have 7-1 Brian Zoubek starting. Forward Kyle Singler has been a force in this tournament. Guards Jon Scheyer and Nolan Smith are not your prototypical guards. Both score more than 17 points per game and look to score first.

Butler will be able to play in its home town thanks in large part to its man-to-man defense. It has consistently been one of the best in the nation from November until April. Sophomore 6-foot-9 forward Gordon Hayward is an absolute star in the making. He takes over games when he needs to and can handle the ball for a team that struggles sometimes in that department.

Truly proving that guard play at this time of the year is overrated is Michigan State. They lose their best guard, leading scorer and top assist getter Kalin Lucas, and all they do is run right to the Final Four. Two forwards, Raymar Morgan and Draymond Green, have emerged as household names in East Lansing. They are to Izzo's squad what Goran Suton was last season.

And then there is West Virginia also proving how it can be done without guard play. They lose their starting point guard just days before the biggest game in the program's last half century and all they do is blow the doors off the Carrier Dome with three-point shooting and knock off No. 1 seed Kentucky.

If you are looking to prognosticate this Final Four, look beyond the guards and focus on the defense and forwards. Of the remaining teams the edge in the forward department goes to West Virginia with its inside combination of Devin Ebanks and Kevin Jones and when it comes to defense, it is tough to look past a Tom Izzo-coached team.