Fourth Down and Inches - College Football Predictions Report
by Doc - 9/21/2010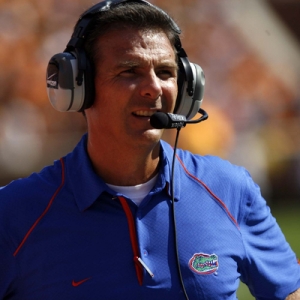 Week 3 of the 2010-11 college football season is now officially in the record books. The Coaches Poll has Alabama atop the standings. Rounding out the Top 5 are Ohio State, Boise State, Texas, and TCU, and I am in total agreement. The next five teams really get my attention, and in my opinion two of these teams are frauds.
Despite being unbeaten, I believe that Wisconsin and Florida are headed for disappointment. The Badgers may be the worse off of the two, and they will continue to pad their record by playing Austin Peay this Saturday. But then the Wisconsin football schedule gets much tougher as they open up Big Ten play at Michigan State. I cannot see a win there. However, the Spartans do not always play to their potential. Then Wisconsin returns home to play Minnesota and that will be a victory. Then the conference will start to take shape with Wisconsin hosting Ohio State on Oct. 16 and then they must travel to Iowa the following week. I will find some top plays during this span to pad my wallet, or if my thinking is wrong I will have to declare bankruptcy. After Oct. 23 I would be very surprised to find Wisconsin still ranked in the Top 20.
As for Florida, the case may not be as strong since they play a light SEC schedule, relatively speaking. They really have a home-heavy schedule with the exception on Oct. 2 when they must travel to Alabama. The Gators may get a serve wake-up call here. Florida has a solid defense, but the offense is just not clicking as it did under QB Tim Tebow and his talented playmakers. Florida has not been an underdog since 2007, but they will be against Alabama. I do not see any chance of an upset, so laying the points would be my only choice. Florida will likely lose a couple of games before this season is all said and done.
Moving on, I would now like to discuss halftime bets. Are they a good tool in a successful handicapper's arsenal? In my opinion, if you are serious about making money by betting on football, you must consider making second half betting picks. With modern technology, betting halftime lines is available for most people. Three categories should be considered when you bet this type of prop.
The second half line itself is generally based on the original line of the game. A team that is favored by two touchdowns can usually expect to be a six-, seven-, or eight-point halftime favorite, as this is approximately half the original number. How many times have you witnessed a game where the favorite in this situation has dominated, yet only finds itself down by three points or more when the first half concludes? As you review this situation you may feel that it is unlikely that this team (in this case a 14-point favorite) will be able to come back and cover this spread. Yet there is a good chance that they will be able to cover a seven- or eight-point second half line. This can be a great opportunity since you are getting a team that will go all-out to win this game, as likely a straight-up win will give you a point spread second half victory. Thus, you will not have to worry about a backdoor cover or a team running out the clock. If they win chances are you will win your bet.
Halftime bets can also be made with the hopes of a 'middle,' depending on one's original bet on the game. Let's go back to the example stated above and use a team under the same scenario. This team dominated the first half but finds itself trailing at the half. If you are one who bet on the underdog and know you were outplayed in the first half, there is still a chance that the favorite could explode and cover the original bet. This may be a good spot to bet the favorite on the second half line for half of your original bet. For example, if you bet $100 on the underdog, step in and bet $50 on the favorite for the second half. If the favorite comes back and wins the game by less the 14 points, you will win both of your bets. These types of situations do not come about very often, but take advantage of it when they arise.
Finally, the third point I want to make involving betting halftime lines is sometimes you may want to look to get off a bad original bet. An example of this would be betting Team A as a seven point favorite over Team B. Team A leads by three points at halftime, but they have been totally outplayed and now have suffered an injury to a key player that will not be able to return. You have a gut feeling that Team B will come back and win this game straight up and you want no part of your original bet. Thus, you bet the same amount on the other side for the second half and you just sacrifice the juice and call it a day.
Halftime bets, like any other business, demand discipline and knowledge of the betting game. One must follow the guidelines as to when it's a good time to pull the trigger on a halftime wager and when it's not. Remember to never put yourself in a situation where you can lose both sides of the bet. Be a smart player and do not force a halftime line bet, let it develop and come to you. This will give you a great advantage over the course of the football season.
One of the big games in the country this week has to be No. 1 Alabama heading to No. 10 Arkansas. The Tide enter as touchdown favorite. I look for Coach Bobby Petrino to really have his team ready. The home team has won five of the last six meetings between these schools. Arkansas trailed 14-7 in the third quarter in the 2009 meeting. However, they then gave up two big passing plays for touchdowns. One pass was for 50 yards and the other touchdown pass was from 80 yards out. The dog may be worth a look in this game.
In the NFL, things are starting to take shape after two weeks of action. Many of the divisions are still wide open and this upcoming week does not give us a very attractive NFL schedule, with the exception of the Monday Night Game that features two unbeaten teams in Green Bay and Chicago. Two teams face must-win games with the Cowboys going to Houston and Minnesota hosting Detroit. Minnesota has the easier path and they are a big favorite this week against the Lions. I would like to take Detroit, but their quarterback situation will probably make me pass on this game. We did go 3-1 last week in the NFL to offset a little of our bad performance on Saturday. I really like the card this week in the NFL and will have four strong picks, including a 5-unit selection.
We will be going with our Underdog Game of the Year this Saturday (6-unit play). No, this selection will not be Arkansas. I have found many good reasons for this play and one of them is that this team is senior laden and looking for payback. I was surprised at the number, as their opponent is overrated in 2010. I really like our chances in this game.
Next week we will preview the opening week of the Big Ten Conference. That is it for this week.



Doc's Sports has become known in nearly four decades in the sports handicapping business as one of the brightest and most successful college football handicappers in the nation and Doc has a big 6-Unit Underdog Game of the Year in college and a 5-Unit Game of the Week in the NFL. Here ay Doc's Sports we provide both college football picks and NFL picks in one package so you can get the best of both worlds for all your football betting needs. Check our homepage for up-to-the-minute college football odds and daily exclusive college football betting articles.