Exclusive Second Half Football Picks Service = More Profit Potential
by Doc's Sports - 8/12/2009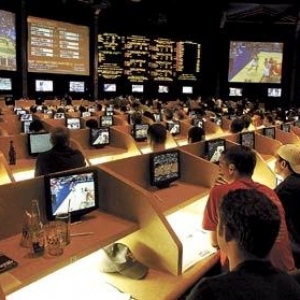 I have made a tremendous amount of money betting the second half of college football games over the years and now with today's technology I can help you.
Does this sound familiar? It's Saturday morning, the day you have been waiting for all week. The adrenaline is following and you are set to watch football all day long. It seems like forever until opening kickoff of the morning games finally arrives.
As an example, one of the games I am watching is Wisconsin, as a 17-point favorite over Indiana. Action starts at the kickoff, and guess what? Wisconsin fumbles the opening return and Indiana recovers. Three plays later the Hoosiers score, making it 7-0, and only one minute has elapsed in the game. The Badgers come right back and are now driving, but what? Wisconsin fumbles deep in IU territory. Indiana recovers but does not do much and has to punt. Once again, Wisconsin drives with ease only too miss a short field goal. The game goes back and forth like this the entire first half with Wisconsin trailing 17-10, yet outgaining Indiana 3-1 in total yardage.
Anyone watching knows that Wisconsin has completely dominated the first half and should be leading. Indiana will probably have a tough go of it in the second half, as they have lost their top tailback and linebacker to injuries. It certainly appears that Wisconsin should come back to win this game. However, Wisconsin is unlikely to cover the 17 points that they were favored to win by. What? Wisconsin is just a 9 ½-point favorite in the second half, meaning if they win the game by just three points, you will win this second half bet. How can this be? Are the oddsmakers unaware what really happened in the first half?
How many times have you found yourself in this situation? Or worse yet, was not aware of the various games every week that fall into this category? Knowing this info puts you with a high percentage of winners betting second halves of football games. As one of the top handicappers in the nation, I have seen this happen numerous times and have made a good deal of money on my own betting these situations in the second half of football games. My Saturday usually consists of watching several games at the same time.
When a situation like this arose in the past, I had no way of contacting my 100s of clients all in a very short period of time. As most of you know, time is a critical factor with only about 10-15 minutes available to make the bet when the line has been established and before the kickoff of the second half takes place. Because of the lack of time oddsmakers are rushed to put up these second half odds
With today's technology this has all changed and I'm very excited to be able to give our members my second half football picks. We now offer a text messaging service to our full season members (Note: if you are reading this as the season is underway signing up for our remainder of the season package will give you access to this exclusive service as well)
I would say over the years I've come close to winning 70-75 percent of these plays. I look forward to helping you with these profitable picks.
Sign up for our full season package by clicking here (Existing members log in and click the buy picks button under Doc's football.) Be sure to get in on the early bird special of $695 before it goes up to $950.
If you have any questions please call our office at 1-866-238-6696.