Fourth Down and Inches - Football Predictions Report
by Doc - 9/28/2010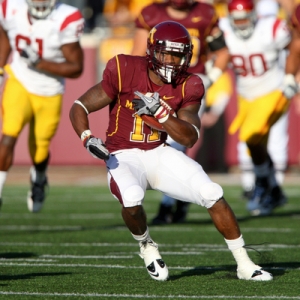 Our College Football Game of the Year will go this Saturday. Big games like this always bring extra pressure, but if you can't take the heat, don't turn on the stove. I circled this game before the season started, knowing full well that this homer would also have this game circled on their calendar. I am very confident that both of us will be in the winning circle come Saturday night. If you need a winner this week, get on this baby.
Last week we went with our Underdog Game of the Year. The selection was Temple +14 over Penn State. Even though I am a Big Ten fan, I wanted the Owls to upset the Lions. Temple hung tough and we picked up the victory. The Owls may be in trouble going forward since RB Bernard Pierce got injured in the game with a sprained ankle and is questionable this week against Army. Coach Al Golden has done a great job building this Temple program and I look for him to move up to a BCS coaching job next season. I will pass this week in the Temple/Army game, as the Owls may be in for a letdown.
A couple of weeks ago in my column I mentioned about betting against the Minnesota Golden Gophers. I expected to be collecting nearly every week and earning enough to go on vacation come December. Granted, the Gophers did get a backdoor cover against USC, but that took a fumble with less than two minutes to play and three missed extra points by the Trojans. Minnesota showed their real colors last week against Northern Illinois. I expect them to be a pasty for teams in the Big Ten this year. Our 1-1 ATS record fading them will be padded soon. I cannot see them beating Northwestern this week and next week going to Wisconsin will be a nightmare. The Gophers have a little talent on offense, but their defense is horrible. Have your travel agent on speed dial!
There are some real good matchups this week in college football, especially in the Big Ten. As of this writing I plan on using four plays from this conference, two of which may be totals selections. One of the most interesting games this week is Wisconsin at Michigan State. Both teams have played a very light nonconference schedule and Michigan State will be playing their fifth straight home game. Over my 39 years of college football handicapping, Michigan State has always been the most difficult team to get a handle on. Seems to be no consistency with this team, although this may be the best talent Coach Mark Dantonio has had under his tenure.
As for Wisconsin, their running attack will become more punishing. Look for RB John Clay to carry the pigskin more and he should be able to find more holes since Wisconsin will likely get back a couple of their wide receivers this week in Nick Toon and Dave Gilreath. In my opinion, the biggest question mark for the Badgers is their defense. The Badgers were lucky to beat Arizona State -- do not be misled by their big win last week against Austin Peay. Have to give the Badgers their due, but they are certainly not a Top 10 team in the country, at least not in my opinion. If they run the gantlet and beat Ohio State and Iowa in consecutive weeks then I will certainly be eating crow.
As I write this article on Tuesday it is always difficult to make a firm decision on any selection. As of this writing when looking for an underdog, I would have to take a serious look at Stanford. The Cardinal are a seven-point underdog against Oregon according to the college football lines. They did not fare well on the road in 2009, but look at their record thus far in 2010. They already have blowout victories at UCLA and at Notre Dame last week. This team is for real and I do not believe that the oddsmakers have caught up to them just yet. I expect a tight battle down to the wire in Eugene this week.
In the NFL last week, the road teams appeared to flex their muscles, winning and covering most of the action. The most disappointing team thus far has got to be the San Francisco 49ers, a team most people felt would win the NFC West Division. They have had three winnable games but are 0-3 on the season and QB Alex Smith yet again to be a major bust as the No. 1 overall pick. This was supposed to be the year he came into this own to lead this team to the playoffs. The 49ers fired the offensive coordinator (Jimmy Raye) on Monday and if they do not turn it around, Mike Singletary may be looking for employment as well. There only saving grace is that their division is still terrible and they have only lost one home game and one division game thus far in 2010.
The Vikings got their first win of the season on Sunday, as Brett Favre does not lose home games to the Lions, plain and simple. Favre is 19-0 playing the Lions at home when he was under center with the Packers and Vikings. That being said, Favre did not play well yet again, throwing two interceptions and had just more than 200 yards despite 34 attempts. They now have a much-needed bye week, but the Minnesota Vikings schedule is brutal after the open week with games against the New York Jets (road), Dallas (home), and Green Bay (road). Minnesota will be lucky to win one of these three games and could fall out of the division race if they are not careful.
For those of you that read my article last week, I talked about second half plays that give you a great chance for a middle. I stated not to force these plays, but be sure to jump on them when a situation occurred. It actually happened in two afternoon games on Saturday that we had selections on, Alabama at Arkansas and Temple at Penn State. Both dogs had leads at halftime. I released a halftime Alabama second half betting pick as a six-point favorite for a 2-unit play. We had a great chance for a middle, as I expected, QB Greg McElroy to play much better in the second half, as he threw two interceptions in the first half. He did just that as Alabama erased a 13-point third quarter deficit to win the game by four points. That gave us a victory for the game with Arkansas +7 ½ and a second half victory with Alabama -6. The other game I was not as confident about as Penn State continues to struggle on offense. I really thought Temple had a chance to win that game straight up. Had I known RB Bernard Pierce would get injured in the third quarter I would have changed my thought. Keep a lookout for more second half plays as the season progresses.
This is the week I have been waiting for, as the Big Ten Conference opens up. We are going to open it up with a bang, as our College Game of the Year goes on Saturday. Everything has worked out perfectly and I expect this game to be an easy winner and I would love to have you along for the ride. Whether you are a small player or a large player, we are certainly willing to work with you. If you have any questions or just want to talk football please give our sports office a call at (800) 356-9182 or you can call our Web site office at (866) 238-6696.


Best of Luck this weekend