Horses That Can Win the Breeders' Cup Classic
by Trevor Whenham - 11/3/2010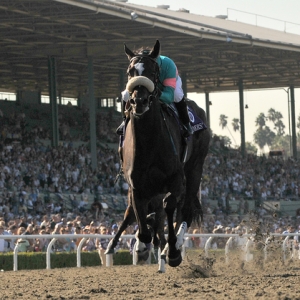 The Breeders' Cup Classic - the richest horse race in North America, and perhaps the most prestigious outside of the Kentucky Derby - caps the Breeders' Cup card on Saturday, Nov. 6, from Churchill Downs in Louisville. The storylines surrounding this race center around undefeated super horse, and defending champion, Zenyatta. That's appropriate, but it would be wrong to get the idea that she is the only horse that can win this race. It's actually a pretty solid field.
There are six horses that I think can win the Breeders' Cup Classic in 2010. Here is a look at each with their morning line odds:
Zenyatta (8/5) - You obviously have to talk about her first. You don't win all 19 races you have ever run without being pretty special. She beat a quality field in this race last year in impressive fashion, and she'll be out to do it again here. She hasn't seemed quite as explosive this year as she has in the past, but then she hasn't had to be to win her races.
The choice you have to make is whether you are going to go with her or against her in this race. She'll be bet down from these odds, so you can't really afford to take her and other horses as well.
Blame (9/2) - He's the best older male horse in the country right now. He has won two grade one stakes this year, including an impressive win over the very good Quality Road in the Whitney. His trainer, Albert Stall, Jr., is having a very good year.
He should have one advantage over Zenyatta - he likes to sit closer to the lead than she does during the race, so when he launches his move he'll be ahead of her and she will have to play catch up. He's shown that he can be a hard horse to pass.
Quality Road (5/1) - Last year this horse was scratched in the Classic at the starting gate because he wouldn't load. He seems to be over that problem this year, and he has been sensational - four wins in five starts.
He has impressive Beyer ratings, and he has heart that just won't quit. He's going to look to be at or near the lead and set the pace - a potential advantage when so many of the top horses will be closing.
I have questions about his ability to go a mile and a quarter, but the same is true of every horse in this field. I know I said that Blame is the top older male horse in the country, but I actually like Quality Road better.
Lookin at Lucky (6/1) - The winner of the Preakness is the top standard bearer for the three-year-old class in this race. He was a huge disappointment in the Derby at this distance, so that concerns me. What I like, though, is that trainer Bob Baffert is very confident coming into this race. A confident Baffert on Breeders' Cup day can be a dangerous thing.
He doesn't have a great Beyer rating compared to the field, but he's young and reasonably untested this year, so I'm not too worried about that. My biggest concern is that he and Zenyatta will have similar race plans, so he could get overwhelmed by her charge.
Still, he's going to factor into my Breeders' Cup picks.
Fly Down (15/1) if this prices stands then the second best three year old in the race will be worth a close look. He hasn't won the big races, but he was second in the Belmont and was respectable in the bizarre Jockey Club Gold Cup.
He has a win at Churchill, so we know he likes the track. He'll need a lot to go his way to get the win here, but he is showing improvement, and this price is to high for what he is capable of so there is value.
Haynesfield (12/1) - I said earlier that the Jockey Club Gold Cup was bizarre. It was this horse that benefited. He benefited from a strangely slow pace to pull off an upset there.
He'll need a lot of pace help here, but it could happen.
Quality Road may not want to burn himself out too early knowing the cavalry charge he will face late in the race, and the big contenders aren't going to have any interest in pressing the pace, so the race could be surprisingly slow in early fractions. If that happens then Haynesfield could pick up the pieces.
I seriously doubt that it will happen, but then I gave him no chance in the Gold Cup, either.
You can see how these horses stack up and who is going to win with Doc's Sports Breeders' Cup picks.