2010 Indy 500 Odds, Picks and Predictions
by Christopher G. Shepard - 5/27/2010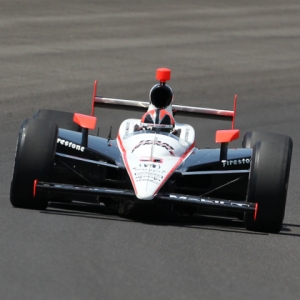 Helio Castronevesis set as the 11/4 favoritefor the 94th running of the Indianapolis 500 on Sunday, May 30 at 1 p.m. EST at the Brickyard. For the second consecutive year from the pole the defending champion will try for his fourth win at the Indy 500 at Indianapolis Motor Speedway.

Castroneves must have felt very confident in his team and his car since three days after having the fastest four-lap combined speed he was seen at the Celtics-Magic game courtside courtesy of Mark Wahlberg. Meanwhile, IRL season points leader Will Power is set at 7/1 and 2008 Indy 500 winner Scott Dixon is set at 9/2 to win the event. If you don't like the uncertainty of the win-markets in IRL you can always invest in top-three finish at your favorite offshore sports investment parlor.

Who will win the Indy 500?

Castroneves winning the pole for the 94th Indianapolis 500 marked the 19th time that Team Penske has won the pole. In fact, open-wheel racing enthusiasts who are looking to add some value to his or her Memorial Day festivities should consider that it isn't a bad idea to invest in a blue-chip Indy team like Team Penske as it will start three cars from the top four spots on the grid (don't forget that in IRL cars line up triple file rather than in double-file like you have in NASCAR). So if you are looking for a solid investment look no further than backing a Team Penske car to win or finish in the top-three. Here's a handful of drivers I'll be watching on Sunday with my pick to win at the end.

Danica Patrick, Go Daddy No.7, (25/1)

I have a better chance getting laid with my wife's parents in the next room than Patrick has winning the Indianapolis 500. A fiery spirit, grit and determination are great attributes and you have to admire her for breaking barriers but all the tantrums and 'will she, won't she?' attitude have gotten old fast and have threatened to neutralize her killer looks. Patrick has had trouble as of late and it might be in part due to her splitting time between the Nationwide Series and IRL. Whatever the reasons, Patrick qualified 23rd behind two other women (obviously dogs since they have received little or no press about their driving or anything bikini-related). Patrick's troubles continued after the race when she threw her team under the bus by criticizing the car's setup over the loudspeaker. Patrick said it herself, "the car isn't any good and it needs major changes". She was thoroughly booed and I expect the booing to continue after the race on Sunday.
Scott Dixon, Target No. 9, (9/2)

Chip Genassi Racing has a live 'dog in 2008 Indy 500 winner Dixon. He will start from the outside of Speed Row 3. He comes into the Indy 500 fresh of his first win on May 1 at the Road Runner Turbo Indy 300 and Dixon could be Castroneves' biggest challenger come Sunday. In fact, Dixon definitely has what it takes to win as we saw that happen in 2008. However, does he have enough to do it again? Certainly, in each race Dixon has raced better than his qualifying results from the Indy 500 show. But something tells me that the new qualifying format could be a paper lion and therefore not the most accurate indicator of which car was truly the fastest (IMHO). Put Dixon on your recommended 'buy' list.
Will Power, Verizon Team Penske No. 12 (7/1)

Power offers an interesting choice at moderate odds for those not entirely enamored by 'twinkle-toes'. The Australian leads the standings and has already notched two wins this season. However, those two wins were way back in March. But he has won the pole in two other races. Power will be competitive, as always, and starting second will increase his odds of giving teammate Castroneves a run for the finish. Power has had a scary-good season and if there is ever a driver you'll want to back as a candidate for top-three finish Power is your guy. Consider that he has four top-five finishes in five races this season! In fact, I think Power is going to win on Sunday despite his average finish of ninth and a best finish of fifth in 2009.
Helio Castroneves, Team Penske No. 3, (11/4)

HC's pole winning laps were definitely helped by the cooler track and Castroneves apparent innate ability to navigate around the Brickyard faster than anybody else. In racing there is nothing like clean air and a fast pit crew and Helio will have the benefit of both on Sunday. If Castroneves manages to win it will be his fourth Indy 500 and second consecutive Indy 500 from the Pole. Last year Castroneves broke a minor 0-2 slump from the Indy 500 pole. He is the favorite for good reason and if you are uncomfortable backing Helio to win I can't see the No. 3 car finishing out of the top-three.
Indy500-Pick! Will Power, No. 12, (7/1)

Indianapolis 500 - Lucky Dog Long Odds Special

Last year Alex Tagliani, in the fifth spot on the grid for the 2010 Indy 500, was voted Rookie of the Year for this race when he fought from a No. 33 starting spot to finish the race 11th. This year Canadian Tagliani's FAZZT team only has to improve five spots to win the race. Seems pretty straightforward to me. That's why I am investing in Tagliani as my Lucky Dog pick for the Indy 500.

Pick! Alex Tagliani, 2BKool No.77, (12/1)

Indianapolis 500 - Odds to Win
Sunday, May 30th (1:00 pm ET)
Indianapolis Motor Speedway

Alex Lloyd 250/1
Alex Tagliani 12/1
Ana Beatriz 250/1
Bertrand Baguette 300/1
Bruno Junquiera 50/1
Dan Wheldon 25/1
Danica Patrick 25/1
Dario Franchitti 9/2
Davey Hamilton 80/1
E.J. Viso 100/1
Ed Carpenter 50/1
Graham Rahal 25/1
Helio Castroneves 11/4
Hideki Mutoh 30/1
John Andretti 150/1
Justin Wilson 50/1
Marco Andretti 18/1
Mario Moraes 40/1
Mario Romancini 300/1
Mike Conway 100/1
Raphael Matos 50/1
Ryan Briscoe 11/2
Ryan Hunter-Reay 30/1
Sarah Fisher 400/1
Scott Dixon 7/2
Sebastian Saavedra 400/1
Simona De Silvestro 150/1
Takuma Sato 100/1
Tomas Scheckter 100/1
Tony Kanaan 25/1
Townsend Bell 65/1
Vitor Meira 45/1
Will Power 7/1
*Odds courtesy of Bodog