March Madness Betting Strategies: Reseeding the Brackets
by Nicholas Tolomeo - 3/16/2010


Other Popular March Madness Pages:
2019 Main Page - Brackets - Odds - Picks - Schedule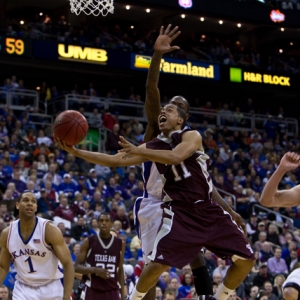 If Las Vegas was in charge of March Madness the brackets would look a lot different. Oddsmakers have always learned to avoid the names on the front of the jerseys when it comes time to rank teams and adjust point spreads
.
To be fair, the NCAA Tournament Selection Committee has an almost impossible job to make everyone happy, make attractive matchups, keep top-ranked teams close to home and avoid conference rematches. That being said, because of the stringent requirements the seeds the tournament committee has in place do not matchup with the best teams in the region.
Before every NCAA Tournament I like to reseed the regions and then go about making my picks and filling out my brackets and as part of my March Madness betting strategy. Sometimes the seeds match up, but usually they are drastically different. Here are new seeds, region by region with a brief description of why teams rose or fell. These seeds to do not account for a team's "body of work" this season but rather how you would rank them based on their overall talent taking into account momentum, coaching, experience and health. My adjusted seed is listed first with their actual seed after the team in parentheses.
East Region
1) West Virginia (2)
2) Kentucky (1)
3) Wisconsin (4)
4) Texas (8)
5) New Mexico (3)
6) Clemson (7)
7) Washington (11)
8) Missouri (10)
9) Marquette (6)
10) Cornell (12)
11) Temple (5)
12) Wake Forest (9)
13) Montana (14)
14) Wofford (13)
15) East Tennessee State (16)
16) Morgan State (15)
West Virginia gets the nod here because of experience. Most of their players have been involved in three consecutive tournament appearances including a Sweet 16 run. Kentucky is the youngest team in the field and perhaps the youngest No. 1 seed of all time. Texas is being incredibly overlooked as a No. 8 seed. They were a No. 1 team in the country earlier this year and have the firepower to outgun anyone. Steer clear of high seeds New Mexico, Marquette and Temple. All three have shown an inability to win on the big stage and all three are the main reason people are calling the East Region, the weakest in terms of depth.
South Region
1) Villanova (2)
2) Baylor (3)
3) Duke (1)
4) California (8)
5) Louisville (9)
6) Texas A&M (5)
7) Purdue (4)
8) Notre Dame (6)
9) Old Dominion (11)
10) Richmond (7)
11) Siena (13)
12) Utah State (12)
13) St. Mary's, Calif. (10)
14) Robert Morris (15)
15) Sam Houston State (14)
16) Arkansas Pine-Bluff/Winthrop (16)
If the East Region is the weakest region in terms of depth, then the South Region is the weakest overall. I believe Duke deserved a No. 1 seed for what they did this year, but they are not the best team in this bracket. Villanova has the Final Four experience from last year and almost everyone back and Baylor has been dominant outside of the conference and on neutral courts. Villanova also beat Duke by 23 last season in the Sweet 16. Purdue drops to seventh because of the Robbie Hummel injury and California/Louisville might be one of the best games of the tournament. The winner of that has a real shot against Duke. Robert Morris gets the nod at 14th because of their gutsy performance last season against Michigan State in the first round. The Notre Dame/Old Dominion game looks more like an 8/9 matchup than a 6/11 game.
Midwest Region
1) Kansas (1)
2) Ohio State (2)
3) Michigan State (5)
4) Georgetown (3)
5) Maryland (4)
6) Oklahoma State (7)
7) Tennessee (6)
8) Northern Iowa (9)
9) Georgia Tech (10)
10) San Diego State (11)
11) UNLV (8)
12) Houston (13)
13) New Mexico State (12)
14) UC Santa Barbara (15)
15) Ohio
16) Lehigh (16)
Not sure what Kansas did to this deserve this region. It is clearly the hardest region and the only thing that is a bigger head scratcher is how Michigan State is a No. 5 seed. Any other region I would likely bump them to No. 2, but Ohio State is extremely tough as is Georgetown and Maryland. The group may appear to be top heavy but it isn't. Northern Iowa deserved better than a No. 9 seed in this region and Oklahoma State, Georgia Tech and Tennessee all have Elite Eight potential but that will be extremely tough here.
West Region
1) Syracuse (1)
2) Pitt (3)
3) Kansas State (2)
4) BYU (7)
5) Minnesota (11)
6) UTEP (12)
7) Murray State (13)
8) Vanderbilt (4)
9) Butler (5)
10) Florida State (9)
11) Xavier (6)
12) Florida (10)
13) Gonzaga (8)
14) Oakland (14)
15) Vermont (16)
16) North Texas (15)
This is as goofy of a region as you will find in March Madness. I have turned most of the seeds upside down. UTEP looks like a better team than Butler right now and the same goes for Murray State over Vanderbilt and Minnesota over Xavier. Syracuse is lucky with its draw until it can get Arinze Onuaku back. The Orange should have no trouble at all getting to the Elite Eight where Pitt will likely be waiting. Pitt gets the nod over Kansas State because the Wildcats closed the season on a 2-3 SU run, hardly the makings of a No. 2 seed and this is the same team who went to an NIT two of the last three years. Out of the group of BYU, Minnesota, UTEP and Murray State, you will likely find your Cinderella team this season. Be very careful filling out your bracket in this region, all the seeds except the top three can basically be thrown out the window.