March Madness Brackets Advice: Hardest Paths to Final Four
by Trevor Whenham - 3/16/2010


Other Popular March Madness Pages:
2019 Main Page - Brackets - Odds - Picks - Schedule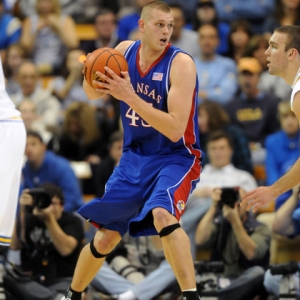 The NCAA Tournament Selection Committee has one of the hardest jobs on the planet. No matter what they do every year they are going to face endless amounts of criticism. Trying to fit 65 teams in to a bracket and making sure that they are all where they belong is almost an impossible job. Still, some years they do a better job than others, and this year wasn't one of their best. The South region is as weak as a bracket can be. That's great news for Duke, but it means that some other very good teams with aspirations for a deep run are facing some tougher routes to glory than they probably should. Here's a look at five teams that will have to be at their very best if they want to overcome the challenges the committee has given them.

Kansas - Kansas is the best team in the country right now - a unanimous No. 1 in the last poll of the season. They are tournament tested, and are going to find their way to the Final Four and beyond in most March Madness brackets. They aren't going to have to play anyone that they can't beat in the tournament, but it certainly won't be as easy as it could be for them.
Lehigh obviously won't be a challenge in the first round, but then things get tough. UNLV is a feisty team that was a solid 4-2 against ranked teams, and Northern Iowa plays absolutely stifling defense, so the second round match isn't going to be easy either way. Once they get past that they face a stacked bracket. They have the best No. 2 in the field in Ohio State, the best No. 3 in Georgetown, and the best four and five - Maryland and Michigan State. There aren't going to be any easy games from the second round on.

Kentucky - Along with Kansas, Kentucky is one of the best teams in the tournament, and those two teams make up the finals pairing in a large number of brackets - including my own. The committee blew it, then, when they gave the two best teams in the tournament the two hardest paths to the finals for No. 1 teams.
In the second round Ketucky could face either Texas or Wake Forest. Both of those teams are badly flawed and unpredictable, but they both have the potential to be dominant if they play their very best. If Ohio State isn't the best No. 2 in the tournament then West Virginia is, so the last step in this region is a real challenge. On the road to that game they could face a tough Wisconsin game, a very dangerous Temple team, or a Cornell team that is far better than people who haven't seen them play know.
Any one of those opponents is going to provide a very tough matchup in the Sweet 16. New Mexico is a very intriguing, potentially dangerous No. 3 that would match up well against Kentucky as well. Darington Hobson is a very special player who could emerge onto the national scene as a star in this tournament. There are challenges galore for Kentucky - a team that struggles with maturity.

Syracuse - Ten days ago I thought that the Orange were going to be my pick to win it all. But then they lost two games in a row, and didn't look particularly good doing it. There is now a blueprint in place to challenge the Orange, and several teams in this very tough bracket that could be capable of putting that blueprint into action.
The West is weak up top - Kansas State at No. 2 has, like Syracuse, raised some questions with their play down the stretch, and I don't have a lot of love for Pitt at No. 3. Where the region is so impressive, though, is in the middle ranges. Beyond Syracuse and Kansas State there are legitimately eight different teams that could win this bracket if everything went just right for them. In order of seeding, Vanderbilt is dangerous, Butler is very hungry to play in a hometown Final Four, Xavier is a great team that has plenty of tournament experience by now, BYU comes out of an incredibly good Mountain West Conference, Gonzaga is Gonzaga, Florida State is brutally efficient, UTEP can't be overlooked coming out of the C-USA, and Murray State is downright scary. If there is going to be a Cinderella to go deep then this is where it s going to come from, and that's bad news for Syracuse.

Kansas State - Everything I said about Syracuse could also go for Kansas State. They lost three of their last five games to raise serious questions about their tournament fitness, and now they face a region full of potential potholes - feisty, skilled teams with absolutely nothing to lose. It starts to get very tough for the Wildcats in round two with BYU, and doesn't get any easier from there. If they even survive that game.

Gonzaga - Yes, this is a third seed from the West bracket. Normally you can't say that a No. 8 got a bad break with their seeding because they are inevitably going to meet the No. 1 in the second round. What Gonzaga has to feel bad about here, though, isn't that date with Syracuse, but the fact that they are seeded where they are.
There are several teams that can complain about the seed they are given, but none have more of a beef than Gonzaga in my mind. The eight seed is the worst possible place for a good team to land, and Gonzaga deserved to be placed solidly a couple of spots higher. Being ranked either sixth or seventh in this bracket would have been a much softer path than where they are.