March Madness Brackets Help: Easiest Paths to Final Four
by Trevor Whenham - 3/16/2010


Other Popular March Madness Pages:
2019 Main Page - Brackets - Odds - Picks - Schedule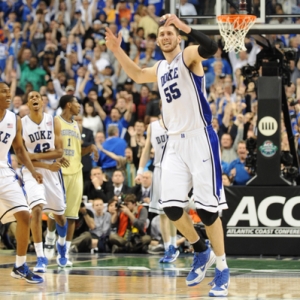 There is no such thing as an easy path through the NCAA Tournament. To cut down the nets in Indianapolis this year a team will have to win six straight games against increasingly difficult competition that have been aiming for this tournament since before the season began. That being said, the road is a lot easier on paper for some teams than others. Here's a look at four teams with comparatively easy paths to glory:

Duke - By now you've heard all about how the NCAA Tournament Selection Committee must all be Duke alums. Not only did they make Duke a No. 1 when many thought they shouldn't be, but then they gave them by far the easiest March Madness bracket to travel through despite the fact that Kansas and Kentucky were unquestionably higher ranked teams heading into the tournament.
Duke not only has the easiest bracket of the four top seeds, but they are in one of the most unbalanced, weak regions in recent history. It's almost laughable. Villanova is a total joke of a No. 2 - they lost five of their last seven games, and are only seeded where they are because people remember what they have done the last two years in the tournament. Purdue is one very important man down. Baylor is flashy but unproven. Notre Dame can't be trusted - though when they are good they are really good. Cal was the regular season champion of the worst major conference we have seen in years. Louisville beat Syracuse twice, but lost to the other five ranked teams that they played.
The lower seeds here aren't nearly as dangerous as other regions, either. If Duke doesn't make it through to the Final Four then they have absolutely no one to blame but themselves. It's sitting right there for them to take.

Ohio State - The Buckeyes face the unenviable prospect of having to beat Kansas, the top seed in the tournament, to reach the Final Four. Their road to that features three reasonably straightforward games for them, though. It is possible for a No. 15 to beat a No. 2 - it has happened four times before - but it's not going to happen when Ohio State meets UCSB. Oklahoma State has NBA-level talent, but no polish or consistency. Those teams both thrive on winning games that get crazy and out of control, though, and Ohio State excels at setting the tempo and controlling the pace of the game.
The Buckeyes have a clear edge in the second round regardless of who they are playing. Georgetown, Tennessee and San Diego State all have several things going for them, but they all are where they are instead of higher because they aren't nearly as consistent as they should be. The Buckeyes have Evan Turner on their side - quite possibly the best player in the tournament. That's more than enough to win any of their potential Sweet 16 games.

Xavier - Things aren't supposed to be super easy for a No. 6 seed - according to their rankings they should only win one game. As six seeds go, though, Xavier got an easier path than most.
They start out with Minnesota. The Gophers played one of the best halves of the season by any team when they beat Purdue in the semifinals of the Big Ten Tournament, but then played a truly lousy second half to lose badly to Ohio State. Xavier plays a relentless offensive game, and that's not a good matchup for Minnesota.
Next, they are likely to face Pitt. The Panthers are the weakest of the three seeds in my eyes. They have lost two of their last five and are certainly a beatable opponent for the Musketeers. If they could win those two then they would either face a vulnerable No. 2 in Kansas State or a team that they outrank. If you want to be really optimistic then you can even suggest that Syracuse in the weakest of the No. 1 seeds. Xavier knows how to make a deep tournament run - two Elite Eight bids and a Sweet 16 appearance in the last five years - and the opportunity exists for another here.

West Virginia - The story for the Mountaineers is very similar to the Buckeyes. They are a very strong No. 2 that will be in tough against the No. 1 in their region - Kentucky in this case - but are very well positioned to get to that showdown.
Like Ohio State, West Virginia also has a secret weapon that opponents are going to struggle to find an answer for - Da'Sean Butler is a special player, and he has been a stone cold killer in March. Morgan State will be no match to start. Missouri is facing a major injury, and Clemson doesn't seem to have the talent to match West Virginia. New Mexico has a budding star in Darington Hobson, but are challenged to have the depth or experience to get beyond the Sweet 16. Marquette works very hard, but don't necessarily have the skill and depth to back up that tenacity. That's going to be a problem if West Virginia remains red hot. Washington is an underachieving team n one of the most underachieving conferences in history. West Virginia has a smooth road through three games - at least.