March Madness Bracket Predictions: Midwest Region
by Robert Ferringo - 3/17/2010


Other Popular March Madness Pages:
2019 Main Page - Brackets - Odds - Picks - Schedule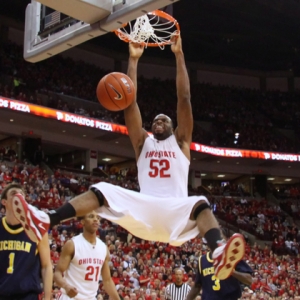 Well, if Kansas is going to win the National Championship and make good on all of the March Madness bracket predictions that you know everyone in the country is making right now, the Jayhawks are certainly going to earn it.
The Midwest Region is by far the most difficult region in the NCAA Tournament bracket. It's the most difficult to make predictions in and its going to be the most difficult to win. Eight coaches in this region have been to the Final Four, seven coaches have been in the national championship game and four of the headmen have NCAA championship rings.
Last year's NCAA Tournament winner, North Carolina, also had to wade through the toughest region in the bracket. And it brought out the best in them. They were the clear-cut favorite and they hammered anything that got in front of them. We'll see if Kansas can follow up with similar domination.
Here are Doc's Sports Midwest (St. Louis) Region predictions:
No. 1 Seed: Kansas (32-2 straight-up, 14-16 ATS)
Rock, chalk, Jayhawk. The Jayhawks are the chalk for the entire tournament and are the clear favorite to cut down the nets in nearby Indianapolis. They have overwhelming size, with mammoth Cole Aldrich and the Morris Twins giving them a three-headed monster near the basket. They also have the requisite shooters with six – count 'em, six – guys that have made 38 percent or more of their three-pointers. And finally, they have Sherron Collins. Forget John Wall: Collins is clearly the best point guard in the country. He is one of the most clutch players in the nation and is the guy that the Jayhawks really lean on in the last five minutes.
If they have a weakness, that is it: they can be too reliant on Collins. But I think that you can absolutely pencil them into the Elite Eight and that they should be in the Final Four. Beatable? Absolutely. But still the favorites. This team is 12-2 straight up against teams in the Top 50 and have blasted anyone that's really threatened them. It's going to be a significant upset if they aren't in the title game.
Kansas March Madness Prediction: Tough to predict anything other than the Jayhawks cutting down the nets.
No. 2 Seed: Ohio State (27-7 SU, 17-17 ATS)
If guard play wins in March then the Buckeyes should plan to keep on winning. The Big Ten Tournament champs are 16-2 in their last 18 games and boast one of the best all-around players in the country in Evan Turner.
Ohio State goes with a four-guard lineup. But all four guards are 6-5 or taller so this isn't your usual group of mighty mites running and shooting all over the court. They only play with one true post, Dallas Lauderdale, and they have just one other big that they use off the bench (Kyle Madsen). That's an issue. Turner gets all the love on this team but his supporting cast is solid. Jon Diebler is a deadeye shooter. David Lighty is a versatile and athletic big man. William Buford is a potentially explosive scorer on the wing. Thad Matta is an excellent tournament coach and has his team with a nice setup for a deep run. Ohio State hasn't played or beaten many elite teams so far this year, which is a concern. But with those guards I'm pretty confident they can hold up.
Ohio State March Madness Prediction: I think this team gets clipped before a potential Elite Eight matchup with Kansas. There is just too much talent at the bottom of this bracket.
No. 3 Seed: Georgetown (23-10 SU, 17-12 ATS)
The Hoyas have been one of the streakiest teams in the country over the last two years and are fresh off a stellar Big East Tournament run in which they came up three points short of a title. This team has shown an ability to beat the best in the country (Syracuse, Duke) but has also been on the short end of some stunning upsets (Old Dominion, Rutgers). Their offensive efficiency is through the roof and three-guard attack of Austin Freeman, Chris Wright and Jason Clark is as good as any in the nation. Oh, and then there is stud center Greg Monroe.
The issue with this team is that they lack any matter of depth. Four of their starters play an average of 34 minutes per game. And less than a week out from playing four games in four nights I'm wondering how much this team is going to have in the tank.
Georgetown March Madness Prediction: This team plays up and down to its level of competition. Their lack of depth will come back to bite them and their stay will be shorter than a lot of people expect.
No. 4 Seed: Maryland (23-8 SU, 17-10 ATS)
The ACC regular season co-champions didn't stick around long in their conference tournament and enter The Big Dance as a real X-factor. I'm sure Gary Williams will use that disappointing ACC experience to get his group fired up for the tournament. They have a veteran backcourt with a pair of proven winners and three-year starters (Eric Hayes and Greivis Vasquez) leading the charge. Another senior three-year starter, forward Landon Milbourne, is a real key for this team. He has to be involved.
On the one hand I really like the makeup of this team. They have an elite backcourt, they run a quirky flex offense that is very difficult to prepare for, and they have an excellent coach. But their lack of interior presence is a big problem. As is the fact that they haven't really beaten anyone out of conference.
Maryland March Madness Prediction: This is a team that could flame out in Round 1 or make some noise and test Kansas in the Sweet 16. What I do know is that they won't go down without a fight as those seniors don't want to stop playing.
No. 5 Seed: Michigan State (24-8 SU, 12-19 ATS)
Stop me if you've heard this one: Michigan State is reeling and really in trouble heading into the NCAA Tournament. Child, please. All the Spartans do is win in March. That's all they do. So rumors of their demise have been greatly exaggerated. All they are is 12-6 SU and ATS in the tournament going back to 2004-05 and they have won (and covered) four of their last five first round games.
This is a salty crew that was playing for a national championship 11 months ago and with Tom Izzo at the helm I know they won't go quietly. They are No. 28 in the nation in field goal percentage because of their ability to get to the hole and No. 51 in field goal defense because of their ability to dictate tempo with their physicality. Kailin Lucas is the ringleader and go-to guy. He is surrounded by strong, solid athletes and some gritty guards. Chris Allen, suspended for the Big Ten Tournament, will be back with this team and I expect it to light a fire under what has been a streaky group.
Michigan State March Madness Prediction: Your guess is as good as mine. This is a dangerous team. And for now I'll predict yet another Sweet 16 and more March success for Tom Izzo.
No. 6 Seed: Tennessee (25-8 SU, 13-17 ATS)
I was absolutely stunned by this seed and in my opinion the Volunteers were underseeded worse than any team in the country. This team lived in the Top 20 all season long and has the scalps of both Kansas and Kentucky on its resume. They were the second-best team in the SEC this year and have made the Sweet 16 in two of the past three years. They rely on four seniors and they have a stable of versatile wings. If there were a knock on this team it would be that they play up or down to their level of competition and they tend to coast. They play very undisciplined on the offensive end and they don't have any reliable shooters. They do have a deep bench and because of their size – all five of their starters are 6-6 or taller – they can be excellent defensively. With forward Tyler Smith this was a national title contender. Without him they are just a team fighting to make it out of the opening weekend.
Tennessee March Madness Prediction: I really want to say that the Vols embrace the disrespect and work their way into the Elite Eight and a rematch with the Jayhawks. I 'want' to say that.
Best first-round match up: No. 6 Tennessee vs. No. 11 San Diego State
There is a host of intriguing sets in the opening round in the Midwest but this could be the best of the bunch. San Diego State punched their ticket to The Dance the old fashioned way – they earned it. SDSU beat New Mexico and then host UNLV in back-to-back nights to earn the Mountain West title. Now they are facing the team that got screwed the most with their seeding. Tennessee has Elite Eight talent but they are inconsistent and can play down to their level of competition. How up are they going to be for this game? Neither team shoots the ball all that well from the outside but both rosters are loaded with tall, rangy, athletic forwards that can do a bit of everything. There should be some high-level basketball played here between clubs that like to play similar styles.
Best potential second-round match up: No. 3 Georgetown vs. No. 6 Tennessee
And if the Vols survive San Diego State this is what they have waiting for them: the mighty Hoyas. This game definitely would have the feel of a Sweet 16 or Elite Eight matchup, not a game to determine who advances to the second weekend. Georgetown likes to run a slower, more methodical attack on offense while Tennessee wants to get out and run. There are tremendous athletes on both sides and two great, multifaceted post players in Greg Monroe and Wayne Chism going head-to-head. Michigan State vs. Maryland could be a good one as well, as would be Oklahoma State vs. Ohio State.
Upset Alert (first round): No. 5 Michigan State vs. No. 12 New Mexico State
I have to give some love for my boys! New Mexico State has one of the best offensive attacks on the West Coast and they can score a variety of ways. They have two stellar guards, three excellent forwards, and since they weren't expecting to make the tournament they are playing with house money. Michigan state has been here before: being doubted and coming into the tourney with a black cloud over their head. But the Spartans are still tough and still have the core of the team that played for a national title. They won't be going quietly, if they do go at all.
Upset Alert (second round): No. 2 Ohio State vs. No. 7 Oklahoma State
Both teams rely on a perimeter oriented attack and versatile wings to get the job done. James Anderson vs. Evan Turner could be one of the best one-on-one matchups of the tournament and I would expect a high level of play. Neither team has much of a post game to speak of so it really could come down to who shoots the ball better. And even though Ohio State is one of the hottest teams in the nation right now this could be a very tricky matchup.
Dark Horse team: No. 6 Tennessee
Right now I get the impression that the Vols are feeling disrespected. They are a flaky team. But they also beat Kansas and Kentucky this year so obviously they have the talent to handle any team in the country. If they are focused and if they get hot then this team could do some major damage at the bottom of the bracket and set up a rematch with the Jayhawks. They are a senior-dominated group who are playing for their careers. But they have also been massive underachievers throughout their careers and they don't play good basketball. Which team is going to show up?
Team That Makes Me Nervous: No. 5 Michigan State
They could be set for a first round flameout or they could beat New Mexico State by 25 and then beat Maryland into submission on the inside. And if you were Kansas would you really want to face the team that bounced you from last year's dance? Tom Izzo is a wizard in March and is tough to bet against. But at the same time there have been underlying off-court issues with this team all year. They really haven't been that impressive this year and didn't do much in the non-conference. They are a boom or bust team and, along with Tennessee, are real X-factors in this bracket.
Robert Ferringo is a professional handicapper and he has gained around +190 Units in the last 12-plus months in college basketball. He's posted four of five winning Marches over the last five years and you can purchase his college basketball picks here.