March Madness Betting: Ranking the Conferences
by Trevor Whenham - 3/17/2010


Other Popular March Madness Pages:
2019 Main Page - Brackets - Odds - Picks - Schedule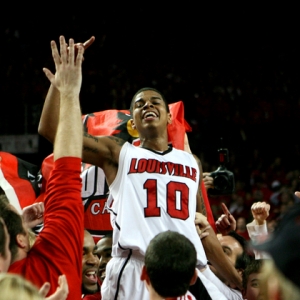 Conferences are crucial throughout the regular season, but they really don't mean much once the tournament starts. Still, there are a couple of days for us to kill between now and the start of tournament play, so we have to find ways to kill that time without going crazy - and ranking the six major conferences based on their tournament strength and likelihood of tournament success. Without further ado:

1. Big 12 - They have the highest proportion of their teams in the tournament - seven out of 12. They also have the top seed in the entire tournament - unanimous No. 1 Kansas. The Jayhawks have championship experience in their lineup, and it's going to be hard for anyone to not have them going very deep in their March Madness brackets. There is more quality in the group behind Kansas as well. Kansas State is very intriguing, though their perception is hampered by a weaker performance down the stretch. Baylor has loads of talent, and are well placed to make a run to the Elite Eight. The rest of the teams aren't as immediately promising, but there is potential there. Oklahoma State has some NBA talent on their squad, and thrives in crazy games. Texas has been terrible in the second half of the season, but they were good enough to be No. 1 in the country this year, and could recapture that magic. The Big 12 has a very good look at at least one Final Four berth.

2. Big East - This conference should have earned the top seed on the strength of sheer numbers. They have eight teams in the tournament - the most of any conference. That's not impressive by itsself because the conference has about a million teams in it, but what is impressive is that their teams have an average seeding of four - even with Louisville as a nine. They have a No. 1, two at No. 2, and two more at No. 3. The reason they aren't at the top, though, is the problems that their teams come in with. Syracuse lost their last two games, and have the most questions of any No. 1. Villanova is the worst No. 2 seed we have seen in a long time - they won just two of their last seven games. Pitt lost two of their last five and faces real questions. The whole conference has had issues with consistency and performing their best in the big games this season, and I fear that they could find a way to disappoint this time around as well despite offering a full eighth of the teams in the field.

3. Big Ten - The ACC has more teams in the tournament, and the SEC has a No. 1, but the Big Ten just has a lot of quiet strength here. For starters, Ohio State has perhaps the best player in the tournament in Evan Turner. They have a very nice road to the Elite Eight as well. Even without Robbie Hummel Purdue has the potential to win a couple of games thanks to a lineup that's still full of talent. Wisconsin is big and tough and extremely well-coached. Michigan State hasn't been as strong as they should be this year, but they are the definition of a team built for the tournament, and they have a history of rising to the occasion. Minnesota is the weakest link, but they are coming off a nice run to the finals in the conference tournament, and played the best half I saw any team play all year against Purdue in the semifinals. The Big Ten isn't likely to produce the winner, but they are going to be tough to knock out.

4. ACC - They have six teams in the field, but it's not a particularly strong group - the average seed is just 6.7. Duke is a No. 1 seed that you could argue should be a No. 2, but they were given the most generous bracket of any major team in a long time. If they don't make the Final Four it would have to be considered a major failure given their momentum and the path ahead of them. Maryland lacks consistency, but Greivis Vasquez is a big game player looking to make one last hurrah before he graduates. Beyond that there's not much to like - Clemson, Wake Forest, Georgia tech and Florida State could all win a game or two, but none look like serious contenders in any way.

5. SEC - They should perhaps be ranked higher because Kentucky is a highly regarded team with a very legitimate look at the Final Four and beyond, and they have the most exciting player in the field in John Wall. Beyond that, though, the conference isn't nearly as promising. Vanderbilt could do some damage, but they are in a very tough spot in the deep West. Tennessee has struggled down the stretch, and could go out earlier than they should. Florida should just be happy to be back after a two year absence. Winning their first round game would be a major and somewhat surprising accomplishment.

6. Pac-10 - I don't remember a major conference ever being this bad. Cal, the regular season champion, is a No. 8 which is certain to fall to Duke if they can even get past Louisville. Washington won the conference tournament, but only managed a No. 11 seeding in a tough bracket. That's all she wrote. This will be a pathetic end to a truly pathetic season for the conference.