March Madness Free Picks: Most Outstanding Player Prop
by Alan Matthews - 3/17/2010


Other Popular March Madness Pages:
2019 Main Page - Brackets - Odds - Picks - Schedule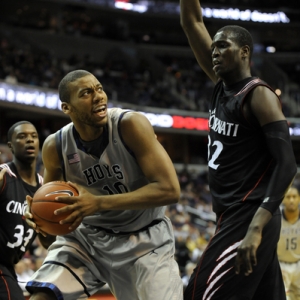 That's Most Outstanding Player in case you were wondering what MOP was when it comes to the Big Dance, which tips off tonight with the play-in game. Bodog has posted several different prop bets for the NCAA Tournament, and today I will look at who your best value bets are for the most outstanding player and offer a free pick for March Madness betting.
In a way, this is rather easy because you know it's going to be a player from the national champion. But in a way it's not easy because in recent years it hasn't exactly been the best player on the best team. Last year, for example, it went to North Carolina's Wayne Ellington over Tyler Hansbrough. In 2008 it went to Mario Chalmers, thanks in large part to his clutch shot against Memphis in the final. In 2007 Florida's Corey Brewer won it, and he was far from the star of the Gators.
I would argue that a team's top player hasn't won this award since 2006 when Florida's Joakim Noah took it home. But in every year from 1999-'06 you would have to say the national champion's star player was the winner of the MOP (guys like Carmelo Anthony, Juan Dixon, Shane Battier, Richard Hamilton).
With that said, the Bodog favorite this year is Kansas center Cole Aldrich at 4/1. Not sure I agree with that because Aldrich really doesn't put up huge numbers. The beauty of Bodog's props is that you can double up on the MOP award because the site also lists odds on which graduating class the winner will be from. Junior – which Aldrich is – is the even money favorite. Freshman is right behind at 2/1, which makes perfect sense because Kentucky is loaded with star freshmen, and even Kansas has a very good one in Xavier Henry, who could steal the award from Aldrich or senior Sherron Collins (who is 15/2 to win the MOP).
UK freshman John Wall is the second-favorite behind Aldrich at 5/1. And why not, since the past two freshman point guards under Coach John Calipari (Derrick Rose and Tyreke Evans) have been tremendous in the NCAA Tournament. Rose probably would have become the first freshman since Carmelo Anthony to win the MOP award had Chalmers not hit that big shot in the championship game back in '08. Wall, by the way, was named the most outstanding player of the SEC Tournament.
I'm not sure that anyone could argue that Ohio State's Evan Turner isn't the best player in the country, but he is just 14/1 to win the MOP award because not many really expect the Buckeyes to go all the way. Syracuse star Wesley Johnson might be a good bet at 10/1. Johnson seemed to struggle to find his game after a hard fall during a Feb. 2 game against Providence. But Johnson then closed the season with games of 18 points and 24 points, his two highest-scoring games since before the fall. However, the 'Cuse, of course, lost their final two games and no team has ever won the NCAA Tournament after losing their first conference tournament game as SU did.
Strictly for value, I would recommend Georgetown sophomore center Greg Monroe at 30/1. He has as much upside as any big man in the country and was tremendous in the Big East tourney in leading the Hoyas to the final. Maybe I'm falling into the trap that Georgetown just played over its head for a few days, but if the Hoyas get to the Final Four it will be largely because of Monroe. A sophomore winning the MOP award has the highest odds on Bodog at 15/2 – and I can't think of another sophomore worth wasting your money on (maybe Wake's Al-Farouq Aminu, but the Deacons won't last very long).