March Madness Handicapping: Predicting the No. 12 Over No. 5 Upset
by Matt Severance - 3/17/2010


Other Popular March Madness Pages:
2019 Main Page - Brackets - Odds - Picks - Schedule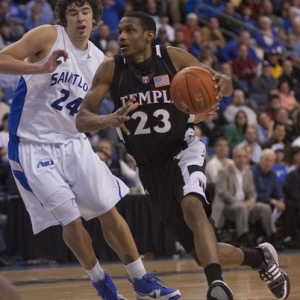 You hear it every year: Take at least one No. 12 seed over a No. 5 in the first round of your NCAA Tournament bracket. So how often does it happen?
Since the tournament expanded to 48 teams in 1980, which first created No. 12 seeds, those teams are 41-79 in first-round games against No. 5s. Since the 2001 tournament, No. 12 seeds have taken 18 of 36 matchups from No. 5 seeds. Last year, three of four No. 12s pulled off the trick.
Perhaps more interesting is that No. 12 seeds that win in Round 1 have a 50 percent chance (based on trends since 2001) of then advancing to the Sweet 16 since 2001. Arizona was the lone team of the three No. 12s to do that in 2009. Villanova and Western Kentucky did it the year before. So if you are going to pick one of those 12 over 5 upsets, don't stop after one game. But don't go hog wild with your No. 12, either, because only Missouri in 2002 advanced past the Sweet 16 as that seed.
WagerWeb offers a few props that incorporate the No. 12 seed for your March Madness handicapping. Let's take a look:
Total No. 12 seeds to win a first-round game?
Zero: +250
One: +125
Two: +170
Three: +600
Four: +5500
Only five times in the past 30 years have all four No. 5 seeds won their first-round games – with the last time coming in 2007. So I would throw out the zero as well as the four. Obviously you would have cashed in big-time last year if you had taken the three No. 12s to advance, but that's also the exception not the norm.
Let's look at the matchups:
No. 12 UTEP v. No. 5 Butler – Butler is on the longest winning streak in the country, but that's in the Horizon League. UTEP was the best team in Conference USA all season but ran into a streaking Houston in the tournament final. By the way, Butler's last loss came by 10 at CUSA team UAB. There's no question in my mind that UTEP could win this game, although the Miners are 2.5-point dogs on WagerWeb.
No. 12 New Mexico State vs. No. 5 Michigan State – The Spartans haven't looked great most of the year and don't really have a win that stands out (they beat Purdue only when the Boilers were without Robbie Hummel and were beaten in East Lansing by Ohio State). New Mexico State won the WAC Tournament and ended Utah State's 17-game win streak while doing it. Still, Sparty, a 13.5-point favorite, seems to play well in the Big Dance and is 9-3 in the first round under coach Tom Izzo.
No. 12 Cornell vs. No. 5 Temple – Probably all you need to know about Cornell, the Ivy League champ, is that it has won 15 of its past 17 games and the only non-conference loss in that stretch was 71-66 at Kansas in a game the Big Red led by six with just over eight minutes left. Of course, the Jayhawks have easily the longest home winning streak in the nation, but they were fortunate in that game because they were allowed to shoot 36 free throws to Cornell's 14. Cornell also played pretty well for a half at Syracuse this year and handled fellow NCAA Tournament team Vermont. The Big Red are just four-point dogs and this would barely be an upset even though Temple is solid.
No. 12 Utah State vs. No. 5 Texas A&M – It's really hard to know what to make of the Aggies. Sure, they had that 17-game winning streak, but they haven't played anyone this year – Saint Mary's beat them by five. A&M, on the other hand, doesn't have one bad loss among its nine. Literally every loss came to a team that's in the NCAA Tournament.
I believe either Cornell or UTEP wins, so go with one No. 12 advancing with this prop bet. WagerWeb also offers a 'Yes/No' bet on whether a No. 12 wins at least one game, with 'Yes' a huge -500 favorite. I would protect yourself on this one and go 'No' at +300 while still betting on one to make it to the Round of 32 on the other prop. You can also get a No. 12 at +450 as the lowest seed to advance past Round 1. That was the case last year but not in 2008 or 2007.