March Madness Prop Bets: No. 1 Seed Props
by Matt Severance - 3/17/2010


Other Popular March Madness Pages:
2019 Main Page - Brackets - Odds - Picks - Schedule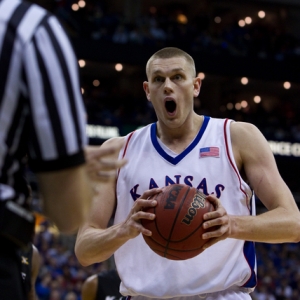 With the Big Dance less than 24 hours away, it's speed writing time to get as many of the best possible prop bets for the NCAA Tournament covered here at Doc's Sports. Today let's look at a few WagerWeb offerings on the four No. 1 seeds, Kansas, Kentucky, Syracuse and Duke.
No. 1 seed to win by the highest margin in Round 1?
Kansas: +170
Duke: +190
Kentucky: +275
Syracuse: +350
It would appear that Duke would be the best bet here just with a cursory look at the bracket. After all, the Dukies face an Arkansas-Pine Bluff team in its first NCAA Tournament and which had to play on Tuesday night. Plus, UAPB has the worst won-loss record in the Big Dance (18-15) and is terrible on offense. The Blue Devils, who open in Jacksonville on Friday, have opened as 21.5-point favorites.
Kansas faces Lehigh in Oklahoma City and is a 26-point favorite; Kentucky gets East Tennessee State in New Orleans and is a 20-point favorite; while Syracuse faces Vermont in Buffalo and is a 17.5-point favorite. I definitely agree that the Orange should get the longest odds here, because Vermont is a pretty good team and SU will be without Arinze Onuaku. Kansas is tempting, but 26 points is a lot – of course the Jayhawks won by 21 at Missouri not too long ago, which is unheard of. As for Kentucky, it's hard to gauge how all those freshmen respond in the tourney's opening game. Take Duke.
Round in which a No. 1 seed will lose first?
Round of 64: +1000
Round of 32: +155
Sweet 16: +125
Elite Eight: +275
Final Four: +1500
Again, the oddsmakers know their stuff here, although I am a bit shocked that the Final Four gets +1500. That might be worth a long-shot bet regardless because at least all four No. 1 seeds have reached the Final Four before – in 2008. Of course a No. 1 seed has never lost in the first round, and there's no talented Princeton-type sleeper squad among the four No. 16s that will even come within single digits this year. Last year was very chalk, with all four No. 1s reaching the Elite Eight for the third straight year. Thus, I think that +275 is easily the best value on the board outside of taking a shot with the Final Four at +1500.
Total No. 1 seeds to reach the Final Four
Zero: +400
One: +150
Two: +125
Three: +300
Four: +800
At least two top seeds have reached the Final Four in each of the past three tournaments. The last time none made it was 2006, which was the year of George Mason's run and Florida first of back-to-back titles. I happen to like 'three' getting to Indianapolis this year.
Which will be the first No. 1 seed to lose?
Syracuse: +145
Duke: +220
Kentucky: +225
Kansas: +450
Everyone seems to believe Kansas is the best team in this tournament, but the Jayhawks also appear to have the toughest draw of the top seeds. In the Sweet 16 they easily could face tournament-tested Michigan State, which knocked out KU last year. Then in the Elite Eight it could be surging Georgetown or superstar Evan Turner and Ohio State.
In my opinion, Kentucky breezes to the regional final against West Virginia. Syracuse is an obvious choice as the "favorite" here because of that two-game losing streak and Onuaku's uncertainty. Gonzaga could give SU major trouble in the Round of 32. If Duke gets past Louisville (which I project over Cal) in the second round, I think the Blue Devils are on their way to the Final Four. Kansas is your best value here.
Total number of wins by No. 1 seeds?
Over/under 13.5: -120
I think this has to be 'over' – if two No. 1 seeds reach the final, which is very likely, that's 11 wins right there. Obviously, you would have to expect the other two top seeds to manage at least three. This is an easy play: take the 'over'.