March Madness Sunday Preview
by Trevor Whenham - 3/20/2010


Other Popular March Madness Pages:
2019 Main Page - Brackets - Odds - Picks - Schedule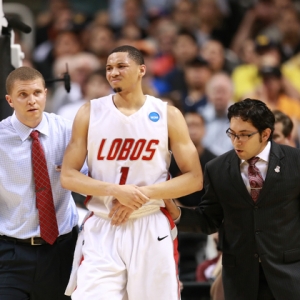 Maybe it's just because Thursday's games set the bar so high, but Friday's NCAA tournament action was a letdown. There was very little drama, few upsets, and not that many games that were interesting until the end. The Cornell upset of Temple should have been a highlight because it was an impressive upset, but that game was over as quickly as most of the rest. There are worse ways to spend a day than watching 13 hours of basketball, but there are better ways than watching 13 hours of games like that. No more whining, though - it's time to look ahead to brighter days. What Friday's games did do is set up a good number of intriguing games for Sunday. Let's take a look at those:

Midwest

Ohio State vs. Georgia Tech - What can we really learn from Ohio State's first round game? Not much. We were pretty sure they were significantly better than UCSB going into the game, and we were right. If you are the type of person who needs to be concerned about something then you can be concerned about Evan Turner. He may be the best player in the country, but he was lousy on Friday – 2-for-13 shooting and only nine points. The Buckeyes didn't need him in that game, but they'll need him as the tournament goes on. Georgia Tech didn't shoot great, either - they didn't hit a field goal in the last 8:19 of the game. What saved them, though, was that they were 24-of-25 from the foul line. The team that can get their act together and remember how to shoot again will come out on top in this one. It's hard for me to imagine that not being Ohio State.

Maryland vs. Michigan State - The Big Ten and ACC meet annually in their Challenge, and they'll be meeting here for a berth in the Sweet 16. Michigan State got a real scare from New Mexico State on Friday. They cooled off in the second half, and needed some late luck and a very questionable lane violation call to come out on top. The Spartans are ridiculously talented, but they have struggled to put together a complete effort all season, and Friday was no exception. Greivis Vasquez wasn't at his best against Houston, but freshman Jordan Williams had a career night to lead the way over Houston in a fairly easy game. Michigan State's success will come down entirely to their ability to keep Vasquez under control. If they can contain him - as much as that is possible - then they have the talent to come out on top. If the Spartans can't find a way to play a whole game, though, then this one won't be pretty.

West

Gonzaga vs. Syracuse - Gonzaga tried to throw the game away a couple of times late in the second half, but for the most part they seized control very early against Florida State and never looked back. Even when they started to struggle a bit in the second half they kept their composure when many teams would have panicked. They need to keep their cool against Syracuse. We didn't learn a thing about the Orange on Friday - they were supposed to outclass Vermont and they really did. We know that Gonzaga is going to be ready for this one. We also know that Syracuse is, on paper, the much better team. What we don't know, though, if Syracuse has gotten over the bad habits that saw them lose their last two games of the season. Gonzaga is better than your average eight seed, so there isn't as large a margin of error as there often is in these games.

Pittsburgh vs. Xavier - Pittsburgh started slow and was briefly challenged by Oakland, but then they found their gear and it was over. Xavier played an underwhelming first half against Minnesota in which they couldn't hit a thing. Their second half, though, was as good as any played in this tournament this year. Pittsburgh is, simply, a pretty good team that we know is going to play pretty well. The deciding factor here is going to be Xavier. They got lucky that Minnesota wasn't good enough to capitalize on the weak first half so the game was tied. If the Musketeers put forth a similar first half against Pitt they'll be in trouble. If they play, and shoot, as well as they did in the second half, though, then I don't see how the Panthers can compete.

East

West Virginia vs. Missouri - I'll never take anything away from a team that wins a tournament game - it's a very tough thing to do - but Missouri's win wasn't as impressive as some. Clemson was the better team for much of the game, but they have never won a tournament game under coach Oliver Purnell, and as the game got close to the end it looked like they believed that they weren't capable of winning here. What I'm saying is that Clemson lost this one as much as Missouri won. Still, they earned the right to take their high-paced game up against West Virginia. The Mountaineers were awful in the first few moments, and almost flawless after that. Missouri's style can be hard to adjust to, but my hunch is that West Virginia is too classy to be bothered by that for long.

Wisconsin vs. Cornell - This one is going to be fun. Temple is a very good team that won a very tough conference. They are among the best in the country at defending the three pointer. So how did Cornell beat them, and beat them badly - by relentlessly pounding away with the threes? Cornell seized control early and never looked back, and showed that they are no fluke. For most of the game Wisconsin similarly seized control against Wofford. The difference was that Wisconsin took a good portion of the second half off, and the game became surprisingly tight. The world is going to be watching this game for an upset, and if Wisconsin isn't careful then that's just what people are going to get.

South

Purdue vs. Texas A&M - Purdue didn't need Robbie Hummel to get past Siena - though it was a little closer than they probably would have liked. This next game is going to give us a much better sense of how badly Hummel is truly missed. The Aggies won their fifth straight first round game by sticking exactly to their game plan, avoiding mistakes, and just overwhelming an inferior Utah State team. Against Siena, Keaton Grant, Hummel's replacement, had a great game and really keyed everything the Boilermakers were able to do. Grant is no Hummel, though, and if A&M can make that obvious then they stand a good chance of pulling off the mild upset. Purdue probably had their Final Four dreams ripped from them with the Hummel injury - the most significant single injury any team has had all year - but there is a good chance that they can turn that into a motivation and ride it to at least one more game.

California vs. Duke - I like Louisville a lot, and I have always hated all things Cal, so I had a real hard time swallowing that pathetic excuse for a game late on Friday night. Despite a number of distractions including a suspended starter, Cal got under the skin of Louisville early and never let up. It was a surprising and dominating effort. Their most obvious problem, though, is that Duke isn't nearly as volatile as Louisville is this year, and they aren't nearly as likely to lose their cool. Coach Pitino blew about six gaskets in the round one game, but Coach K won't even break a sweat in the second round game. Duke was practically perfect in their opening game cruise, and they have a sense of motivation and hunger surrounding them that is more intense than we have seen in a few years. Cal will have to be much better than they have been all year if they want to keep their run going.