2010 Masters Golf Predictions
by Matt Severance - 4/6/2010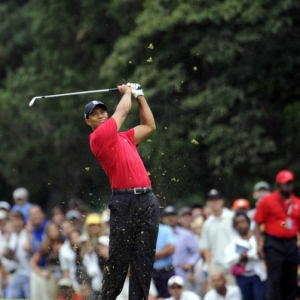 Now that Tiger Woods' first public press conference has taken place at Augusta National, perhaps we can all now focus on the actual golf being played this week with some Masters golf predictions. With that said, here is a look at five (mostly) Tiger-free prop options offered at Bodog for the year's first major. Check back at Doc's for an overall predictions story on the tournament (that one won't be Tiger-free).
*-What will the TV ratings peak at during the 2010 Masters?
Over/under 20.3
*-What will the TV ratings be for the final round of the Masters?
Over/under 14.9
OK, I guess I lied because obviously this prop bet is all about Tiger. Needless to say, executives at both ESPN and CBS were doing back flips when they found out Woods was going to make his return at this tournament. The first and second rounds will air on ESPN and the final two rounds on CBS.
Here's what CBS president Sean McManus said a few weeks ago:
"I think the first tournament Tiger Woods plays again ... will be the biggest media event other than the Obama inauguration in the past 10 or 15 years," McManus said. "It is hard to overestimate how much interest there will be. Tiger Woods is the most famous, most recognized, most accomplished athlete in the world, and his celebrity and prominence is even larger than it was."
And here is ESPN vice president of programming John Wildhack:
"Tiger's return to competitive golf at this year's Masters Tournament will surely be one of the biggest stories the sporting world has seen."
Last year, with Woods and Mickelson staging a memorable front-nine duel in the same pairing as they tried to reach the lead (but failed), the final round of the Masters drew 14.3 million viewers and an 8.3 rating. Woods' 12-stroke win at the 1997 Masters remains the most-watched Masters in history, with an estimated 43 million viewers tuned to all or part of the broadcast and a 14.1 final-round rating. The second most-watched final round was the 2001 Masters with a 13.1 – Tiger won that year too.
Most experts are expecting a 20 percent jump this year, but that would still get it nowhere close to 20.3. However, if Woods is in contention on the final day, that 'over' 14.9 would seem a lock. Former CBS Sports president Neal Pilson predicted a rating in the 16-18 range if Woods has a chance at winning on the final day. And it could peak higher than 20 in the final hour on Sunday evening (in the East) if Tiger is leading or near it on the final three holes Sunday. So really on this bet you are betting on whether Tiger contends. Certainly, you won't see a peak above 20 in the first two rounds when most people are at work.
*-Will there be a hole in one at the Masters?
Yes +138
No –188
Believe it or not, there have been just 21 holes-in-one in Masters history. The most recent ace was by Ian Poulter on No. 16 in 2008. The vast majority of the holes-in-one at Augusta have come at No. 16, the 170-yarder known as Redbud. Bodog offers props on whether several top players will score an ace, but that's just throwing your money away. That's probably why the site doesn't offer a "no" option on the individual players.
*-Will there be a playoff?
Yes +250
No –350
There have been 14 playoffs in the history of this tournament (at least one in every decade; it switched to sudden death in 1976), including last year when Kenny Perry coughed up the lead on the 71st and 72nd hole and was beaten by Angel Cabrera on the second playoff hole (Chad Campbell also was in the playoff). Once Augusta was "Tiger-proofed" it definitely opened up this tournament for more guys to win and less of a chance Tiger blows the field away. Overall this tournament has been decided by just one stroke 23 times. Thus yes at that +250 price seems like a good bet.
*-Highest single hole score at the Masters?
Over/under 9.5
Over: +150
Under: -200
Well, John Daly isn't in this tournament, so that takes out the best option if you were leaning toward taking the 'over' here. The highest score in Masters history is a 13, which Tom Weiskopf scored on the par-3 12th hole in 1980 and Tommy Nakajima managed on the par-5 13th hole in 1978. Last year, Danny Lee had a 9 on No. 10, the highest ever on that hole. Augusta doesn't really have a gimmicky trick hole like the island 17th at TPC at Sawgrass, so I would go with the 'under' here despite lousy value at -200.
Enjoy the tournament and look for more Masters golf predictions stories at Doc's right up until Thursday.