NASCAR Betting: Ford 400 Odds and Predictions
by Christopher G. Shepard - 11/19/2010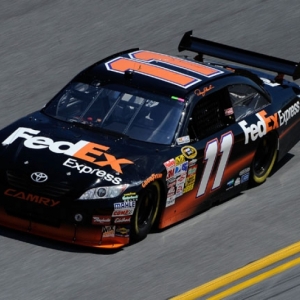 Denny Hamlin survived poor fuel strategy at Phoenix and escaped with the closest lead in Chase history going into the final race of the season. He now has a 15-point lead over Jimmie Johnson and a 46-point lead over Kevin Harvick as NASCAR finishes the season at Homestead-Miami Speedway for the Ford 400 on Sunday Nov. 21 at 1:15 p.m. EST.

Gamblers investing in this race should keep in mind that there is only one track in NASCAR that Jeff Gordon has never won at and that is Homestead, where he is on a 0-11 streak. Meanwhile, this race has only been won from the pole twice, and not since Kurt Busch won in 2002. This race has been won from the top-10 starting position in eight of the past 11 races. Denny Hamlin won this race last year from the 38th spot. Ford leads all manufacturers with six wins, while Rousch Fenway Racing leads all owners with six wins at Homestead.

Who will win the Ford 400?

This is the way that the power-that-be at NASCAR envisioned the Chase for the Sprint Cup: the very best drivers of the season competing on the last race of the season for the chance to sip from the Sprint Cup. Finally, Homestead will function as the deciding race of the season instead of the outcome of the Sprint Cup being merely a formality.

Basically the only way Hamlin can win the Chase this year is to lead the most laps, and finish no lower than second place. Easy for me to say, but Hamlin will need to pull it together and rebound this Sunday to run the practically flawless race he'll need to have to win his first Sprint Cup. He dominated for 190 laps at Phoenix and will need to do the same thing this Sunday. However, despite last year's win, Homestead hasn't been great to Hamlin in the past. However, he does have three top-fives but no other top-10 finishes.

The public is going to be all over the top three to win this race, and for good reason: they have been consistently the best drivers in NASCAR this year. However, there is another driver that eclipses Hamlin's average 9.8 finish. That driver is Carl Edwards, who sports a gaudy 6.5 average finish at Homestead.

Edwards comes into Ford Championship weekend after breaking his 70-race winless streak at Phoenix. Despite being out of contention for the Cup, Edwards has steadily improved over the season and that culminated in last week's win. Edwards has one win in 2008, three top-five finishes and five top-10s in his last six starts at Homestead. Edwards finished seventh last year for his fifth straight top-10 finish in Miami. Rousch Fenway Racing has a good intermediate program and Edwards has the momentum going into the last race of the season.

Pick! Carl Edwards, No. 99, +500

Ford 400 Lucky Dog Prediction

Looking at the field for Sunday's race at Homestead, it's unlikely that moderate- to long-odds drivers will win. Since I'd rather not back Dale Earnhardt, Jr. at +6000, I am going to back a driver at more reasonable odds.
Kevin Harvick finished sixth at Phoenix last week and was lucky to finish the race only 46 points behind Hamlin, who barely retained the points lead after having to pit with a few laps left in the race. Harvick has since been quoted this week as saying he'll do anything it takes to win on Sunday. I don't doubt that he'll try to deliver on that promise, but the question is will that be enough?
Certainly Homestead is one of Harvick's best tracks that he's never won at. Harvick has four top-five and seven top-10 finishes in nine starts at Homestead. Last year Harvick finished third and in 2008 he finished second for his second consecutive top-three finish in Miami.

Pick! Kevin Harvick, No. 29, +700

Ford 400 Top-three Finish

For the first time in his four consecutive Sprint Cup championships Johnson will need to come from behind at Homestead-Miami Speedway. Granted, it's only 15-points, but Homestead has never been his greatest track. However, normally by the time Homestead happens Johnson is usually protecting his lead, so I wonder if this statistic is not skewed a bit against Johnson.
Whatever the reason, Johnson now has the opportunity to silence critics and win his fifth consecutive Sprint Cup if he can finish better than Hamlin and Harvick, as well as lead the most laps. Homestead is one of the few tracks left at which Johnson has never won, but he has notched three top-five and six top-10 finishes in nine starts. There is one intangible that Johnson has over Hamlin: he has won four Cups and knows how to and when to raise his driving to another level.

Pick! Jimmie Johnson, No. 48, +120

Ford 400 Top Three Finish Odds*
Homestead-Miami Speedway Nov. 21, 1:15 p.m

Jimmie Johnson +120
Carl Edwards +150
Denny Hamlin +150
Kevin Harvick +200
Kyle Busch +250
Greg Biffle +250
Matt Kenseth +450
Mark Martin +450
Tony Stewart +450
Kurt Busch +600
Jeff Gordon +600
Jamie McMurray +750
Joey Logano +750
Jeff Burton +900
Clint Bowyer +900
Juan Pablo Montoya +900
Ryan Newman +1200
David Reutimann +1200
Martin Truex Jr +1200
Kasey Kahne +1500
Dale Earnhardt Jr +1800
David Ragan +1800
AJ Allmendinger +2200
Sam Hornish Jr +3000
Elliott Sadler +3000
Regan Smith +3000
Paul Menard +3000
Scott Speed +3000
Bobby Labonte +3000
Marcos Ambrose +3000
Aric Almirola +3000
Travis Kvapil +3000
zx Field (Any Other Driver) +3000
Brad Keselowski +3000


Ford 400 Odds* to Win
Homestead-Miami Speedway Nov. 21, 1:15 p.m.

Jimmie Johnson +400
Denny Hamlin +500
Carl Edwards +500
Kevin Harvick +700
Kyle Busch +800
Greg Biffle +800
Matt Kenseth +1500
Mark Martin +1500
Tony Stewart +1500
Kurt Busch +2000
Jeff Gordon +2000
Jamie McMurray +2500
Joey Logano +2500
Clint Bowyer +3000
Juan Pablo Montoya +3000
Jeff Burton +3000
Ryan Newman +4000
Martin Truex Jr +4000
David Reutimann +4000
Kasey Kahne +5000
David Ragan +6000
Dale Earnhardt Jr +6000
AJ Allmendinger +7500
Marcos Ambrose +10000
Aric Almirola +10000
Brad Keselowski +10000
zx Field (Any Other Driver) +10000
Travis Kvapil +10000
Bobby Labonte +10000
Scott Speed +10000
Paul Menard +10000
Sam Hornish Jr +10000
Elliott Sadler +10000
Regan Smith +10000

*odds courtesy of Sportsbook.com