NASCAR Picks: Kobalt Tools 500 Odds and Betting Predictions
by Christopher Shepard - 11/12/2010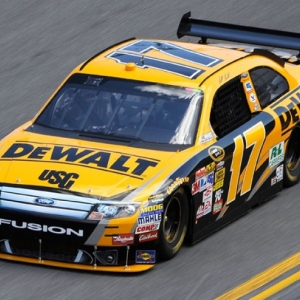 Denny Hamlin pulled out to a 33-point lead over Jimmie Johnson in the Chase for the Sprint Cup and with two races to go the points leader has never lost the Chase when leading after the eighth race as NASCAR heads out to the Land of the Sun for the Kobalt Tools 500 at Phoenix International Raceway at 3:15 p.m. on Sunday, November 14.
Gamblers investing in the outcome of the penultimate Chase race should know that There have been 28 NASCAR Sprint Cup Series races at Phoenix International Raceway, one per season from 1988-2004 and two each season since. Over that same time period there have been 18 different pole winners; with Ryan Newman having the most at four. The race has been won from the pole three times: Jeff Gordon (spring 2007), Jimmie Johnson (fall 2008) and Mark Martin (spring 2009). Meanwhile, Hendrick Motorsports has been the dominant team at PIR; Mark Martin has 12 top-five finishes, more than any other driver. Martin (8.7) and Johnson (4.9) are the only active drivers who average a top-10 finish. Finally Kurt Busch (April 2005) and Kevin Harvick (Fall 2006) are the only two drivers with perfect 150.0 ratings at PIR. Finally, pay attention to qualifiers since it is very hard to pass at PIR.
Who will win the Kobalt Tools 500?
There are two races left for Johnson to make up 33-points before he wins his fifth consecutive Sprint Cup title. However, in his four-year reign as Sprint Cup Champion, Johnson only had to come from behind this late in the Chase once. Moreover, when the situation has been reversed, and Johnson led going into the last two races, Double-J always managed to pull away from the pack and win the Cup. It will be exciting to see if Johnson can make up the points deficit at PIR this Sunday. Or will it be Kevin Harvick that surprises everyone?
Harvick is still in third place in the Sprint Cup standings but is now 59-points behind Hamlin and 26-points behind Johnson. Harvick did well to finish sixth place in front of Johnson, but behind Hamlin, last week at Texas but Harvick will have a hard time closing the gap at Phoenix. Despite sweeping both races in 2006 Harvick has had a hard time at PIR and has only three top-fives and six top-ten finishes in 15 starts. Harvick has finished outside the top-12 at Phoenix in his last three starts and he was 24th in this race last year and 13th in April. This is not a good omen for Harvick this Sunday.
Hamlin won last week at Texas and unseated points leader Johnson, this is only the second time the lead has changed this late in the Chase. In Johnson's come-from-behind win in 2006 to win his first Chase, he took second to Matt Kenseth's 12th at Texas and grabbed the lead for good. The lead has not changed hands after the ninth or tenth race in six previous Chases.
This week HMS made news with the decision to switch Johnson and Jeff Gordon's pit-crews for the remaining two Chase races. At TMS last week, Double-J's pit-crew was costing Johnson the race and with Jeff Gordon done for the day, HMS switched crews mid-race, something that you almost never see in NASCAR and something that reeked of desperation by HMS and ultimately Johnson who's crew was effectively fired from the Chase for poor performance. The question is will this make a difference in the last two races or will this breed resentment in the garage. Even though regaining the lead at Phoenix would be a Chase first, Johnson has finished better than Hamlin at Phoenix eight of nine times, including winning the last three Chase races at PIR (and that was with his old pit-crew).
Pick! Jimmie Johnson, No. 48, +350
Kobalt Tools 500 Lucky Dog Long Odds Special
Matt Kenseth has been one of the biggest movers in the Chase jumping five spots in the past two races. Kenseth is currently in fifth place 325-points behind the leader with 6000 points. Kenseth just barely missed cashing as my Long Odds Lucky Dog pick last week. The No. 17 car took the lead from Hamlin last week, but ended up giving it back to him and Kenseth finished the Amp Energy Juice 500 second. Kenseth won at PIR in 2002 and has five top-five and seven top-ten finishes while finishing 18th last November and sixth in April. Crew chief Jimmy Fennig is bringing chassis RK-698 -- the same car that ran at Kansas that finished seventh. If Kenseth qualifies well then he could have a great chance to finish in the top-three if not win outright.
Pick! Matt Kenseth, No. 17, +2500
Kobalt Tools 500 - Top Three Finish
Kyle Busch managed to finish 32nd last week thanks to a two-lap penalty for giving NASCAR the finger as he sped down pit-row at Texas Motor Speedway. Obviously, Busch was still angry about losing the Nationwide race to Carl Edwards on a questionable call the night before. Now Busch needs to regroup after a $25k fine and since he is on probation until December 31, 2010. Busch won this race in 2005 and has had mixed success at PIR finishing 12th in this race last year and eighth in April. Of course it is Busch's Joe Gibbs Racing teammate Hamlin who is first in the standings, but if anything Kyle seems a bit jealous. Jealousy might equal a win on Sunday.
Pick! Kyle Busch, No. 18, +120
Kobalt Tools 500 Odds* for Top Three Finish
Phoenix International Raceway - Nov. 14, 1:00 p.m.
Jimmie Johnson even
Kyle Busch +120
Denny Hamlin +125
Tony Stewart +350
Kevin Harvick +350
Kurt Busch +450
Mark Martin +450
Jeff Gordon +450
Clint Bowyer +550
Greg Biffle +600
Joey Logano +600
Carl Edwards +600
Juan Pablo Montoya +750
Jeff Burton +750
Matt Kenseth +750
Ryan Newman +1000
Martin Truex Jr +1200
Jamie McMurray +1200
Kasey Kahne +1200
Dale Earnhardt Jr +1800
David Reutimann +1800
AJ Allmendinger +2200
Elliott Sadler +2200
zx Field (Any Other Driver) +3000
Travis Kvapil +3000
Bobby Labonte +3000
Scott Speed +3000
Paul Menard +3000
Regan Smith +3000
Sam Hornish Jr +3000
Marcos Ambrose +3000
David Ragan +3000
Brad Keselowski +3000
Aric Almirola +3000
Kobalt Tools 500 Odds* to Win
Phoenix International Raceway - Nov. 14, 3:15 p.m.
Jimmie Johnson +350
Kyle Busch +400
Denny Hamlin +450
Tony Stewart +1200
Kevin Harvick +1200
Jeff Gordon +1500
Kurt Busch +1500
Mark Martin +1500
Clint Bowyer +1800
Joey Logano +2000
Carl Edwards +2000
Greg Biffle +2000
Matt Kenseth +2500
Juan Pablo Montoya +2500
Jeff Burton +2500
Jamie McMurray +3000
Ryan Newman +3500
Kasey Kahne +4000
Martin Truex Jr +4000
Dale Earnhardt Jr +6000
David Reutimann +6000
AJ Allmendinger +7500
Sam Hornish Jr +10000
Marcos Ambrose +10000
David Ragan +10000
Aric Almirola +10000
Brad Keselowski +10000
Field (Any Other Driver)+10000
Travis Kvapil +10000
Bobby Labonte +10000
Scott Speed +10000
Elliott Sadler +10000
Regan Smith +10000
Paul Menard +10000
*Odds courtesy of sportsbook.com