NASCAR Predictions: Emory Healthcare 500 Betting Odds and Picks
by Christopher G. Shepard - 9/4/2010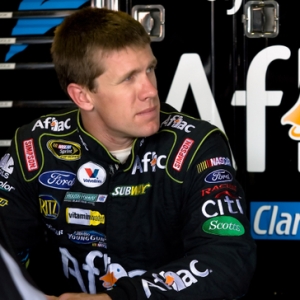 Kyle Busch moved up five spots to third place in the Sprint Cup standings thanks to his win at Bristol two weeks ago. And after a one-week hiatus NASCAR returns to Atlanta Motor Speedway for the Emory Healthcare 500 on Sunday, Sept. 5 at 7:45 p.m. for the penultimate race before the points are reset and the 12-driver field for the Chase for the Sprint Cup is set.

Sunday evening auto enthusiasts looking to make the race a bit more exciting should know that AMS does not always reward pole-sitters as only 11.5 percent, or 14 of 102 races, have been won from the pole. Meanwhile, 48 percent of all races won at AMS have come from top-five spots on the starting grid. Finally, Dodge cars have absolutely dominated at AMS the past two years; Kurt Busch has won the last two spring races and Kasey Kahne is the race's defending champion.
Who will win the Emory Healthcare 500?

With two races until the Chase Jimmie Johnson has dropped four places to ninth place and 444 points behind leader Kevin Harvick after Bristol. Since NASCAR reconfigured the points format it doesn't matter if Johnson finishes in 12th place, he'll still make the Chase with fifty bonus points which will be good enough to tie him with Denny Hamlin, so all Johnson really needs to do is start and finish both races. Once the points are reset for the Chase Johnson will start up front, so things aren't all that bad for Double-J. In fact, the Emory Healthcare 500 provides Johnson ample opportunity to win another race and 10 more bonus points before the Chase. However, you have to go all the way back to 2006 to find a year that he has had less than seven wins in a season. In 2008-09 he won seven times and in 2007 he won 10 races.

Coincidently, Johnson swept AMS In 2007, the last time that feat has been accomplished at Atlanta. All told, Johnson has three wins at AMS and nine top-five and 11 top-10 finishes in 18 starts. This is despite the fact that recently Johnson has not run well at AMS and was 36th last September and 12th in March. Even though Johnson is a 6/1 favorite to win on Sunday night, I'm not biting. I'm not entirely convinced that JJ's team is out of the woods yet. In fact, in his last seven races Johnson has finished in double-digits. Two weeks ago at Bristol Johnson started from the pole and finished 35th and the week before than started the Kobalt Tools 500 from second and finished 12th. Nope, I am not buying Johnson this weekend.

Another driver that could use some help is Kurt Busch, who has not been racing well recently. However, he has the distinction of winning two of the last three races at AMS. By virtue of this alone you should consider Kurt. But the reality is that Kurt has not raced remotely well, even though his team is good at the intermediate tracks. Busch's other victory at AMS was the second race in 2002. Those are his only top-fives and three of his seven top-10 finishes in 19 starts. Busch was 38th in this race last year and, given the way he has raced recently, I'm hesitant to recommend a play on Kurt.

What I am buying this weekend is a whole lot of 200 miles per hour impetus. I think the boys at Rousch Fenway Racing have built a lot of momentum in the past two months and nobody has raced better than Carl Edwards and Greg Biffle. In fact, both drivers are set at a moderate +1200 to win. If you throw out Edwards' 12th-place finish at Bristol, he has finished no higher than sixth-place and no lower than second place. Edwards has two third-place finishes and he has gained two-spots to move up to fourth in the Sprint Cup. In the past two races Edwards has moved up six spots and has done almost everything but his trademark backflip. Perhaps late Sunday night we'll see it again.

Pick! Carl Edwards, No. 99, (+1200)

Emory Healthcare 500 - Long Odds Lucky Dog

The ex short dirt track Champion Clint Bowyer occupies the 12th and final spot for the Chase by 100 points over Jamie MacMurray. Bowyer comes into Atlanta looking to increase his lead over MacMurray and every other challenger in the Sprint Cup. For Bowyer, though, he likes Atlanta because it reminds him of "dirt-track racing at 200 mph." This is something that the Emporia, Kansas native knows a thing or two about. In 13 starts at AMS Bowyer has four top-10 finishes, but recently he has been racing well and rallied from a pit-row speeding penalty to finish fourth, his fourth top-five finish of the season. Bowyer had a potential top-five finish at AMS in spring destroyed by bad luck and a late-race wreck that ended with a 23rd-place finish. This Sunday night I wouldn't be surprised to see Bowyer compete for the checkers.
Pick! Clint Bowyer, No. 33, (+2000)
Emory Healthcare 500 - Top-Three Finish

Jeff Gordon's season could be characterized as quick out of the gate, but slow to finish. Gordon seems to have no problem starting races, but finishing them is another story as he has managed to snatch defeat from the jaws of victory on more than one occasion. In March Gordon finished 18th, which ended his five race streak of finishing in the top-10 at AMS. Last fall Gordon finished this race in eighth place. Gordon is a four-time winner at Atlanta, but you have to go back seven years to find his last win at the track (March 1995, November 1998, March 1999 and October 2003). Gordon has also notched 14 top-five and 23 top-10 finishes in 36 starts at AMS. While I actually like Gordon to end his winless streak at AMS this weekend, I know that something will happen and Gordon will finish third.

Pick! Jeff Gordon, No.24, +350


Emory Healthcare 500 - Odds to Finish in Top Three*
Atlanta Motor Speedway - September 5, 2010 7:46 pm EDT

Jimmie Johnson +180
Kurt Busch +240
Kevin Harvick +240
Kasey Kahne +300
Kyle Busch +300
Jeff Gordon +350
Denny Hamlin +350
Juan Pablo Montoya +350
Tony Stewart +350
Greg Biffle +350
Carl Edwards +350
Jeff Burton +500
Matt Kenseth +500
Clint Bowyer +600
Jamie McMurray +600
Martin Truex Jr +900
Mark Martin +900
David Reutimann +900
Joey Logano +1000
Ryan Newman +1200
zx Field (Any Other Driver) +1500
Dale Earnhardt Jr +1500
AJ Allmendinger +2200
Travis Kvapil +3000
Bobby Labonte +3000
Scott Speed +3000
Paul Menard +3000
Regan Smith +3000
Elliott Sadler +3000
Sam Hornish Jr +3000
Marcos Ambrose +3000
Brad Keselowski +3000
Reed Sorenson +3000
David Ragan +3000

Emory Healthcare 500 - Odds to Win*
Atlanta Motor Speedway - September 5, 2010 7:46 pm EDT

Jimmie Johnson +600
Kurt Busch +800
Kevin Harvick +800
Kyle Busch +1000
Kasey Kahne +1000
Juan Pablo Montoya +1200
Denny Hamlin +1200
Carl Edwards +1200
Greg Biffle +1200
Tony Stewart +1200
Jeff Gordon +1200
Jeff Burton +1800
Matt Kenseth +1800
Jamie McMurray +2000
Clint Bowyer +2000
Mark Martin +3000
David Reutimann +3000
Martin Truex Jr +3000
Joey Logano +3500
Ryan Newman +4000
Dale Earnhardt Jr +5000
zx Field (Any Other Driver) +5000
AJ Allmendinger +7500
Sam Hornish Jr +10000
Travis Kvapil +10000
Bobby Labonte +10000
Scott Speed +10000
Paul Menard +10000
Regan Smith +10000
Brad Keselowski +10000
Marcos Ambrose +10000
David Ragan +10000
Reed Sorenson +10000
Elliott Sadler +10000

*Odds courtesy of Sportsbook.com