NFL Picks: Titans vs. Chargers Betting Odds and Sunday Predictions
by Trevor Whenham - 10/31/2010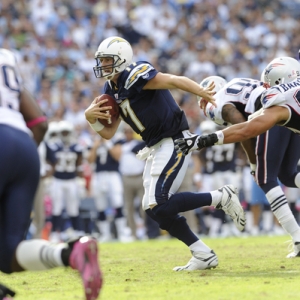 There are things you could be worried about with the Titans - Chris Johnson isn't playing up to the level we have come to expect of him, the quarterbacking hasn't been perfect, and so on. When it comes to this game, though, none of that matters compared to the nightmare that is the San Diego Chargers.
They have managed to do something that until now I would have said was absolutely impossible - they have both the top offense and the top defense in the entire league based on total yards, yet they are just 2-5. They aren't a pretty 2-5, either - their losses have been mostly ugly.
More than anything else, the start for San Diego has proved one thing emphatically - Norv Turner is a lousy coach. He can manage the individual pieces just fine, but he is totally incapable of molding those pieces into a cohesive package.
Up until last week it seemed like San Diego was easy to figure out - they had been terrible on the road, but dominant at home. But then they lost 23-20 to New England at home last week in a game that wasn't nearly as close as the score indicates, so now they are even harder to figure out. No one ever said NFL handicapping was easy.
Tennessee certainly hasn't struggled on the road so far - they are one of just four teams in the league that is 3-0 on the road. They haven't benefited from an easy schedule, either - the wins have come against the Giants, Cowboys, and Jags. We can be sure that Tennessee will be ready for this one. If San Diego isn't then this one could get ugly.
Chargers vs. Titans Betting Odds and Line Movement
The game opened with the Chargers favored by 3.5 points, and it hasn't shown much interest in moving from there. The Titans have drawn more than 70 percent of the bets, so it seems as if the books aren't in a hurry to move to the key number of three. If it hasn't moved yet then a rapid move isn't likely by game time. The total isn't going anywhere in a hurry, either - it opened at 44.5 and hasn't moved as I write this.
Chargers vs. Titans Betting Trends
Tennessee doesn't play defense on grass - six of their last eight grass games have gone 'over' the total. That matches well with San Diego - the 'over' is 8-3 in their last 11 grass games.
San Diego bounces back well - they are 6-2 ATS in their last eight games following an ATS loss.
Tennessee is 7-2 ATS is their last nine games as a road underdog of 3.5 to 10 points, and 11-2 in their last 13 games overall as underdogs of the same margin. San Diego is 23-8 ATS in their last 31 games favored by the same margin at home, but just 2-6 ATS in their last eight favored by 3.5-10.
Tennessee is 5-2 ATS in their last seven road games overall. San Diego has covered just once in their last five.
Chargers vs. Titans NFL Picks and Sunday Predictions
I find it really hard to go against the Titans here. On paper I should be all over the Chargers - they are more talented, they move the ball better, and they defend better. There is just something that clearly and seriously isn't working with this team, and I have no idea what it is.
They remind me of the Cowboys this year - a talented team that is playing fine by many measures, but just isn't getting things done. That indicates that the problems are more mental and systematic than physical, and those are the kind of problems that are much harder to overcome.
Tennessee isn't fancy, but they have covered their last three games, and they have frustrated quarterbacks over that stretch. With the lone exception of an incomprehensible loss at home against Denver the Titans haven't played a bad game this year. They are all on the same page, and they are playing like it - and like they respect their coaching staff.
It makes me nervous going against the Chargers because when they play well they are very good. It's just not a good bet that they are going to show up. When the more reliable, more cohesive, and more consistent team is getting more than a field goal it's hard to look past them.
As for the total, it's not original or exciting, but I favor the 'over'. The Titans have gone 'over' in three of their last four, and the Chargers have gone 'over' four times in their last six. All four of San Diego's 'overs' have been with totals of 44 or higher, so this number isn't a big deal for them. Last year the teams went 'over' - way 'over' - a total of 47.5. Both teams have offense as a strength, and Tennessee's is working particularly well right now, so 'over' it is.
Jason Sharpe has been excellent for his expert football picks at Doc's Sports, and he has shown a profit in eight of nine weeks for his NFL handicapping and college football picks. He sees some weak NFL point spreads on the board this week and is very excited to extend his 27-11 current NFL run – his card is highlighted by a 7-Unit NFC Game of the Year and he is 4-0 this season for picks rated 6-Units or higher. Call us toll-free at 1-866-238-6696 to find out about a free one-week football package from Sharpe or any Advisory Board handicapper of your choice (new clients only).