Free College Basketball Picks: NIT Semifinals Preview
by Nicholas Tolomeo - 3/29/2010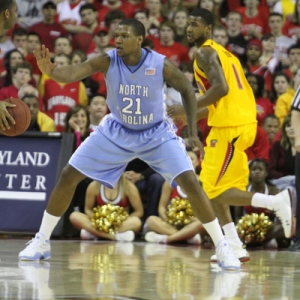 There is another Final Four in mens' college basketball and it is set to start Tuesday night at Madison Square Garden. This year's NIT semifinals feature two teams from the Atlantic 10, Dayton and Rhode Island, one team from the SEC, Mississippi, and last year's defending NCAA National Champions, North Carolina of the ACC.
It may seem like an unusual situation for North Carolina, both as defending champions and as rivals of Duke. The Tarheels will vie for an NIT title while the Blue Devils are in Indianapolis in the Final Four.
Many may think considering the circumstances the NIT semifinals may be above North Carolina but the Tarheels have played inspired basketball in this tournament.
Three years ago another team was in North Carolina's shoes. A year after making a run to the NCAA Elite Eight, West Virginia found itself disappointed and in the NIT. They came together, reached the semifinals and won two memorable games at Madison Square Garden to win the NIT. A West Virginia freshman, Da'Sean Butler, was the hero of that tournament and his team used that experience as a springboard. Three years later his team is playing in the NCAA Final Four.
Looking at the lack of national exposure for the other three programs involved, Dayton, Rhode Island and Mississippi, motivation should not be an issue in the three games that will be played.
Dayton and Mississippi open the NIT semifinals at 7 p.m. on Tuesday with North Carolina and Rhode Island preceding the game around 9 p.m. The winners will meet Thursday night for the NIT championship.

Dayton (23-12) vs. Mississippi (24-10), 7 p.m.
The Line
Pick 'em
Total 142
How They Got Here
Dayton blew past the competition in the NIT to reach the semifinals. They blew out Illinois State and Cincinnati and got past Illinois, 77-71. The Flyers were underdogs in their last two games, road dates at Cincinnati and Illinois.
Mississippi has taken a different path; they were favored in all three of their games and they had two really close calls, against Memphis and in a double-overtime game against Texas Tech.
Matchup
The Rebels score in droves; they average 79 points per game but their defense is a major reason they went from ranked in the Top 25 to playing in the NIT. They allow 71 points per game, 239th in the country. Dayton is much stingier; their defense is ranked in the top 40 in all the major categories. The Atlantic 10 had an above average year but Dayton only managed to finish 8-8, seventh in the conference. Mississippi won the SEC West this year with a 9-7 conference record. On neutral courts Dayton is 2-3 while the Rebels are 3-2.
The Pick
The NIT semifinals are a big stage and Mississippi, playing in the SEC, has experience on this stage. They have seen better competition than Dayton and in what should be a shootout, the Rebels are better equipped to run up and down the floor.
North Carolina (19-16) vs. Rhode Island (26-9), 9 p.m.
The Line
Rhode Island -1
Total 149.5
How They Got There
The Rams were expected to make a run in this tournament, but their 79-72 win at Virginia Tech surprised many. They had to squeak out a win against Nevada as nine-point favorites just to get to the quarterfinals.
North Carolina is here mostly because they underachieved greatly all season long and then turned things on just in time for the NIT. After an abysmal 16-16 SU season, the Tar Heels got past William and Mary in the first round as a favorite and then overcame road dates at Mississippi State as 7.5-point underdogs and at UAB as 4.5-point underdogs. The only thing odder than seeing North Carolina in the NIT is seeing them as underdogs against the likes of Mississippi State and UAB.
The Matchup
The forward-dominated lineup of North Carolina could dominate the inside against Rhode Island. Their top four scorers are all forwards and all averaging more than nine points per game. The Rams have struggled in stopping teams inside. They allow opponents to shoot 47 percent, with most of those shots coming as easy put backs in the paint.
North Carolina is 1-3 on neutral courts and Rhode Island is 2-1. Rhode Island is 5-0 SU against teams from major conferences and 4-1 SU. One of those wins was an 80-69 win over ACC member Boston College. North Carolina lost to Boston College in their lone meeting this year and in their last game to Virginia Tech North Carolina also lost. It was Virginia Tech who Rhode Island defeated to set up this matchup.
The Pick
The Tar Heels came a long way in the past week in the NIT but Rhode Island has proven it this entire season. Go with the long track record of success this year. The pick is Rhode Island.