March Madness Handicapping: Can Lower Seeds Keep Going?
by Trevor Whenham - 3/25/2010


Other Popular March Madness Pages:
2019 Main Page - Brackets - Odds - Picks - Schedule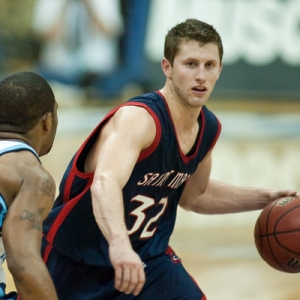 I can't say that the hype surrounding the four teams ranked ninth or lower that made the Sweet 16 is unprecedented, but it certainly is intense. You don't have to look too hard to find members of the media that are in love with one of the four teams and their chances of continued success.
No. 9 Northern Iowa shocked the world by beating Kansas, and now some people are trying to convince others that they saw it coming all along. No. 10 Saint Mary's apparently, at least according to them, has God on their side. No. 11 Washington is being held up as an example of a team that was woefully under-ranked since they won a major conference. No. 12 Cornell has been so indescribably amazing in their first two games that it's seductive to consider the possibility of them somehow shutting down the unstoppable force that is John Wall and Kentucky.
The short week between the second round and the Sweet 16 is when hopes and expectations run amok. Before we all pick a bandwagon or two and jump on, though, it would be helpful to look at what history has taught us. What have we learned from the past in terms of the success of teams with these seedings: Here's a look:

Northern Iowa - There are many that argue that Northern Iowa was far too good to be a No. 9 in the first place. Though it's hard to not at least acknowledge that theory given what they have accomplished, it's also certain that they aren't the first No. 9 to have suffered the same indignity. You could argue that any No. 9 that reaches the Sweet 16 is under-respected because they were good enough to beat a No. 1. Accepting, then, that the comparison between this No. 9 and the ones before it are relevant the news isn't that bad for Panthers' fans both new and old.
No. 9 seeds have just a .333 winning percentage in the Sweet 16. That's the bad news. The good news is that the sample size is just three. More significantly, this is just the second time overall, and the first since 1994, that a No. 9 has met a No. 5. The No. 5 won that time, but that's hardly a convincing precedent. There is no reason for us to believe, at least based on history, that the Panthers don't have at least one more win in them. If they do beat Michigan State then they have a chance at making history - only one No. 9 has played in the Elite Eight, and they lost.

Saint Mary's - If I was a coach or a player I would pray and hope and plead and beg to be a No. 10 instead of a No. 9. It seems counter-intuitive on the surface, but the lower seed obviously means you get to avoid the No. 1 for three rounds - hopefully long enough for someone else to knock them off - and instead play some notably weaker teams en route to the Elite Eight. That's why there have been significantly more No. 10 teams in the Sweet Sixteen than No. 9s - 17 as opposed to three.
What's interesting, though, is that those 17 teams have won in the Sweet 16 at basically the same rate as the No. 9 teams have - six wins and 11 losses. The No. 10 teams have gone 3-7 against No. 3 seeds, and a significantly better 3-3 against No. 6 seeds. It's too bad, then, that Saint Mary's is playing Baylor and not Notre Dame. It's interesting to note here that a No. 10 has never played a No. 11 or a No. 14 even though both are possible Sweet 16 pairings.
It comes down to this - if you believe that Northern Iowa has the potential to beat Michigan State then history tells you that you should believe in the Gaels as well because their chance is about the same of pulling off a win.

Washington - It might seem like an insult that the Huskies are a No. 11, but they aren't alone - other major conference teams have made the Sweet 16 from such low rankings before. In fact, Washington has done it once before - they were a No. 11 in 1998 when the lost to UConn in the third round.
Washington meets up with a No. 2 - West Virginia. This is the ninth such pairing, and the only time that the underdog emerged victorious was in 1986 when LSU beat Georgia Tech. That doesn't give Washington much historical hope, but at least it was another major conference squad that pulled off the upset.
The best hope for the Huskies would have been for No. 7 Clemson to have not only not lost to Missouri, but also have gone on to upset West Virginia. No. 11 and No. 7 have met twice in the past and the lower seed has won both times.

Cornell - As impressive as Northern Iowa's accomplishment is, it doesn't hold a candle to what Cornell has done in my eyes. The Big Red didn't just win their games - they have dominated them in a way that only No. 1 and maybe No. 2 teams should be doing at this point in the tournament. They faced two teams with defensive strength, and they made them look ridiculous. Stunning.
I would love for this story to continue on, but sadly history isn't kind to Cornell - just one No. 12 has won a Sweet 16 game despite 14 tries. Even worse, that one win came in 2002 when Missouri upset No. 8 UCLA. Cornell will be up against a No. 1, and a dominant one at that, in Kentucky, and No.1 teams are a perfect 13-0 when matched against No. 12s. History says that the glass slipper is going to quit fitting Cornell's big red feet.