Tiger Woods Masters Golf Predictions
by Trevor Whenham - 4/6/2010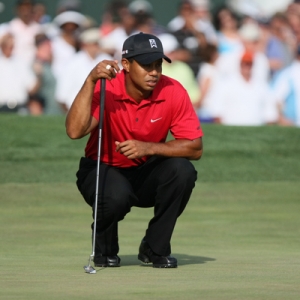 I don't think it's an exaggeration to say that golf has never presented us with a bigger handicapping challenge than we have this week with the Masters. Tiger Woods has been the biggest story in every tournament he has played for over the course of a decade, but this takes that to a whole new, likely more ridiculous level.

If you take a step back and look at this situation in general terms you'll realize just how ridiculous the whole thing is. Woods is at 7/2 and falling, while Mickelson is the second choice way back at 11/1. That means that we are supposed to determine whether one guy is three times more likely to win than any other golfer - a guy who is less than two years removed from knee and, as it turns out, Achilles' injuries; a guy who hasn't golfed competitively in months; a guy who hasn't even practiced for much of the last few months because he's been in rehab; a guy who has seen his life change as much as it can for a public figure, and who faces insane amounts of scrutiny and criticism.
If it was any guy other than Tiger Woods we would absolutely and without hesitation ignore him from a betting perspective because there is just far too much to overcome. Tiger has done so much that seems impossible in the past, though, that people can't help but look and imagine what's possible. Personally, I'm betting against him - I just can't justify backing him in this situation. The problem is that I just can't shake the feeling that he could somehow pull this off. Like I said, this is a unique, strange time.

There are so many factors to consider here. The one that stands out most in my eyes, though, is the idea of redemption. Tiger is such a driven, proud athlete who is at his most dangerous when he feels he has been slighted or that he has something to prove. Given all that he has been through, and all of the perceived slights that he'll have felt over the past months, the guy is going to be driven like never before to show that he's still the best. He'll be looking to win to show that all the sponsors who quit on him are wrong, all of the journalists who said negative things about him are ignorant, and that despite all that he has done and has owned up to he's still the best golfer on the planet. That all sounds a little ridiculous, but for a guy like this I really believe that it is a legitimate and very real factor. The problem is just figuring out how to adjust for that in your handicapping.

The one factor for which there is a recent useful precedence is the long layoff. Thanks to his knee injury, Woods was off from the 2008 US Open in mid June to the Match Play in late February of 2009. The return didn't go well - it took him three tournaments to get back into form and win a tournament. This time around he hasn't played on the PGA since late September, and in a tournament at all since November. He's healthier this time, but his practice time has been just as limited. This is another reason I'm a pessimist about his chances.

In any high profile situation there are going to be lots of props set up by sports books, and this is no exception. Bodog alone has eight. Let's take a quick look at the more interesting ones:

All four rounds under 70? - The price here is going to get some attention and draw some action – 'yes' is at +1400. The problem, though, is that it's just a terrible bet. Woods has won the Masters four times, and each time he has had at least one round in the 70s. In his most recent win, in 2005, he carded a 74 and a 71. In all of his 14 major wins he has stayed under 70 in all four rounds just twice, and both were on much easier courses than Augusta.

No bogeys - You can get a price of +5000 if you will bet that Tiger will shoot no bogeys in the tournament. You're also a moron if you make that bet.

His final position - This one is interesting. You can get 6/5 that he'll finish somewhere in the top five, 6/5 again that he'll finish 11th or worse, and 4/1 that he'll be sixth to 10th. He was sixth in both the Masters and the U.S. Open last year, so maybe the higher return is worth a shot.

More birdies - Mickelson or Woods - My first response would be to take Mickelson. He's at +110 while Woods is at -138. The problem, though, is that Mickelson has been just terrible all year. He has had only one Top-10 finish in seven starts this year - an eighth at Pebble Beach. This may actually be the closest thing to value that Woods presents.