WNBA Betting Tutorial
by Trevor Whenham - 5/19/2010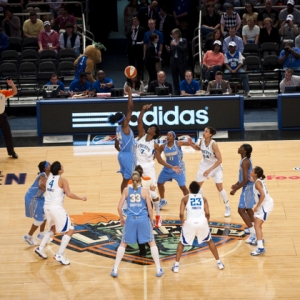 It's safe to say that the WNBA isn't the most popular sports league in the country. In fact, I'm sure that if you were to ask people on the street th large majority of them would have no idea when the season ran, and they wouldn't care either. It may not be the most exciting or riveting league in the world, but it can be useful for bettors. In fact, there are several bettors out there who claim that it is their favorite sport to bet on. Here's a look at six reasons why you might want to reconsider the decision to pretend that the WNBA doesn't exist:

Great timing - The season starts in mid-May and runs until August, with the playoffs extending into September. If you are a person who has had success betting on baseball then that fills the one stretch of time when there just isn't much basketball to bet on. As the WNBA season is starting the NBA playoffs are winding down, and NBA training camps are just getting going again as the playoffs for the WNBA are at their most intense. The league operates during the quietest time of the sports calendar - no football or hockey, either, so baseball is the only constant option. Some people like to use this time to take a break from sports betting and recharge for the fall and winter, but if that's not you then the WNBA could be a perfect outlet for you.

Just 12 teams - Teams in Houston and Sacramento have folded over the last two seasons, so there are only 12 teams in the league. That's a very manageable number of teams to keep track of. You can be familiar with rosters, coaching staffs, injuries, and how teams are playing without having to quit your day job to do so. If you bet bigger leagues than you know how easy it can be for important information to slip through the cracks. It's easier to avoid that here. The small size also means that the barrier to entry for new bettors is lower than in many leagues because you can become competently familiar with the league without having to invest a lot of time and effort.

It's still basketball - The WNBA is very different than the NBA or men's college ball in a lot of ways. There isn't nearly as much aerial play, for example. At it's heart, though, it's still basketball. If you have spent the time and money over the years learning to effectively handicap the NBA or college ball then it only makes sense that you would look to the WNBA as a way to further leverage that knowledge for additional profit. There are adjustments you'll have to make for the new league, but they are subtle if your overall basketball betting is competent.

Data isn't available everywhere - At first it might seem like the fact that the league's stats and coverage of the teams isn't available in every newspaper in the country like it is for other leagues would be a bad thing. In fact it's the opposite. The data and coverage you need to be an effective handicapper is available online, but only if you spend a little time looking for it. Because it is not readily available that means that, with effort, you can have information and insights that the majority of bettors aren't going to have. Relatively unique information can lead to profits, but that kind of thing just isn't readily available in the major sports anymore.

Betting popularity increasing - The betting popularity of the league is growing every year. That has a couple of advantages. First, it means that more online books are posting lines, and those lines are becoming more competitive. Shopping for the best line is a key competent of being a successful bettor, but you can't do that well if there aren't a lot of places to shop at. It also means that books are posting some prop bets and other betting tools that can provide additional value for astute bettors. The increasing betting popularity also means that there is more dead money in the betting pools. Dead money is the best friend of prepared, committed sports bettors.

Line movement is meaningful - While the betting popularity of the league is definitely growing it is still just a tiny fraction of the major sports. The smaller the betting pool is, the easier it is for one large bet, or several smaller bets on the same team at about the same time, to affect the lines and cause them to move significantly. People who like to look at line movement to influence their betting decisions, then, should definitely be attracted to this league because it is much easier than in most leagues to get a clear sense of where the smart money is sitting and when it is placed.
Vegas Sports Informer and Indian Cowboy are Doc's Sports resident WNBA experts and they are two of the best WNBA handicappers in the nation – check out their pages for more details on their WNBA picks packages.
---
Most Recent Sports Betting 101