2011 Arizona Diamondbacks MLB Predictions and Futures Odds
by Darin Zank - 3/4/2011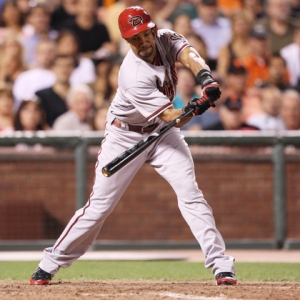 Arizona thought it might get back into contention in the NL West last year with the return of Brandon Webb and the additions to the rotation of Edwin Jackson and Ian Kennedy. Most sportsbooks were lining the Diamondbacks at about 3/1 to win the NL West last year, with a season wins O/U of right around 83.
But Webb went down with a bad wing in Spring Training, never making a start, and Jackson was a bust before being traded. The bullpen acted like little more than the fire department from "Fahrenheit 451," lighting fires instead of putting them out. So the pitching staff ranked right near the bottom in ERA and WHIP. To go along with the abhorrent pitching, Arizona bats set a new NL record for most strikeouts in a season, whiffing more than 1,500 times. Add it up and Arizona lost 97 games and finished last in the NL West for the second straight year.
The Diamondbacks also ended up second from the bottom on the MLB money chart, losing almost $2,500 on the season (based on $100 wagers on each game). And in giving up nearly five runs per game, Arizona played more 'overs' last year than any other team in the majors with 88.
So the D-Backs have done a little housecleaning, tried to bolster the bullpen, jettisoned 380 strikeouts from the everyday lineup, and enter this season with a revamped rotation, a new closer and long odds for success.
Here is Doc's Sports 2011 Arizona Diamondbacks predictions and MLB futures odds
2010 Record: 65-97
2011 Wins Over/Under: 72.5 at Bookmaker and betED
Odds To Win 2011 NL West: +1,300 at Sportsbook.com
Odds To Win 2011 NL Pennant: +5,000 at Sportsbook.com and Sports Interaction
2011 Arizona Diamondbacks Odds to Win World Series: 100/1 at Bodog, Sportsbook, Sports Interaction and BetOnline.
Pitching: Webb and Jackson are gone, replaced by a pair of veteran lefties, former Angel Joe Saunders and former Pirate Zach Duke. Unfortunately, they were both terrible last year, with a combined ERA of more than five. The ace of this staff might be 24-year-old Daniel Hudson, who came over in the trade that sent Jackson to the White Sox. In 11 starts for Arizona last year Hudson went 7-1 with a 1.69 ERA and a 70/16 K/BB ratio. The other two starting spots will be manned by Kennedy (3.80 ERA last year, 1.20 WHIP) and Barry Enright, who jumped from AA last year to make 12 quality starts in 17 outings. JJ Putz, who had a couple of good years as a closer in Seattle a few seasons back and pitched well in setup with the White Sox last year, gets another chance on the back end now with Arizona. And that could work out. Overall the bullpen figures to be better this year, because there's so much room for improvement, after that unit got lit up to the tune of a 5.74 ERA last season, which was more than a run worse than any other pen.
Hitting: Arizona averaged 4.4 runs per game last year, slightly more than the NL average, hit 180 homers, 6th-most in the majors, and ranked 12th in the bigs in team OPS. But that strikeouts figure is just hard to get by, and is one of the reasons the D-Backs traded 3B Mark Reynolds, replacing him with 39-year-old Melvin Mora, and let 1B Adam LaRoche go. With OFs Chris Young and Justin Upton, 2B Kelly Johnson and SS Stephen Drew Arizona will probably score its share of runs again this season. And if they can cut down those wasted outs and move some runners around, that would help.
Key Stat: The Diamondbacks were nearly a .500 team at home last year at 40-41, but they went 25-56 on the road and 27-45 within the tough NL West.
2011 Arizona Diamondbacks Predictions: Arizona went 34-49 under Kirk Gibson last year, which isn't great. But there was a change in the attitude, and that will continue. As far as this season goes, though, there are just too many questions to consider the D-Backs contenders in the West. Can Saunders return to his ways of a couple of years ago? Can Hudson avoid a sophomore slump? Can Duke and Enright hold on to their spots? Will the bullpen improve? And can the D-Backs decrease their dependency on the long ball? We expect Arizona to be better this year mainly because they were so bad last year. But even just making a run at .500 seems unlikely.
2011 Arizona Diamondbacks MLB Season Win Totals Predictions: Because the combination of Gibson's attitude and a less-flammable bullpen should be good for at least a few more wins this season, we'll go 'over' 72.5 on the D-Backs.