Baseball Handicapping: Strange MLB Betting Trends
by Trevor Whenham - 6/28/2011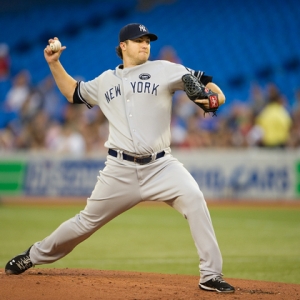 Statistics are such an integral part of baseball handicapping. If you can't manipulate and interpret stats then you are going to struggle to pick winners. Part of what makes that so tough is how deceptive stats can be. They can tell one story on the surface level, but an entirely different story when you look at them closer. One place you can really see that is in the standings. Teams that look very good overall can have some clear issues when you look at different splits. Here are five interesting, surprising, and potentially profitable splits that have emerged so far this year.
The Yankees need an early bed time - At 45-31 the Yankees have the best record in the American League, and only trail the Phillies overall. When you look at little closer, though, something almost unbelievable emerges. In day games the Yankees are an incomprehensibly good 22-4. That's an incredible .846 win percentage. The problem is that when the sun is down they are a lousy 23-27. It's understandable that teams could perform differently from day to night, and Josh Hamilton could offer some ideas about why it happens. To see this much of a difference, though, is totally bizarre. The Yankees are impossibly good in one case and below average in another. There is money to be made with that trend.
The groundskeepers need to learn how to grow grass - Artificial surfaces are thankfully very rare in baseball these days. One of the two places that don't have a grass field is Tampa Bay. They should get one. On turf they are a totally underwhelming 21-21. That leaves them with a very solid 23-14 record while playing on grass (.621). Whether it is the surface itself, the stunning lack of support they get at home, or the hideous building they are forced to play in, it's clear that this team is far better when they are playing on grass -- or at least they have been.
Nine innings just isn't enough - The Blue Jays have been disappointing this year. I had high hopes for their rotation and solid expectations for their roster, but they have spent the whole season flirting with mediocrity. There is one area, though, is which they shine -- the team loves extra innings. They have played beyond the ninth in nine games so far this year, and they have come out on top in seven of them. That's by far the best in the American League.
The only team that measures up in all of the majors is the Dodgers -- they are a perfect 5-0 in extra frames. Now if only both teams could find a way to force extra innings -- or if you could predict when they were going to play 10 or more. If you could predict those games that would go extra innings you would also happily bet against the Marlins. They have played the second most extra inning games in baseball, yet they have a pitiful 4-10 record in those frames.
If we can't win by a lot then we aren't going to win at all - There are some good teams -- including all three division leaders in the American League -- that don't seem to handle the pressure of close games particularly well. The Yankees are just 9-11 in games that have been decided by one run. The Tigers, at 7-8, have had the same problem, and the Rangers (9-12) have had even more trouble when things get tight. The Rays, at 12-6 in one-run games -- are the only likely AL playoff squad that has thrived when games are tight. The picture is different in the NL. The Philles are a solid 13-8 in one-run games, the Brewers are 16-13, and the Giants are an incredible 22-11 when things are close. Well over 40 percent of the Giants games -- and exactly half of their wins -- have been decided by one run, so they are certainly not the team to look to if you consistently play runlines.
We don't care where we play - No team has been more consistent, or more consistently average, than the Rockies. They are just below .500 on the season (38-40). They are 19-19 at home, and 19-21 on the road, so setting has made little difference -- they will win about every other game regardless of where they sleep. The Jays (17-18 at home, 22-22 on the road) and the Sox (19-20 and 19-21) are similarly unconcerned about the setting. By contrast, the Royals (23-24 at home and 10-22 on the road) and the Brewers (29-11 at home, and 15-24 away) have a clear preference for home cooking, while the Rays (18-19 at home and 26-16 away), the Marlins (17-26 away and 17-18 at on the road), and the Padres (17-27 at Petco, and 18-18 on the road) seem to prefer getting a break from their families.