Final Four Odds and NCAA Tournament Predictions
by Trevor Whenham - 3/28/2011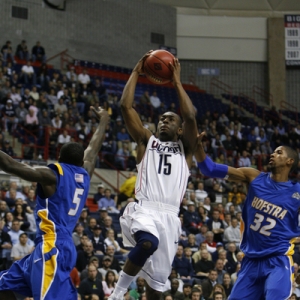 This is, of course, exactly the Final Four I knew it was going to be. I mean, how could you not see this one coming? Clearly this was going to be just the second year that a No. 1 didn't advance to the Final Four. And clearly two coaches under the age of 35 were going to make the last weekend while legends were going to be cast aside.
I'm kidding, of course. This is truly bizarre. You could make a case that UConn was a good Final Four pick because they came in so hot and because they have perhaps the best player in the country and a coach who knows how to win. My wife picked them in her bracket, but I think that had a lot more to do with the mascot than any sense of what the team could do.
You could also probably have made a case for Kentucky -- very well coached, talented and maturing before our eyes, and they had a draw that matched their talents well. The other two -- Butler and VCU -- were almost impossible to see coming.
Butler wasn't anywhere close to the team we saw last year -- or so it seemed -- and VCU was forced to play in Dayton just to make the bracket. I saw that of the 5.9 million March Madness brackets filled out on ESPN.com this year there were just two that had the Final Four correct. A lot of people are impressed by those two people, but I'm not. They filled out a foolishly outlandish bracket and only dumb luck and practically impossible circumstances saved them from embarrassment and irrelevance.
We can look back at how bizarre these pairings are all we want, but at this point it's far more important to look forward to what's to come -- there's no money to be made in the rearview mirror. Here's a look at the Final Four odds and NCAA Tournament predictions as things stand soon after the lines were set (odds are from BetUS):
Butler (-2.5) at VCU (Saturday, April 2, 6 p.m. EST) - There are so many crazy stats about this game that it's hard to know where to start. The combined ages of VCU Coach Shaka Smart (33) and Butler's Brad Stevens (34) is one year younger than UConn Coach Jim Calhoun's 68 years. The combined total of the teams' seeds -- 19 -- is the highest ever for a Final Four game. Butler becomes one of the rare teams to play their lowest seeded opponent in the Final Four.
I could go on and on, but you get the point -- this is a truly bizarre pairing. I keep using the word bizarre to describe it because the word keeps bouncing around my mind when I think of this game and this tournament. It fits. It's also a very tough game to handicap.
They have both been outmatched along the way in terms of talent and athleticism, but they have both willed themselves to win time and again because they have wanted the win more, and they have worked harder to get it. And they have both gotten their share of luck as well. Both have incredibly talented, dynamic, fearless coaches who have done great jobs of doing just what their teams need to maximize their effectiveness, and both have shown that they aren't afraid to take great risks. Both teams obviously believe entirely in what their coaches are saying. Neither of these teams looks like a team that would normally be playing in the National Championship Game, but one of them is going to.
Given the degree to which both teams are overachieving, it's a massive challenge to determine which team will continue their wildly improbable run. In the end, though,
I have to go with the Bulldogs. They have been here before, and they know what to expect. This is a very long week for these teams, and the magnitude of the situation will settle in and weigh the teams down as the week progresses. We know Butler can deal with that, and that gives them enough of an edge in my eyes.
Kentucky (-2.5) at UConn (Saturday, April 2, 8:45 p.m. EST) - It would be close to impossible to create a more compelling coaching matchup. Jim Calhoun is a legend, and he has something to prove this year after his problems with the NCAA. John Calipari has made the Final Four with three different teams, but he has never won it all -- and that has to kill him. There are similarities beyond their legendary reputations as well.
Both teams faltered at times during the season, but both got hot in time for their conference tournaments, and both have carried that momentum into the tournament.
UConn has more top-end talent -- Kemba Walker is by far the best player left in the tournament -- but Kentucky has nothing to be ashamed of. Both teams rely heavily on freshmen -- Jeremy Lamb and Shabazz Napier for UConn, and Terrence Jones and Brandon Knight for Kentucky. Both teams have shown that they can deal with adversity over stretches of time in this tournament, and both have shown that they can adjust and adapt as needed.
I have to go for Kentucky, though. I've been very impressed with how well they have played, and how much they have matured since the middle of the season. Calipari is coaching like he is possessed, and though this isn't the most talented team he has had it is certainly one of the most cohesive ones.
Both teams are punching above their weight in this tournament, but Kentucky seems to be playing more within themselves despite their lower seeding, and I like their chances of continuing the streak.