March Madness Predictions and Betting Advice
by Trevor Whenham - 3/15/2011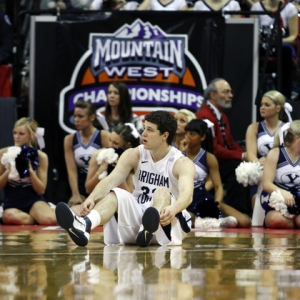 The tournament is finally here. After months of watching basketball constantly, weeks of watching the bubble like a hawk, days of conference tournament addiction, and now countless hours of studying the bracket, I am ready to make five bold March Madness predictions about what is going to happen starting Thursday. They may not really be that bold, but they aren't totally safe, either:
At least one No. 2 won't survive the first weekend - I think Notre Dame is secure -- they are in a pretty easy pod. The other three No. 2s shouldn't rest easy, though. San Diego State can win theirs reasonably easily, but if they feel the pressure of their lofty seeding or look forward to playing close to home in Anaheim next weekend then they could fall. North Carolina has the prospect for a tough first-round game against Long Island and a brutal second rounder against Washington. The Heels will be helped by playing essentially at home in Charlotte, but they could easily be in trouble. Florida has absolutely no business being a No. 2 -- they were humiliated in their conference championship game, and they play in a lousy conference. Their second round opponent is either UCLA or Michigan State, and either team is more than capable of beating the Gators.
No 13 or 14 seed will make the second weekend - The last few years we have gotten used to seeing teams from these spots pull off shocking wins. It's not going to happen this year. The 14 seeds just aren't that exciting. Oakland and Belmont are getting a lot of respect as 13 seeds that could do some damage. I like both teams a lot and think they both deserve to be higher. The problem, for both, though, is that they have to play very good No. 4 seeds in Texas and Wisconsin, respectively. The mid-majors are good, but the higher seeded teams here are just plain better. CBS won't be happy about the lack of storylines here, but they'll just have to cope.
BYU will make it through to week two - Jumping off of BYU's bandwagon has become a national pastime recently. While losing Davies obviously hurts -- especially for the reason he was booted from the team -- but I don't think this team gets enough credit. They are a disciplined, deep team that has now had five games to get used to playing with a different lineup. This is still a talented team led by the likely Player of the Year in Jimmer Fredette. Wofford won't be a problem if BYU is more ready for them than Wisconsin was last year. St. John's lacks consistency and doesn't work as hard as the Cougars do. BYU will be a Sweet Sixteen surprise -- at least as much as a No. 3 seed can be.
Ohio State is going to win it all - Jared Sullinger is a beast -- an absolutely freak. If you don't watch the Big Ten much you can't have a sense of how much he can control a game and the poise he shows. It's almost unprecedented for a player his age. The team is built very well around him -- they have shooters, they have ball movers, they have physical bodies, and they all play together very well. The team is very well coached, and they have been tested -- and passed with flying colors -- in the very tough Big Ten. They have the easiest overall bracket of the No. 1s, and are more than capable of beating every team they have to. Kansas is getting a whole lot of love, but I just don't think they measure up to the Buckeyes. I'm a diehard Michigan fan, so if I am saying this many nice things about Ohio State then they really must be impressive. They will cut down the nets.
A No. 1 will fall in the first weekend - This is where I really go out on a limb. None of the 16 seeds are scary, so they won't pull an upset unless something bizarre happens. All four No. 1s face potentially tough matchups in the second round, though. Ohio State could face a very plucky George Mason team that has a taste for giant killing after their run a few years back, or they could face a Villanova team that has to be better than they have looked for a couple of months now. Duke could face a Michigan team that is very tough against top-level opponents -- especially when they are hitting shots. They could also face Tennessee. Bruce Pearl may be in a tough spot this year, but the guy can coach in March. Kansas could face a very good UNLV team. Pitt has a brutal second-round game no matter who they play -- a Butler team that obviously knows how to win tournament games and is certainly tired of hearing how much better they were last year, or an Old Dominion squad that is seasoned from playing in a very, very tough conference. The lower seeds have won 13 of 104 games against No. 1s in the second round, so an upset isn't out of the question, and none of these top seeds are good enough to be thought of as unbeatable.
Doc's Sports is your home for NCAA Tournament betting information! We have our Main March Madness page HERE where you can find our very popular updated March Madness Brackets, up-to-the-minute March Madness Odds and daily exclusive NCAA Tournament betting articles. If you don't want to fill out the brackets yourself, be sure to look at Doc's March Madness Mock Bracket Predictions. Check Doc's every day until the Final Four for all the information you need to beat your bookie throughout the tournament. Also, if you don't have the time to do your own homework, Doc has a team of expert college basketball handicappers that are working 24/7 on their March Madness picks and you can get a package from each one through the Final Four for only $199.