March Madness Predictions: Reseeding the Brackets
by Trevor Whenham - 3/23/2011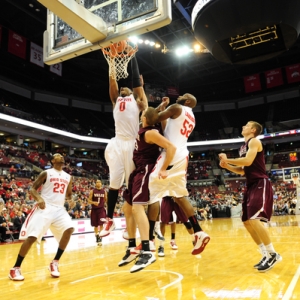 For the weeks and even months leading up to the NCAA Tournament college basketball fans are fascinated by seeding. Who is going to get into the tournament? What seed will they get when they get there? Which teams will be No. 1s? It's an obsession. Once the tournament starts, though, that fixation on seeding largely goes out the door in favor of March Madness brackets, upsets, and everything else that is great about the tournament. In the free time between rounds, though, I miss all of the seeding talk and speculation.
To get my fill, then, I'm going to do some March Madness predictions on what I think the new seeds should be for the Sweet 16. Teams obviously aren't reseeded after the first two rounds, and it would be wrong if they were, but just for fun let's seed the 16 remaining teams based on what we have seen so far:
1. Ohio State - I hate the Buckeyes, but there is no denying that they are the best team in the tournament right now. There is really not much they don't have going for them. Jared Sullinger is the ultimate centerpiece for a team, and he has every type of role player he could want around him -- shooters, defenders, physical players, playmakers, and so on. They have clearly shown that their top seeding was well deserved.
2. Kansas - I was skeptical of this team coming into the tournament, and I remain so. They have certainly done their job so far, though. More significantly, they are perfectly positioned to keep doing it with ease -- they can make it to the Final Four without playing a team seeded higher than ninth. I don't think they are as complete as Ohio State, but they are clearly better than everyone else.
3. Wisconsin - Some will argue with how far I have moved this team up, but they absolutely deserve it. They have played two teams that were popular upset picks in Belmont and Kansas State, and they have done their job effectively in both. What's impressive about this team is that nothing bothers them -- they just keep following their boring, methodical game plan no matter what. And now they are sitting with a clear road to the Final Four.
4. UConn - If a star player has a good team around him then he can lift his program very high in the tournament. UConn has a decent team -- and exceptional coaching -- and Kemba Walker is playing basketball about as well as the game can be played right now. Very impressive from him, and that makes this team very dangerous.
5. BYU - I've moved this team up in large part because I think it was a travesty that they were dropped as far as they were. To go deep in the tournament you need a good team, usually an exceptional player, and you need to be able to handle all the adversity that will come your way. Check, check, and double-check for the Cougars. Jimmer Fredette is a machine, and this team couldn't be more tough. They were largely counted out -- and were even given the insult of being an underdog as a three seed against an 11 in some books -- but they not only beat Gonzaga, but totally dominated and humiliated them. This team has something to rally around, and that's dangerous this time of year.
6. Butler - The foul circus that ended their last game aside, this team is very impressive. They played perhaps the hardest path of any team to get to the Sweet 16. It wasn't always pretty, but they just find ways to win. It's hard not to like these guys, and given their experience and sheer will it's not hard to believe that they can keep winning.
7. Duke - I'd drop the Blue Devils even further if I could. I didn't really buy into this team coming into the tournament, and after watching them escape with a win against Michigan I really don't believe in them now. They had a 15-point lead well into the second half and were totally physically and athletically dominating the Wolverines -- it should have been a slam dunk. When Michigan pushed back, though, Duke folded. They were tentative, they were easily frustrated, and they were badly flustered when all they needed to do was assert their unquestioned dominance. They got lucky to win this one, but if they do the same thing again they won't be so lucky.
8. North Carolina - The Tar Heels have been more than solid in their two wins, and are playing much better than you could have dreamed was possible back in November. I still don't believe that this team is built for a run, but I find it less difficult to believe than I did a month ago, or even before the tournament started.
9. VCU - This is perhaps a bit too high, but you can't argue with what this team has done. Not only have they won three games when everyone else has won just two, but they have outclassed three teams from bigger conferences along the way. Very impressive.
10. Kentucky - The Wildcats haven't done anything too spectacular in this tournament, but they haven't had to. What they have shown, though, is that they are a typical Calipari team -- feisty and tough to play -- and that's a good thing in March. They are better than they appeared to be coming in.
11. Arizona - Derrick Williams has proven that he is a top-level talent, and the team has won two tough games. The second win is marred somewhat by the ending, but the team still deserves credit. Coach Sean Miller knows how to shine in March.
12. Marquette - I have been impressed by the fact that Marquette has won two games I didn't think they would win. I'd be even more impressed by them if their conference hadn't been a total disgrace on the opening weekend. I just don't see this run lasting.
13. Florida State - They have already won two games I didn't think they could win. Who knows how long it can last. It all seems to be a bit of an illusion, but it's an illusion that could win them another game.
14. Florida - It was a total joke that Florida was a two seed, so I dropped them here in an attempt to correct that wrong. There is nothing about this team that makes me respect them to any significant extent.
15. San Diego State - I want to love the story of the Aztecs. I really do. A two seed that wants to be taken seriously cannot struggle that badly to get past Temple, though. I don't believe this team is nearly tough enough to stand up to the pressure of playing practically at home.
16. Richmond - Not to take anything away from the Spiders, but they managed to get to the Sweet 16 in the easiest possible way. They beat a Vanderbilt team that basically beat itself, and which has a history of tournament disappointment, and then got past Morehead State. Needless to say, Kansas is a massive step up in class.
Doc's Sports is your home for NCAA Tournament betting information! We have our Main March Madness page HERE where you can find our up-to-the-minute March Madness Odds and daily exclusive NCAA Tournament betting articles. Check Doc's every day until the Final Four for all the information you need to beat your bookie throughout the tournament. Also, if you don't have the time to do your own homework, Doc has a team of expert college basketball handicappers that are working 24/7 on their March Madness picks and you can get a package from each one through the Final Four for only $99.