March Madness Prop Bets and Predictions
by Darin Zank - 3/16/2011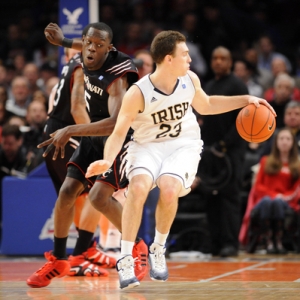 Basketball bettors won't have any problems finding March Madness futures odds. Just about every online sportsbook is offering prices on who will win the tournament, and even on each of the regions. If possible, bettors who want to get down on those wagering opportunities might do well to shop around at different books and search out the best prices.
In the process, bettors might also want to check out the growing number of March Madness prop bets at the various books. There's a lot more going on out there right now than just picking the games or the eventual NCAA Tournament champ. In an attempt to provide enticing betting outlets for their clientele most sportsbooks are offering dozens of prop bets on the upcoming tournament.
Among the many March Madness prop bets at Bodog, bettors can wager on which player will win tournament MOP, on the number of buzzer-beaters in the round of 64, which conference and which seed will produce the National Champion, the first No. 1 seed to be eliminated, the number of No. 1s that will make the Final Four, the number of 12, 13, 14 and 15 seeds to win in the first round, which player will score the most points in the tournament, and even which Canadian-born player will average the most PPG in the tournament. Many of these same bets, with some variations, can be found at Superbook, Sportsbook.com and elsewhere.
For the record, the last 27 NCAA tournament MOPs have been members of the team that won the National Championship. And since the NCAA Tournament went to the 64-team format No. 1 seeds have won the title 15 times, No. 2 seeds four times, No. 3 seeds three times, and fours, sixes and eight seeds once each. So despite its reputation of being home to the incredible and unpredictable, in the end most NCAA tournaments end up on the chalky side
Sports Interaction is offering, among other things, betting on which state will produce the champion, and group betting involving which team will progress the furthest. BetOnline, among other things, is lining team vs. team survival prices on matchups that will play out not on the court, but within the brackets. WagerWeb is offering something similar, pricing team vs. team as to how many tournament games each wins. And Superbook.com is listing 'over/unders' on tournament wins for each of the major conferences.
And these are just a small sample of what can be found at some of Doc's Sports favorite books. So there is plenty to choose from for our betting and viewing pleasure, as far as this NCAA tournament goes.
March Madness Prop Bets Predictions
We won't go wild here, but let's get in some small predictions on some of these March Madness prop bets. In looking to lay something down on who will win the tournament we'll take the best price we can find on one of the No. 1 seeds, and back Pitt at +800 at Sportsbook.com. And then we need a couple of longshots, so we'll take Texas at +2,000 and Notre Dame at +2,500.
As far as picking out a tournament MOP, we'll look for a bit of a price. Ohio State stands a chance to win it all, so we'll put a unit down on Buckeyes G Jon Diebler at Bodog at 12/1. And we'll take a flyer on Irish G Ben Hansbrough at 22/1.
Sportsbook.com is listing a wins 'O/U' of 3.5 on the PAC-10. And all four of the teams from that conference in the tournament, Arizona, USC, UCLA and Washington, could lose in the first round. So we'll play the under on that bet at a price of +120. And the Big Ten, outside of Ohio State, is real iffy, so despite having seven teams in the tournament we'll play 'under' 10.5 wins there at -150.
Doc's Sports is your home for NCAA Tournament betting information! We have our Main March Madness page HERE where you can find our very popular updated March Madness Brackets, up-to-the-minute March Madness Odds and daily exclusive NCAA Tournament betting articles. If you don't want to fill out the brackets yourself, be sure to look at Doc's March Madness Mock Bracket Predictions. Check Doc's every day until the Final Four for all the information you need to beat your bookie throughout the tournament. Also, if you don't have the time to do your own homework, Doc has a team of expert college basketball handicappers that are working 24/7 on their March Madness picks and you can get a package from each one through the Final Four for only $199.