Masters and British Open Odds and Futures Betting Predictions
by Trevor Whenham - 1/21/2011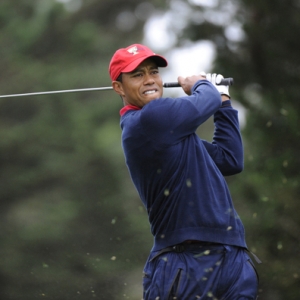 It's Jan. 21. The Masters doesn't start until April 7. The British Open doesn't tee off until July 14. The only good reason to be thinking about the two events is if you are looking for tickets. Still, Bodog has odds set on much of the likely field in both events. Normally it wouldn't make a lot of sense to bet now on an event so far away when so much can change between now and then. The golf season has only barely started, and many of the big names are still on the sidelines, so we have no idea what form they are going to be in, or which young guys are going to rise up this year.
Because odds are offered, though, I can't help but wonder if there are any good reasons you might consider betting these events this far in advance. I'm not convinced I would do it personally, but here are five possible reasons to bet this far in advance:
You are very bullish on Tiger - Last year was a lost year for the biggest name in the sport. Woods finished fairly strong, though, so there are signs of hope. More significantly, he has had all winter to work with a new swing coach instead of trying to change things on the fly. The drama is well behind him, and he should be able to focus on what's happening on the course instead of in the tabloids. You also have to guess that Tiger is going to be ridiculously hungry to get back into the news for the right reasons, and we know that a hungry, focused Tiger can be extremely dangerous.
There are a lot of good golfers out there right now, but few great ones, so if Tiger can play like we know he can he'll be able to win. He's currently listed at 3/1 at Augusta and 7/2 at the British Open. Those are ridiculous prices given all the unknowns, but if he comes out strong and wins a tournament or two early on then they are much higher than what you will be able to get closer to tee time for these events.
If he were to win the Masters then the odds for the British would be less than half what they are now. Buying in now could make sense for some.
You think Anthony Kim will be back - A couple of years ago Kim looked like he was the next big thing -- the ultimate challenger for Tiger. He was like David Duval in his prime. Last year he looked a lot more like Duval has played in the last few years. Something obviously wasn't mentally right with Kim. If he can get his act together again, though, then he is certainly young enough and fit enough to get back to the top in short order.
If you like Kim's chances for resurgence, then you'll love the prices he is at now -- 28/1in the Masters, and 40/1 in the Open. A strong start will drop both prices down significantly, so this is a solid way to bet on the abilities of the young star.
You like Phil in Britain - With the exception of a third-place finish in 2004, Phil Mickelson has been far from successful at the British Open. He didn't even play last year. It's a risk betting on Phil in that tournament because of his poor performance, but the guy knows how to play majors, and you could certainly make an argument that he'll be particularly focused this year after all the personal struggles he faced last year.
Mickelson is at 7/1 to win in Augusta, but all the way up at 25/1 at the Open. The difference in price is warranted, but this is one of the few times you'll ever get a price like 25/1 on a guy as good as Mickelson.
You know more about a no name than most people do - There are some guys with odds listed at 100/1 or higher in both tournaments that most casual golf fans have never heard of. If you are a less than casual fan then you may know more about these golfers than most, and you might have a sense that they are much stronger than their longshot prices indicate.
By locking in your bets now you avoid the risk that the rest of the world will see what you have already seen and pound the price for the golfer down significantly.
You expect a geezer to rediscover his game - The last few years we have seen a lot of old guys find their form in majors and put together stunning runs. In some of those cases those older guys have been easing into form heading into the tournament.
If you have a hunch that a player is going to find the fountain of youth then you might get a better price now than you will later.
One example that jumps out is Mike Weir. He's 125/1 at the Masters. He has been lousy the last couple of years, but there are signs that things could be different -- he finally seems to be over nagging injuries, he has made a caddy change and that can bring a new perspective that can give a guy a boost after a lot of years, and we know he likes Augusta because he won in 2003 and has done well there since.