MLB Handicapping: the Albert Pujols Injury
by Trevor Whenham - 6/23/2011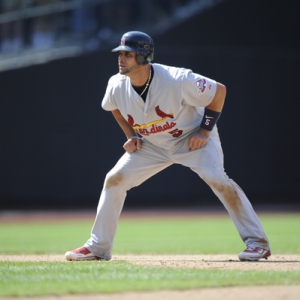 The last thing the already struggling Cardinals needed was an injury to their best player, but that is the hand that fate has dealt them. Albert Pujols broke his arm in a collision against the Royals and could miss four to six weeks — or potentially even more according to some accounts if the problems caused by the fracture are compounded by soft tissue damage. Pujols is the elite of the elite, so it only makes sense that his injury is going to have a major betting impact — both real and perceived. Here are five factors to consider when trying to get a sense of what that MLB handicapping impact could look like:
The team is really lousy right now - There is no nice way to put it — the Cardinals stink right now. After getting off to a strong start they have fallen right into the tank recently, with just two wins in their last 11 games. The wins have been pretty ugly, too — a sweep at the hands of bitter rivals Milwaukee, an ugly sweep in Washington, a loss to Kansas City, and two lopsided losses to Philadelphia.
Their defense has been terrible over that stretch — their opponents have scored at least four runs in every game, and have scored seven or more times in five of the nine losses. This is clear proof that even good teams can lose their way from time to time.
In the face of that this injury is a major concern. Pujols is one of a small handful of guys in this league who are the heart and souls of their team. He essentially is the St. Louis Cardinals. With the team already struggling badly this injury could have a huge psychological impact on the team — if they were in a funk already then this will only make things seem darker.
The Cards have been playing like a very fragile, vulnerable team recently. This is not the best way to turn things around.
Milwaukee could capitalize - The only thing that has made this slump anything short of a total disaster is that the Brewers have been almost as bad recently. They are just 3-7 in their last 10, and have just one win in each of their last three series. The last time they looked any good was when they were sweeping the Cardinals. That has kept the Cardinals within half a game of the Brewers.
The situation could get much worse if the absence of Pujols provides a drag on the Cards and the Brewers get back in a groove. Milwaukee has a strong pitching staff that they have invested in significantly, so it could be hard for the Cardinals to catch them if Milwaukee can open up some daylight in this situation. If the Cardinals let this injury get them down then the impact could be fatal.
Backup issues - When you have a guy like Pujols at first base you don't spend a lot of time and effort having a game-ready replacement for him — especially since Pujols has been reasonably healthy through his career.
Lance Berkman has moved to first and can do fine there, but that just moves the issue to right field, and at best it will take some experimentation to figure out what is going to work well there.
One of St. Louis' biggest strengths is their offense. Having to compensate for the loss of Pujols and the disruption to the roster that that causes could easily disrupt that offense and create further problems for the team.
Impact on contract situation - Pujols has not been having a great year so far. In fact, he's off to pretty much his worst start up to this point in a season. Some speculate that that could have to do with age or other injuries, but there is no doubt that at least a solid part of the problem is the looming contract issue that awaits him at the end of the season.
Pujols wants to cash in big, so there is a lot of pressure to make every at-bat count to maximize the size of that contract. That seems to be in his head. Judging by the number of articles that have already been written about the potential impact on that contract that this injury could have you can bet that the pressure will be even more intense when he does return. If it has been bothering him already then there is a really good chance that it will bother him even more down the road.
Impact on betting public - Pujols is a wildly popular player — viewed by many as the best offensive player in the league. When the public loves someone they attach great significance to his presence. That means that they are almost certain to overreact to his absence, and that can potentially create betting value.