MLB Odds: Handicapping Overrated Pitchers
by Trevor Whenham - 7/5/2011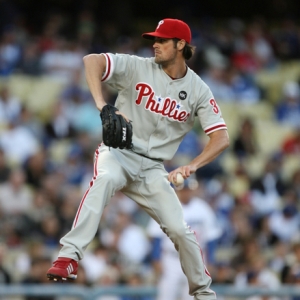 Starting pitchers are the most important part of a baseball game, so they are what bettors must focus the most attention on when they are making betting decisions. Pitchers also get a whole lot of attention from the media, so each year we get to hear about the pitchers that are very good. When those pitchers with the strong reputations and a lot of hype surrounding them aren't performing well for bettors, however, you can have a real problem. If you buy into the hype you are not only betting on a pitcher that likely faces inflated MLB odds because of the attention, but you could be betting on a pitcher who isn't actually performing as well as you think he is in terms of what matters to bettors -- wins and losses.
Here are six pitchers who are overrated this year based on how they are performing at the betting window:
Jered Weaver, Los Angeles Angels - Weaver is getting a lot of Cy Young talk in the American League. That will happen when you have a 1.92 ERA halfway through the season. I've never felt particularly confident about Weaver this year, though, and when you look at his performance from a betting perspective it's easy to see why. Despite his flashy numbers the team is just 11-7 when he starts, so the team is only slightly profitable on the season. His fast start has created some serious issues as well. He has been favored in each of his last 10 starts, according to MLB odds, but he has only won five of them, so that means he has been a big betting loser since the middle of May.
Cole Hamels, Philadelphia Phillies - Hamels is another younger pitcher that is getting a lot of Cy Young talk. I have a lot more faith in him than I do Weaver over the long term, but lately he has been even worse for bettors than Weaver has been. He has been solidly favored in his last six games, and he was at least -160 in five of them. The Phillies have only won two of those six games, so Hamels has burnt up a whole lot of money recently. He's still pitching solidly, but not nearly as well as the hype around him would suggest.
Roy Oswalt, Philadelphia Phillies - Oswalt is a dangerous guy for bettors that aren't paying attention because it's so easy to group him in with Hamels, Halladay and Lee as the big four for the Phillies. The problem, though, is that Oswalt is not pitching anywhere close to the way that the other three have been. In fact, from a betting perspective he has been a disaster. In his last nine starts the Phillies have won just twice. He has been favored in four of those seven losses, so he has lost backers a whole lot of money recently. The good news is that he's on the DL and likely won't return until the end of July, so those who can't help but bet on him are saved from themselves for a month
Michael Pineda, Seattle Mariners - Pineda is getting an incredible amount of hype, and at this point he seems to have the Rookie of the Year award firmly in his grasp. He is unquestionably impressive, and if his arm holds up he has a bright future ahead of him. From a betting perspective, though, he isn't nearly as exciting as you might think. The Mariners are just 9-8 on the season when he pitches, so he has basically been a wash this year. Like Weaver and Hamels, he has been pretty unsuccessful recently as well. The Mariners have won only twice in his last seven starts, so betting on him since the start of June has been costly -- even as the hype around him has increased.
Felix Hernandez, Seattle Mariners - King Felix won the Cy Young last year, and could easily have won it the year before as well. While he has been solid again this year, from a betting performance he isn't nearly as impressive. The Mariners are 10-8 when he starts, so betting on him has actually been a losing proposition. He's a very popular pitcher with a great reputation, so he is frequently heavily favored when he starts despite playing for a team that can't score runs. Seattle has won only five of the last 10 starts, though, so he has been particularly unkind to bettors recently.
Tim Lincecum, San Francisco Giants - Lincecum has a pair of Cy Young trophies and a World Series title, so the public obviously likes the guy. While his numbers have been mostly decent this year, he has been disastrous for bettors who get seduced by his name and accomplishments. The team is 10-8 when he starts, so he has been a loser for bettors on the year. His last five starts have turned into just one San Francisco win, and the odds in each game have been at least -130, so betting him recently has been very expensive.